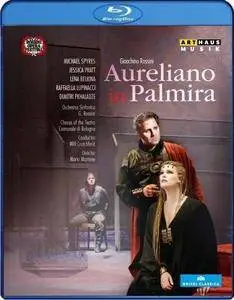 Will Crutchfield, Orchestra Sinfonica G. Rossini - Rossini: Aureliano in Palmira (2015) [BDRip]
BluRay-rip | AVC | MKV 1920x1080 / 6215 kbps / 29,97 fps | 200 min | 10,8 Gb
Audio: Italiano / DTS / 6ch / 48.0 KHz / 24 bits
Classical | Arthaus Musik | Sub: Italian, English, German, French, Japanese, Korean
Aureliano in Palmira celebrated its fi rst première on 26 December 1813 at the Scala In Milan. Soon afterwards the work was played in different theatres all over Europe. Nevertheless Rossini's piece fell into oblivion more and more compared to the great competitors like "Tancredi" or the "Barber of Seville" for which Rossini recycled musical parts of "Aureliano". But since a few years there are ambitions to play this work about love, war, jealousy, loyalty and magnanimity more frequently.