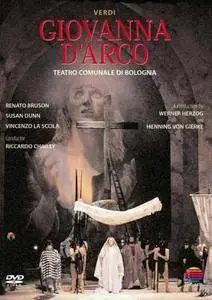 Riccardo Chailly, Orchestra and Chorus of the Teatro Comunale di Bologna - Verdi: Giovanna d'Arco (2006/1990)
NTSC 4:3 (720x480) | Italiano (LinearPCM, 2 ch) | 7.62 Gb (DVD9) | 127 min
Classical | NVC ARTS | Sub: English, Deutsch, Espanol, Francais, Italiano, Portugues, Japanese
Stage and television director Werner Herzog, one of the most highly acclaimed German film makers of all time, joins forces with the great Italian conductor Riccardo Chailly to effect a masterful rendition of this rarely-performed opera involving spectacular scenes of alternating light and dark, pageantry and intimacy. The production is further complemented by the great Italian baritone Renato Bruson as Giacomo, the American soprano Susan Dunn as Giovanna and the outstanding tenor Vincenzo La Scola as the Dauphin. The magnificent Teatro Comunale di Bologna provides an intimate yet ornate setting for this production of Verdi's seventh opera, the story of the Maid of Orleans.