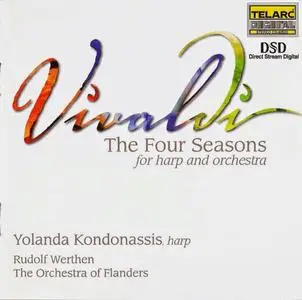 Yolanda Kondonassis - Vivaldi: The Four Seasons for Harp and Orchestra (1999)
WEB | FLAC (tracks) - 222 MB | 56:27
Genre: Classical | Label: Telarc Distribution
Yolanda Kondonassis' skill on the harp is legendary. So too are her arrangements for the instrument. Many times you hear arrangements that restate the composer's original themes, but don't make the music fit the instrument. I often feel this way about much of Bach's music on the piano. Other times you find arrangements that stretch beyond the original in ways that get in the way. For me, the best example of this is the Stokowski arrangements of Bach's organ works for orchestra.