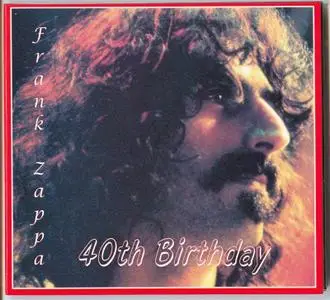 Frank Zappa - 40th Birthday - 1980
MP3 | 320 Kbp/s| 130:58 Min | 299.8 Mb
Genre: Progressive Rock | Sound quality: Various
This is a hodge-podge of tracks from a few of the bootlegs that form The History & Collected Improvisations of Frank Zappa & the Mothers of Invention. It could have been issued around Frank Zappa's 40th birthday (21-Dec-1980)
Taken from: the zappa patio -
http://w1.858.telia.com/~u85821131/
40th Birthday - Previously Unreleased (3 LP)
* "Sampler" from The History & Collected Improvisations of Frank Zappa & the Mothers of Invention (10-LP box)
Length: ~130 min
Sound quality: Various
Matrix: L.1.-L.6.
Musicians: various
1. Montana
2. Fifty-Fifty
3. I'm the Slime
4. Camarillo Brillo
5. Muffin Man
6. Pygmy Twylyte
7. The Idiot Bastard Son
8. Cheepnis
9. How Could I Be Such a Fool?
10. Ain't Got No Heart
11. I'm Not Satisfied
12. Black Napkins
13. Honey, Don't You Want a Man Like Me?
14. Wind Up Working in a Gas Station
15. Tryin' to Grow a Chin
16. The Torture Never Stops
17. You Can Swallow My Pride
18. The Hook
19. Dupree's Paradise
20. Pygmy Twylyte
This is a hodge-podge of tracks from a few of the bootlegs that form The History & Collected Improvisations of Frank Zappa & the Mothers of Invention. It could have been issued around Frank Zappa's 40th birthday (21-Dec-1980) - a gift he wouldn't have liked.
* Tracks 1-2 are taken from Ultra-Modern Stringbean (29-Jun-1973, Festival Hall, Melbourne).
* Track 3 and the entire third record are taken from Ein Monster in Der Musikhalle (11-Sep-1974, Wighalle, Vienna).
* Tracks 4-5 and 17 are taken from If You Get a Headache (23-Oct-1975, Music Hall, Boston).
* Tracks 6-8 are taken from Frank Zappa vs. the Tooth Fairy (19-Jul-1974, Circle Star Theater, San Carlos).
* The second record except track 17 is taken from Back on the Straight and Narrow (24-Jan-1976, Apollo Stadium, Adelaide).
Made in Europe and packaged in a "black jacket with one postcard outside and two inside". The vinyl is black, the labels are coloured, with pictures of Zappa's face on each side: the first record has green labels, the second ocher yellow, and the third brown. The black sleeve, which you have to unfold to get to the records, is sealed with a little yellow sticker with the title on it.