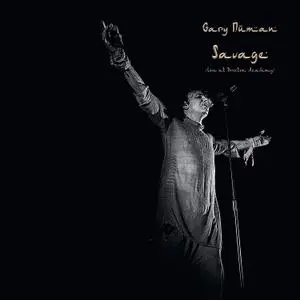 Gary Numan - Savage (Live at Brixton Academy) (2018)
WEB FLAC (tracks) - 596 Mb | MP3 CBR 320 kbps - 209 Mb | 01:31:20
Synthpop, New Wave, Industrial Rock | Label: BMG Rights Management, Warner Music
On 23.11. Gary Numan will release his new live album 'Savage: Live At Brixton Academy' as Deluxe Edition with two live CDs and a live DVD. The current album 'Savage', released in September 2018, has received the best reviews in Gary's long career, has entered # 2 on the UK charts and has won an Inspiration Award for songwriting and composition. Equally positive reviews for the past tour of the album, whose probably best concert was recorded and now posterity, the fans and those who have missed the tour on CD plus DVD is available.

Savage (Songs from a Broken World) is the eighteenth solo studio album by English musician Gary Numan, released on 15 September 2017 by BMG and The End.

Savage (Songs from a Broken World) is a concept album centred around the blending of Western and Eastern cultures in a post-apocalyptic world that has become desertified as a result of global warming. "The songs are about the things that people do in such a harsh and terrifying environment," Numan stated in an interview. "It's about a desperate need to survive and they do awful things in order to do so, and some are haunted by what they've done. That desire to be forgiven, along with some discovered remnants of an old religious book, ultimately encourages religion to resurface, and it really goes downhill from there."
Tracklist:
1. Hide (Intro) (Live at Brixton Academy)
2. Ghost Nation (Live at Brixton Academy)
3. Metal (Live at Brixton Academy)
4. The Fall (Live at Brixton Academy)
5. I'm an Agent (Live at Brixton Academy)
6. Bed of Thorns (Live at Brixton Academy)
7. Dead Sun Rising (Live at Brixton Academy)
8. Down in the Park (Live at Brixton Academy)
9. Pray for the Pain You Serve (Live at Brixton Academy)
10. Here in the Black (Live at Brixton Academy)
11. Mercy (Live at Brixton Academy)
12. Love Hurt Bleed (Live at Brixton Academy)
13. My Name Is Ruin (Live at Brixton Academy)
14. Cars (Live at Brixton Academy)
15. When the World Comes Apart (Live at Brixton Academy)
16. Prayer for the Unborn (Live at Brixton Academy)
17. Films (Live at Brixton Academy)
18. Are 'Friends' Electric? (Live at Brixton Academy)
–––––––––––-

DON'T MODIFY THIS FILE

–––––––––––-

PERFORMER: auCDtect Task Manager, ver. 1.6.0 RC1 build 1.6.0.1
Copyright © 2008-2010 y-soft. All rights reserved

ANALYZER: auCDtect: CD records authenticity detector, version 0.8.2
Copyright © 2004 Oleg Berngardt. All rights reserved.
Copyright © 2004 Alexander Djourik. All rights reserved.


FILE: 6 - Gary Numan - Bed of Thorns (Live at Brixton Academy).flac
Size: 34882193 Hash: CA3A9AFF9A338A5E477D852D7C4B0649 Accuracy: -m40
Conclusion: CDDA 100%
Signature: 634F75EEF417397550C000621DFCB0324BA6DC90
FILE: 5 - Gary Numan - I'm an Agent (Live at Brixton Academy).flac
Size: 32623911 Hash: AE744C9BD8C40CC76E69158E15332F60 Accuracy: -m40
Conclusion: CDDA 100%
Signature: 1A927103F413C2302EBB981354F1D12368E17064
FILE: 4 - Gary Numan - The Fall (Live at Brixton Academy).flac
Size: 29047664 Hash: 3770974B4708BDF2E0616CF36B8946D4 Accuracy: -m40
Conclusion: CDDA 100%
Signature: DE8BEBC3B425D426A0E4FB639791059DCEA72176
FILE: 3 - Gary Numan - Metal (Live at Brixton Academy).flac
Size: 32176919 Hash: 5FAFD9E3152895C4351AA7DD5680E7AD Accuracy: -m40
Conclusion: CDDA 100%
Signature: A1823C7EFF784A918FF3B589F8737D9632492AD8
FILE: 2 - Gary Numan - Ghost Nation (Live at Brixton Academy).flac
Size: 32972134 Hash: 6DBE88134F130CB892970F53977F3207 Accuracy: -m40
Conclusion: CDDA 100%
Signature: E9B96862C4B70C05AA4C7B231C984BC469C63763
FILE: 1 - Gary Numan - Hide (Intro) (Live at Brixton Academy).flac
Size: 8220905 Hash: 1ACDCF192F5CBE1740E7E798821B8567 Accuracy: -m40
Conclusion: CDDA 100%
Signature: D89D93A2BA65BA48226785679499CFCC5FC2E567
FILE: 18 - Gary Numan - Are 'Friends' Electric_ (Live at Brixton Academy).flac
Size: 46184101 Hash: 0A7696BC2FA0E1B6D026868F2E95D61A Accuracy: -m40
Conclusion: CDDA 100%
Signature: 57CD9170898973948D5D2E9907575B3A888AB99F
FILE: 17 - Gary Numan - Films (Live at Brixton Academy).flac
Size: 42520106 Hash: 50924B36AFDAA2E298668E376D416030 Accuracy: -m40
Conclusion: CDDA 99%
Signature: FDDCEAFB5C5DC295B178290E073FE15C52BF17B8
FILE: 16 - Gary Numan - Prayer for the Unborn (Live at Brixton Academy).flac
Size: 44329904 Hash: BFEC018D10FD75BCEA6DFF6011F1145E Accuracy: -m40
Conclusion: CDDA 100%
Signature: DE24268D7615E91958C6616ECEA71E89FBC47560
FILE: 15 - Gary Numan - When the World Comes Apart (Live at Brixton Academy).flac
Size: 39550369 Hash: 6D23721262EB7104CAF5130BABCF6E8E Accuracy: -m40
Conclusion: CDDA 100%
Signature: A6A220CD762980804AF0F7CC09EAA341BD8F8BB9
FILE: 14 - Gary Numan - Cars (Live at Brixton Academy).flac
Size: 25912556 Hash: 86DCB92740C9ADB820A10FA848F7CED8 Accuracy: -m40
Conclusion: CDDA 100%
Signature: DB45D59F7CB1E13C4A96D8DBB9ABD6B4983E0E81
FILE: 13 - Gary Numan - My Name Is Ruin (Live at Brixton Academy).flac
Size: 45276790 Hash: 77295E0F7B776249A9A1B43CE6A0F639 Accuracy: -m40
Conclusion: CDDA 100%
Signature: DEAEB4AF274BCB3447DEBF365376D4235192E9C6
FILE: 12 - Gary Numan - Love Hurt Bleed (Live at Brixton Academy).flac
Size: 36467681 Hash: 5F67D60E3DB86F362C9C9891E6B84719 Accuracy: -m40
Conclusion: CDDA 100%
Signature: 6E451B799697B2BE4EE9E57FBABE0F77113150A2
FILE: 11 - Gary Numan - Mercy (Live at Brixton Academy).flac
Size: 38266992 Hash: 0D7A7770AE163A169EB8CB5759AA4901 Accuracy: -m40
Conclusion: CDDA 100%
Signature: 9CDFA9486C8695857B4E4142922FB392332E8314
FILE: 10 - Gary Numan - Here in the Black (Live at Brixton Academy).flac
Size: 34696603 Hash: 6BA9450BB7CB464AB89F311DA932CF2A Accuracy: -m40
Conclusion: CDDA 100%
Signature: 29060804496887FD96EAD871939AA4DC86D75814
FILE: 9 - Gary Numan - Pray for the Pain You Serve (Live at Brixton Academy).flac
Size: 38515592 Hash: 239BE70CD460454FCEC2ABC6523E233F Accuracy: -m40
Conclusion: CDDA 100%
Signature: 6C6E0B1D121DF36F7937668A360AEF40D449B7DE
FILE: 8 - Gary Numan - Down in the Park (Live at Brixton Academy).flac
Size: 37118661 Hash: 18B0EE930C8931154453312042C90619 Accuracy: -m40
Conclusion: CDDA 100%
Signature: B6B0F43A2304B52F6016C45A781F9A2066EA6D05
FILE: 7 - Gary Numan - Dead Sun Rising (Live at Brixton Academy).flac
Size: 26110017 Hash: 21C9CC0B6AB74BE66AA2A84CE0AD066B Accuracy: -m40
Conclusion: CDDA 99%
Signature: 3A09FA06C652CCE710BDD416958354A67DD2530E