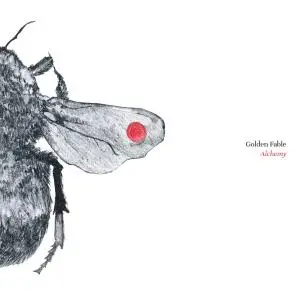 Golden Fable - Alchemy (2019)
WEB FLAC (tracks) ~ 300.57 Mb | MP3 CBR 320kbps ~ 115.43 Mb | 49:52 | Cover
Alternative, Electronic, Indie, Ethereal | Country: UK | Label: Full of Joy Records
Ever since their first release in 2011, there's been a great deepness and complex mystery to Golden Fable's music. Stirring up feelings of exhilaration and sadness while immersing you in a bath of sonic stimulation. It's the sort of soundtrack you'd want to call upon while gazing upon an open horizon "captive to your thoughts" proclaim the lyrics on song 'Hold True', or intentionally getting lost in an ancient wood as seen in the music video for recent single 'Finery' which premiered on Folk Radio. This music has a primal timeless existence, classically beautiful but with a contemporary production, new album Alchemy is brilliantly fresh.
With an already established sense of drama, the concept of Golden Fable resourcing the aid of an orchestra for this new album not only feels wholly logical but more of a natural evolution for this alternative and original North Wales band.
From their roots of experimentation and noise layering enjoyed on previous albums In The Aerie (2017), Ancient Blue (2014) and Star Map (2012) the sound created then and now has its foundation in the work of multi-instrumentalist Tim Joy. He establishes the intricate framework and rhythm along with collaborator and drummer Jack McCarthy combining to project the outstanding soprano talent of vocalist Rebecca Joy. However, on 'Alchemy' the significant change to the previous catalogue of work is the introduction of arranger and clarinettist Jonathan Guy.
Guy brings with him eleven members of his Wrexham orchestra – New Sinfonia, including harpist Bethan Griffith and a string quartet. A mix that, fused with the basis of existing Golden Fable tendencies, forms a truly intoxicating and moving piece of music played out over thirteen stunning original tracks.
Alchemy is loosely defined as seeking a higher result, through the combination of multiple aspects or inputs fusing to ignite a transformative process steeped in mystery. No better demonstration of this ideology can be found than on the opening track 'Tripwires'. Choral vocals from Rebecca, infused with delicate touches of harp and later exquisite violin sit behind poetic lyrics portraying an honesty of how difficult it is to move forward and stay on a true path. A great start and a teaser for what treats 'Alchemy' has in store.
The next song 'Hold True' is pivotal in establishing an underlying message for this record. It's concerned with the subconscious awareness of choice "Swallowed by the conflict from within", recognising the difference between new and therefore unknown experiences versus the comfort of the familiar. The integration of the classical strings and the electric guitar are highlighted here, pushing against each other in a flow, cleverly bookending the gorgeous vocals.
Then, what a track Finery is! The modest first opening melancholic bars of weaved violin, harp and guitar suddenly break with urgency as "they say this house is haunted" soars out with a chill through Rebecca's ethereal vocals to the point of reaching perfect empathy with the "trapped souls" and "echoing voices". The song describes common aspirations for capturing things out of reach or seemingly lost. It's a continuation of the feeling of wanting but not necessarily needing. Also, for anyone interested in electronic music, Tim has remixed the song under the guise Honesty Box. Check it out if you're interested in hearing a bass beat and synthesiser replacing the strings.
Previously Golden Fable have taken significant inspiration from the natural environment, conjuring up sounds as vivid and varied as the landscapes the band absorb day to day. This influence continues with the inclusion of written direct reference in songs such as 'Enemy Lines', 'New Dawn' and 'Hibernate'. Albeit all the songs feel every bit a product of their habitat using sparseness and density with powerful effect. There's an energy, which at times, feels divine.
New Dawn and My Sanctuary slow things down before Enemy Lines picks up the pace to a climax which feels both cinematic on the one hand and then ambitiously like its being prepped for an Opera on the other. It's got the guts and ambition to build and build and is one of the stand-out tracks on the album where all elements of the collaboration are fulfilled.
Penultimate song Trust mellows with a softer vocal from Rebecca which suits the contemplation of seemingly enviable acceptance of going with the flow. The need to trust whether consciously or otherwise does not become defeatist as musically the song forces itself into an uplifting finale.
The Storm leads us out with the warmth of Tim's acoustic finger-picked guitar, adding a cosy and different vibe to the instrumentation. It's a gentle track, hinting at the passing of time and supports the underlying theme of change this album explores.
The collaboration with the New Sinfonia orchestra has pushed Golden Fable into an ever further far-reaching soundscape, the type which atmospherically immerses you into an alternative realm and far beyond the traditional output of guitars, drums, keyboards and vocals. No doubt that this record is again the product of the rural beauty of North Wales and the mythical essence of the woods and valleys found there. Such an enjoyable album and thoroughly recommended for any music lover. It's their most ambitious and rewarding release so far.
~
review by David Perrins
Track List:
1. Tripwires (4:07)
2. Hold True (3:45)
3. Finery (3:53)
4. New Dawn (4:09)
5. My Sanctuary (3:49)
6. Clarity of Thought (3:36)
7. Enemy Lines (3:36)
8. Hibernate (3:26)
9. The Wolves (4:01)
10. Free for All (4:01)
11. Atlas (3:39)
12. Trust (4:16)
13. The Storm (3:34)
Artwork – Kathryn Lloyd
Bass Clarinet, Arranged By – Jonathan Guy (2)
Cello – Svetlana Mochalova
Drums, Percussion – Jack McCarthy
Guitar, Bass, Keyboards, Xylophone, Engineer – Tim Joy*
Harp – Bethan Griffiths
Mastered By – Noel Summerville
Mixed By – Paul Gregory
Music By, Arranged By – New Sinfonia
Music By, Producer – Golden Fable
Viola – Jo Lucas (2)
Violin – Catherine Guy (2), Sam Parker (10)
Vocals, Keyboards – Rebecca Joy*
AUDIOCHECKER v2.0 beta (build 457) - by Dester - opdester@freemail.hu
~~~~~~~~~~~~~~~~~~~~~~~~~~~~~~~~~~
-=== DO NOT EDIT THIS FILE! ===-

Path: …\Golden Fable - Alchemy (2019) FLAC

01 -=- 01 - Tripwires.flac -=- CDDA (100%)
02 -=- 02 - Hold True.flac -=- CDDA (100%)
03 -=- 03 - Finery.flac -=- CDDA (100%)
04 -=- 04 - New Dawn.flac -=- CDDA (99%)
05 -=- 05 - My Sanctuary.flac -=- CDDA (99%)
06 -=- 06 - Clarity of Thought.flac -=- CDDA (100%)
07 -=- 07 - Enemy Lines.flac -=- CDDA (100%)
08 -=- 08 - Hibernate.flac -=- CDDA (100%)
09 -=- 09 - The Wolves.flac -=- CDDA (100%)
10 -=- 10 - Free for All.flac -=- CDDA (100%)
11 -=- 11 - Atlas.flac -=- CDDA (100%)
12 -=- 12 - Trust.flac -=- CDDA (100%)
13 -=- 13 - The Storm.flac -=- CDDA (100%)

Summary 99.85% CDDA

51928596