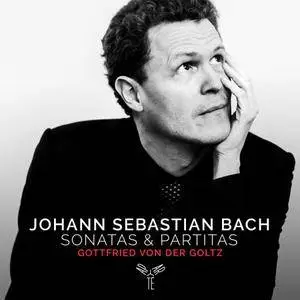 Gottfried von der Goltz - J.S. Bach: Sonatas & Partitas for solo violin (2018)
WEB FLAC (tracks) - 719 Mb | MP3 CBR 320 kbps - 313 Mb | Digital booklet | 02:17:00
Classical | Label: Aparté, Little Tribeca
The Konzertmeister of the Freiburger Barockorchester, Gottfried von der Goltz, finally records the masterpiece of the repertoire for solo violin: Johann Sebastian Bach's Sonatas and Partitas. Nicolas Bartholomée's sound recording conveys the authentic and powerfull interpretation of violinist Gottfried von der Goltz, specialist of baroque repertoire. Each intention of his play, which was long matured and constantly serves the message of Bach, is faithfully highlighted. A new unheard version of this musical monument, full of humanity and life.
Tracklist:
1. Violin Sonata No. 1 in G Minor, BWV 1001: I. Adagio
2. Violin Sonata No. 1 in G Minor, BWV 1001: II. Fuga. Allegro
3. Violin Sonata No. 1 in G Minor, BWV 1001: III. Siciliana
4. Violin Sonata No. 1 in G Minor, BWV 1001: IV. Presto
5. Violin Partita No. 1 in B Minor, BWV 1002: I. Allemanda
6. Violin Partita No. 1 in B Minor, BWV 1002: II. Double
7. Violin Partita No. 1 in B Minor, BWV 1002: III. Corrente
8. Violin Partita No. 1 in B Minor, BWV 1002: IV. Double. Presto
9. Violin Partita No. 1 in B Minor, BWV 1002: V. Sarabande
10. Violin Partita No. 1 in B Minor, BWV 1002: VI. Double
11. Violin Partita No. 1 in B Minor, BWV 1002: VII. Tempo di Borea
12. Violin Partita No. 1 in B Minor, BWV 1002: VIII. Double
13. Violin Sonata No. 2 in A Minor, BWV 1003: I. Grave
14. Violin Sonata No. 2 in A Minor, BWV 1003: II. Fuga
15. Violin Sonata No. 2 in A Minor, BWV 1003: III. Andante
16. Violin Sonata No. 2 in A Minor, BWV 1003: IV. Allegro
17. Violin Partita No. 2 in D Minor, BWV 1004: I. Allemanda
18. Violin Partita No. 2 in D Minor, BWV 1004: II. Corrente
19. Violin Partita No. 2 in D Minor, BWV 1004: III. Sarabanda
20. Violin Partita No. 2 in D Minor, BWV 1004: IV. Giga
21. Violin Partita No. 2 in D Minor, BWV 1004: V. Ciaccona
22. Violin Sonata No. 3 in C Major, BWV 1005: I. Adagio
23. Violin Sonata No. 3 in C Major, BWV 1005: II. Fuga
24. Violin Sonata No. 3 in C Major, BWV 1005: III. Largo
25. Violin Sonata No. 3 in C Major, BWV 1005: IV. Allegro assai
26. Violin Partita No. 3 in E Major, BWV 1006: I. Preludio
27. Violin Partita No. 3 in E Major, BWV 1006: II. Loure
28. Violin Partita No. 3 in E Major, BWV 1006: III. Gavotte en rondeau
29. Violin Partita No. 3 in E Major, BWV 1006: IV. Menuets I & II
30. Violin Partita No. 3 in E Major, BWV 1006: V. Bourée
31. Violin Partita No. 3 in E Major, BWV 1006: VI. Gigue
–––––––––––-

DON'T MODIFY THIS FILE

–––––––––––-

PERFORMER: auCDtect Task Manager, ver. 1.6.0 RC1 build 1.6.0.1
Copyright © 2008-2010 y-soft. All rights reserved

ANALYZER: auCDtect: CD records authenticity detector, version 0.8.2
Copyright © 2004 Oleg Berngardt. All rights reserved.
Copyright © 2004 Alexander Djourik. All rights reserved.


FILE: 9 - Gottfried von der Goltz - Violin Partita No. 1 in B Minor, BWV 1002_ V. Sarabande.flac
Size: 20445547 Hash: 538D6936670373CC4B995E6995072D24 Accuracy: -m0
Conclusion: CDDA 99%
Signature: BB1CACD3A49DA42DA23732423B56117C0C7CE77E
FILE: 8 - Gottfried von der Goltz - Violin Partita No. 1 in B Minor, BWV 1002_ IV. Double. Presto.flac
Size: 21328300 Hash: 44DF6E03913864A604A8643F116435F2 Accuracy: -m0
Conclusion: CDDA 100%
Signature: D97E6F0D2AFC1E339C3A1D51366D64995F03EC92
FILE: 7 - Gottfried von der Goltz - Violin Partita No. 1 in B Minor, BWV 1002_ III. Corrente.flac
Size: 18046882 Hash: 5CA962EC86F55E29528E20AC54BD0C8E Accuracy: -m0
Conclusion: CDDA 99%
Signature: 7598B7143D88DC0EE95A130ECF3F25C0B6510862
FILE: 6 - Gottfried von der Goltz - Violin Partita No. 1 in B Minor, BWV 1002_ II. Double.flac
Size: 15241063 Hash: 2C72629F0413CE7370875CA411D159A0 Accuracy: -m0
Conclusion: CDDA 100%
Signature: 2EE5218C96D49BC3091D9515F20C55EA890FAD2A
FILE: 5 - Gottfried von der Goltz - Violin Partita No. 1 in B Minor, BWV 1002_ I. Allemanda.flac
Size: 27085567 Hash: 7FEA8039CAA057C003E555C0B057E1EE Accuracy: -m0
Conclusion: CDDA 100%
Signature: 7BE9A6A57DA990016774B3F8FA3A0148C7F90B66
FILE: 4 - Gottfried von der Goltz - Violin Sonata No. 1 in G Minor, BWV 1001_ IV. Presto.flac
Size: 20749468 Hash: 2072A770AEFBDDCBFDB0CA759E0D6444 Accuracy: -m0
Conclusion: CDDA 100%
Signature: 0C059BCB782754DF59DD981C40E1E83B79C06DDC
FILE: 31 - Gottfried von der Goltz - Violin Partita No. 3 in E Major, BWV 1006_ VI. Gigue.flac
Size: 10658111 Hash: 0F1367E533D0CBC8096036DC665E8B48 Accuracy: -m0
Conclusion: CDDA 100%
Signature: 4730F15A7C4D818A95356B4CDA0675781CB3D17D
FILE: 30 - Gottfried von der Goltz - Violin Partita No. 3 in E Major, BWV 1006_ V. Bourée.flac
Size: 7662788 Hash: A783D1FFD0C31DC4C8F4F152412CD23D Accuracy: -m0
Conclusion: CDDA 99%
Signature: 4833CDB237F932A30F46B25A05273D854B9B9FDE
FILE: 3 - Gottfried von der Goltz - Violin Sonata No. 1 in G Minor, BWV 1001_ III. Siciliana.flac
Size: 14838165 Hash: 35434D1115A5E79023AEA86CCA173035 Accuracy: -m0
Conclusion: CDDA 100%
Signature: 49744EE878C123FDC892F20A728E2BDCA08CC29D
FILE: 29 - Gottfried von der Goltz - Violin Partita No. 3 in E Major, BWV 1006_ IV. Menuets I & II.flac
Size: 21309855 Hash: 500C1DAD3DC1017E9C1840EC92984692 Accuracy: -m0
Conclusion: CDDA 100%
Signature: 1E2546170B8AAF7B95333168E6DC2B358791745E
FILE: 28 - Gottfried von der Goltz - Violin Partita No. 3 in E Major, BWV 1006_ III. Gavotte en rondeau.flac
Size: 16476865 Hash: 4201E0C4DA44AEBAEA53E2BB3BA71D56 Accuracy: -m0
Conclusion: CDDA 100%
Signature: 4E3A64A1AD656CD06650E46DED3146D9E3DB0D4B
FILE: 27 - Gottfried von der Goltz - Violin Partita No. 3 in E Major, BWV 1006_ II. Loure.flac
Size: 21369055 Hash: D6A0347FFCEE2EEBC04A45D2EBCB0EE8 Accuracy: -m0
Conclusion: CDDA 58%
Signature: 53115AA33F1AD3E5B9C76F7810A952589513B505
FILE: 26 - Gottfried von der Goltz - Violin Partita No. 3 in E Major, BWV 1006_ I. Preludio.flac
Size: 20483619 Hash: 4B20D1B60407C03FBD68287ED8FE44B6 Accuracy: -m0
Conclusion: CDDA 100%
Signature: 7CD31168DBD4403BB6FFF4144AD4A3C4865D95D3
FILE: 25 - Gottfried von der Goltz - Violin Sonata No. 3 in C Major, BWV 1005_ IV. Allegro assai.flac
Size: 29545000 Hash: 252DC64CCEE1EA67255396D71DDC3F1E Accuracy: -m0
Conclusion: CDDA 100%
Signature: 8803474087B89858CFAA40941CDA3D6524E69D76
FILE: 24 - Gottfried von der Goltz - Violin Sonata No. 3 in C Major, BWV 1005_ III. Largo.flac
Size: 17059666 Hash: C3501CF0E7E66D43EAE8BEFC4BE5AB91 Accuracy: -m0
Conclusion: CDDA 100%
Signature: FC41DCE34172B31029B5361A2FDB0666039641DD
FILE: 23 - Gottfried von der Goltz - Violin Sonata No. 3 in C Major, BWV 1005_ II. Fuga.flac
Size: 64705667 Hash: 9697E8C9D2720548214F91EA2098345D Accuracy: -m0
Conclusion: CDDA 100%
Signature: 71953FEB87C4D05C65D275E4537238D23366A2EE
FILE: 22 - Gottfried von der Goltz - Violin Sonata No. 3 in C Major, BWV 1005_ I. Adagio.flac
Size: 23548096 Hash: 34344BE17DBA0DC52B174D927E5083CD Accuracy: -m0
Conclusion: CDDA 100%
Signature: 4BBCC26466E3D92D03B48A8925ADDD6531E45B5F
FILE: 21 - Gottfried von der Goltz - Violin Partita No. 2 in D Minor, BWV 1004_ V. Ciaccona.flac
Size: 73799907 Hash: C496D8B09D30481FC7886A2E04FDACDB Accuracy: -m0
Conclusion: CDDA 100%
Signature: 178993B84E6ED36CFB3E7B09221B2321152F6384
FILE: 20 - Gottfried von der Goltz - Violin Partita No. 2 in D Minor, BWV 1004_ IV. Giga.flac
Size: 23356646 Hash: 9BF0692810724611DC615089ADC313CE Accuracy: -m0
Conclusion: CDDA 100%
Signature: 8371EEAD889DDD660DD4F8E3E88316804EEF184A
FILE: 2 - Gottfried von der Goltz - Violin Sonata No. 1 in G Minor, BWV 1001_ II. Fuga. Allegro.flac
Size: 32620241 Hash: 70D37B7AA171D880A6CD992C9F15B505 Accuracy: -m0
Conclusion: CDDA 99%
Signature: EEC50FB585480F5F1264A4A4080E1008ED3A2EC0
FILE: 19 - Gottfried von der Goltz - Violin Partita No. 2 in D Minor, BWV 1004_ III. Sarabanda.flac
Size: 19398456 Hash: F2D55F5887CF333654DAFE7751A325EE Accuracy: -m0
Conclusion: CDDA 100%
Signature: A41F9DEA87DD0428DCF6D204D926FE2404AC84DE
FILE: 18 - Gottfried von der Goltz - Violin Partita No. 2 in D Minor, BWV 1004_ II. Corrente.flac
Size: 14373029 Hash: A7B22588BFAADAF111753461C9D2D087 Accuracy: -m0
Conclusion: CDDA 100%
Signature: 3023DF3F5464E5BD731806BB33864F7D69D5A385
FILE: 17 - Gottfried von der Goltz - Violin Partita No. 2 in D Minor, BWV 1004_ I. Allemanda.flac
Size: 24593106 Hash: 99D73C718C07EA6A0F79AD53DF273443 Accuracy: -m0
Conclusion: CDDA 100%
Signature: F986C05F3DF6728483BFEAC9EC7E97427760AA09
FILE: 16 - Gottfried von der Goltz - Violin Sonata No. 2 in A Minor, BWV 1003_ IV. Allegro.flac
Size: 31665464 Hash: A932EE7ACD77B2E0DEC1B9D7B55E42D2 Accuracy: -m0
Conclusion: CDDA 100%
Signature: C53195400DAECAA19CFD13FAD22E114873CC78CC
FILE: 15 - Gottfried von der Goltz - Violin Sonata No. 2 in A Minor, BWV 1003_ III. Andante.flac
Size: 23724208 Hash: B61F6B911C248BBBC981E9D5459204D9 Accuracy: -m0
Conclusion: CDDA 100%
Signature: 20DCB5C5145CAEF56AA4B6055A04A7E56895FE21
FILE: 14 - Gottfried von der Goltz - Violin Sonata No. 2 in A Minor, BWV 1003_ II. Fuga.flac
Size: 44513127 Hash: D4BF8B1470012C04DAE5BD15007F1F4A Accuracy: -m0
Conclusion: CDDA 100%
Signature: 89F073F0155864356A1F5FC6A73F41B42AC9940C
FILE: 13 - Gottfried von der Goltz - Violin Sonata No. 2 in A Minor, BWV 1003_ I. Grave.flac
Size: 20494137 Hash: 9241E9CBA50404B0324EF11A72CB5A58 Accuracy: -m0
Conclusion: CDDA 99%
Signature: 55DE1A9EEC9BF3BB0D3D6E6872A231DA8C036EBB
FILE: 12 - Gottfried von der Goltz - Violin Partita No. 1 in B Minor, BWV 1002_ VIII. Double.flac
Size: 19309891 Hash: 5FC78AEDE004EC4A44303FEEA9A7FD4D Accuracy: -m0
Conclusion: CDDA 100%
Signature: B537EB895CE01BE416B23664C2AFBBF6EFD14B0F
FILE: 11 - Gottfried von der Goltz - Violin Partita No. 1 in B Minor, BWV 1002_ VII. Tempo di Borea.flac
Size: 19754757 Hash: E12AA5D17560BF55D440B64698E2664C Accuracy: -m0
Conclusion: CDDA 100%
Signature: 2A742C1C88E6E36EAC98099896DCA702454F1FE8
FILE: 10 - Gottfried von der Goltz - Violin Partita No. 1 in B Minor, BWV 1002_ VI. Double.flac
Size: 13734853 Hash: 7B16F4AA709A1645B939D1896CDCF74A Accuracy: -m0
Conclusion: CDDA 100%
Signature: FED27DD221731F8E04FDBEBB39AC41152BF308F6
FILE: 1 - Gottfried von der Goltz - Violin Sonata No. 1 in G Minor, BWV 1001_ I. Adagio.flac
Size: 21582158 Hash: 283AD2F8D047B42575366F659BDE1EA4 Accuracy: -m0
Conclusion: CDDA 100%
Signature: CFEB263AA0F6B4F73825612CAD245D96B4DF6DA5