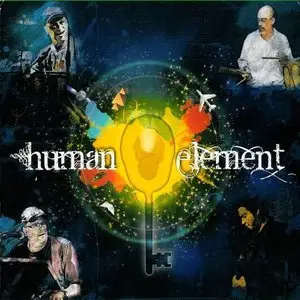 Human Element - Human Element (2011)
MP3 320 kbps CBR | 73:10 min | 175 MB
Genre: Jazz, World | Label: Abstract Logix
In the tradition of Weather Report and the Joe Zawinul Syndicate, two powerhouse pan-global bands that have greatly influenced generations of musicians around the world, Human Element is staking out a new corner of the musical map on its self-titled debut. Comprised of keyboardist Scott Kinsey (Tribal Tech), electric bassist Matthew Garrison (Zawinul Syndicate, John McLaughlin's Heart of Things, Herbie Hancock), percussionist-vocalist Arto Tunçboyaciyan (Al Di Meola's World Sinfonia, Joe Zawinul, Marc Johnson's Right Brain Patrol) and drummer Gary Novak (Chick Corea's Elektric Band), Human Element incorporates elements of fusion, funk and Armenian folk tunes into a potent 21st century brew that defies easy categorization.
Scott Kinsey (Keyboards, Vocals) Arto Tuncboyacian (Percussion, Vocals, Effects), Gary Novak (Drums, Cymbals), Matthew Garrison (Basses, Vocals, Effects), and Special Guest John McLaughlin (Guitar).
Recorded at Gary Novak' Kronos Studio in Burbank and mixed and mastered by Kinsey in his home studio, Human Element travels from intense offerings like the 5/8 title track and Bottom of the Mirror to the Gnawan music influenced groover Essouaria and funky jams like Crazy Girl and Shake It. Tunçboyaciyan's Hi Lao (featuring a cameo by guitar hero John McLaughlin) injects a Middle Eastern flavor into the proceedings while Garrison's two tracks, Izzy and Cut, showcase his remarkable facility on the bass. For a change of pace from the whirlwind intensity, Tunçboyaciyan offers transcendent vocals on the beautiful ballad See With Your Ear and the zen-like calm of Onno, a touching ode to his late brother. Arto's son Seto also contributes some thoughtful spoken word passages on the solemn lament Think About It, which tackles the grim topic of the Armenian genocide.
Rather than being a one-off studio project with an endless cast of characters, Human Element is the sound of a band in the process of establishing its identity.
''We decided that it should definitely be a band and that a record should be just the four of us,'' says Kinsey. ''There's something special about that. We all loved Weather Report and the Mahavishnu Orchestra and we wanted that real band approach. So the four of us camped out for a couple of days and recorded all the basic tracks for this record. Everybody contributed tunes and we all had some input on how the songs were going to end up sounding. It was never really one guy's vision, even if it was his tune we were recording. That's why I really think in the end it does sound like a band record.''
And while the Zawinul influence may be apparent at times, the four kindred spirits boldly stride into distinctly new territory on Human Element. ''Language-wise, we all got so much from Joe,'' says Kinsey, ''and yet we wanted it to be different and about us. And as we got into it, I think it started to really take on an identity of its own. It spans a big area of music and yet it still sounds like one thing.
Kinsey and company hope to establish Human Element as a major force on the international festival scene, bringing their unique and powerful message to fusion and world music fans everywhere. ''The plan is to really go for it with this band,'' says Kinsey. ''We all believe in it because there's really nothing else like this band out there. Since Joe passed, there's just no one making music that's really on that type of wavelength. So there must be a lot of people out there who would like to find music that speaks to them the way that Joe's music did.''
Human Element definitely fills that void. With the release of their self-titled debut on Abstract Logix, this powerful quartet takes its first step in its musical mission.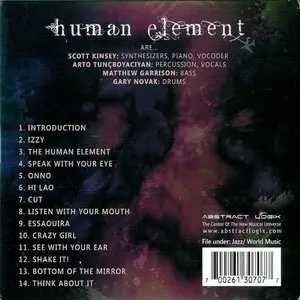 Tracklist:
1. Introduction
2. Izzy
3. The Human Element
4. Speak with Your Eye
5. Onno
6. Hi Lao
7. Cut
8. Listen with Your Mouth
9. Essaouira
10. Crazy GIrl
11. See with Your Ear
12. Shake It!
13. Bottom of the Mirror
14. Think About It