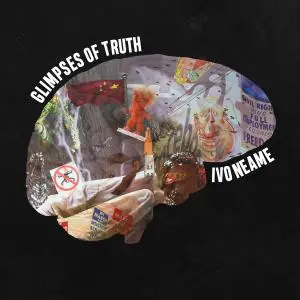 Ivo Neame - Glimpses Of Truth (2021)
WEB FLAC (tracks) ~ 244.64 Mb | 40:15 | Cover
Post-Bop, Contemporary Jazz | Label: Whirlwind Recordings
Ivo Neame's twisting grooves and harmonic ingenuity have helped establish his distinct voice in international contemporary jazz. The celebrated Phronesis pianist returns to Whirlwind for Glimpses of Truth, a powerful artistic statement marking the first time Neame's big band compositions have been committed to disc. Neame's most assured body of work to date will undoubtedly be remembered as one of this period's most impressive artistic achievements.
"Having lots of people play this intricate polyrhythmic music can be really emotionally powerful," says Neame. Taking inspiration from Phronesis' large ensemble projects, the compositions also played a didactic role, as a way of introducing newcomers to complex rhythmic structures. The pandemic flipped that idea on its head: faced with dwindling opportunities to hear these compositions live, Neame thought "'I'm just going to plough on regardless and record it all'." Composed, multi-tracked (Neame plays all the tutti sax lines), videoed, mixed and mastered remotely over the pandemic period, Glimpses of Truth embraces the digital on a global scale, as Gilad Hekselman, Jim Hart and Ingrid Jensen appear alongside a stellar selection of UK musicians.
Neame's creations grapple meaningfully with wider social issues. "We're always struggling with the real truth of anything," he says, explaining the album's title. "People talk about how we're in a post-truth world – this album is my interpretation of that." The release emerges into a post-Trumpian landscape abounding with conspiracy theorists who fully embrace their own truths. "But a lot of the time, it's very murky – that's why I call it 'glimpses'. These days, it's 'this is my truth, that's your truth', it's all very vague because the world is so chaotic." Glimpses of Truth offers stark clarity as a healing balm, working methodically through rhythmic complexity towards a negotiated artistic truth.
Neame stumbled across an article which claimed that 12 million Americans believe interstellar lizards run the United States. "I wanted to write a tune that would encourage people to wake up and question their beliefs" – 'Rise of the Lizard People' is what followed, immediately dropping you into Neame's world of pulsing rhythms and shifting feels. 'Strega' follows, the distinctive double-drum setup of Maddren and Scott accompanying Jensen's pensive trumpet touches. A mandolin-like left-hand tremolo gradually envelops 'Broken Brains'; George Crowley features as the track veers towards introspection. The widespread mental health issues the title references are "not something to be taken lightly," says Neame. "We all have to check ourselves."
'Phasing Song' takes inspiration from Steve Reich and John Adams; a saxophone canon multitracked by Neame forms its compositional crux. 'Perseverance' is similarly layered, but the freest track on the album proves "you don't need to be in the same room at the same time to achieve something spontaneous and interactive." "I'm not precious about any music, it's all up for grabs," says Neame; 'Ghostly Figure' is proof of that, heading in a gently unsettling electric direction with bouncing synths and eerie trombone murmurings. The album finds Neame well equipped on his continued search for hard-fought truths.
Track List:
01 - The Rise Of The Lizard People (00:06:18)
02 - Strega (00:05:03)
03 - Broken Brains (00:05:04)
04 - Phasing Song (00:08:07)
05 - Persevere, Pt. 1 (00:05:56)
06 - Persevere, Pt. 2 (00:05:36)
07 - Ghostly Figure (00:04:08)
Nathaniel Facey - alto saxophone
Ingrid Jensen - trumpet
Gilad Hekselman - guitar
Noel Langley - trumpet
Jason Yarde - baritone saxophone
Trevor Mires - trombone
Gareth Lockrane - flutes
Tom Farmer - double bass
James Maddren & Jon Scott - drums
Ivo Neame - piano
Jim Hart - vibraphone
George Crowley - tenor saxophone
–––––––––––-
DON'T MODIFY THIS FILE
–––––––––––-
PERFORMER: auCDtect Task Manager, ver. 1.6.0 RC1 build 1.6.0.1
Copyright © 2008-2010 y-soft. All rights reserved
http://y-soft.org
ANALYZER: auCDtect: CD records authenticity detector, version 0.8.2
Copyright © 2004 Oleg Berngardt. All rights reserved.
Copyright © 2004 Alexander Djourik. All rights reserved.
FILE: 07 - Ghostly Figure.flac
Size: 21202725 Hash: 58B2F80D2DD381C0536FEE51ECA2A640 Accuracy: -m40
Conclusion: CDDA 99%
Signature: 2A68CC587E92D1D67024FD67740D686F62E1DBBF
FILE: 06 - Persevere, Pt. 2.flac
Size: 36665743 Hash: A2A3B07120CDCD5A80E72F1DB2C70509 Accuracy: -m40
Conclusion: CDDA 100%
Signature: 0287799FD4D08209BA9A05A58F3852144BCC7045
FILE: 05 - Persevere, Pt. 1.flac
Size: 37106286 Hash: 986A480EC924EE7BEC2B936BD110A201 Accuracy: -m40
Conclusion: CDDA 100%
Signature: 945EB303C534F88088B803FA4DB63E673C0BEAAD
FILE: 04 - Phasing Song.flac
Size: 54393674 Hash: 08B0264340D371E0D9660A9B371FB8CF Accuracy: -m40
Conclusion: CDDA 100%
Signature: E1D970D7BEB1CEDD4643CDA7E7A0BD28A42B00E5
FILE: 03 - Broken Brains.flac
Size: 31463912 Hash: BB642EBC67AFD340FE6C29277F7EF7BA Accuracy: -m40
Conclusion: CDDA 100%
Signature: 71D1C424B06E3E1DE11029C22115059501BF38FF
FILE: 02 - Strega.flac
Size: 32981853 Hash: D0CC6BA4C17D3ABE759773B2F2BE48F9 Accuracy: -m40
Conclusion: CDDA 100%
Signature: EC8FA2C1832ED6CFA03E28FA00C6F57F42A2D5F1
FILE: 01 - The Rise Of The Lizard People.flac
Size: 41856069 Hash: 5CCCFA3AE36FCDD46DCDDD269D219429 Accuracy: -m40
Conclusion: CDDA 100%
Signature: 92A7350ED58526A5A39DA0515D0B663646396592