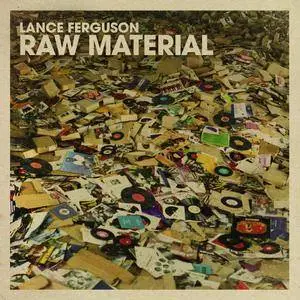 Lance Ferguson - Raw Material (2017)
Electronic, Disco, Soul, Funk, Hip Hop | 1:46:25 | MP3, 320 kbps | 243 MB
Label: WM Australia
Talk about "rare groove". Lance Ferguson joined with members of Hiatus Kaiyote, The Putbacks and his band The Bamboos to create jazz, disco and funk beats and breaks that he pressed onto vinyl—no sample clearances required. Ferguson then turned them into luscious beds of music for his favourite MCs, producers and singers to jump on. The result is this collection of hip-hop, electronica and soul that transcends time and style. Songs like "Back to You," "Don't Stop," "Fly By Wire" and "2+1" escort listeners into a basement party that goes from sundown to sunrise. Singer Kylie Auldist makes a breakout performance here, taking four Raw Material tracks to church.
Tracklist:
01. Lance Ferguson & One Above - Back To You (feat. EMRSN & Mose)
02. Lance Ferguson - Her And Now (feat. Christin Deralas)
03. Lance Ferguson & Katalyst - Thick & Thin (feat. Cazeaux O.S.L.O.)
04. Lance Ferguson - Don't Stop (feat. Jace XL)
05. Lance Ferguson - All I Got (feat. Brit Manor)
06. Lance Ferguson, Javelin - Outer Excursion
07. Lance Ferguson - Vantage Point
08. Lance Ferguson & Late Nite Tuff Guy - Do U Want Me 2 Stay (feat. Kylie Auldist)
09. Lance Ferguson - All Day All Night (feat. Jeriet Dwight & Zeek Power)
10. Lance Ferguson & Lack Of Afro - Make Somebody Mine (feat. Kylie Auldist)
11. Lance Ferguson, Ennio Styles - Lanthology
12. Lance Ferguson, Planetself - Truth Will Set You Free
13. Lance Ferguson - From Lil Mont (feat. Clairmont The Second)
14. Lance Ferguson - Make Up Your Mind (feat. Kylie Auldist)
15. Lance Ferguson - Yoshiko's Theme
16. Lance Ferguson - Voyage To The Future
17. Lance Ferguson - 2+1 (feat. Kylie Auldist)
18. Lance Ferguson - Peuple de la Nuit
19. Lance Ferguson - Love Disguise (feat. Fallon Willams)
20. Lance Ferguson - Fly By Wire
21. Lance Ferguson - Spiral
22. Lance Ferguson - Somebody To Hold (feat. Kylie Auldist)
23. Lance Ferguson - The Huntress
24. Lance Ferguson - Bahia
25. Lance Ferguson - All Day Long