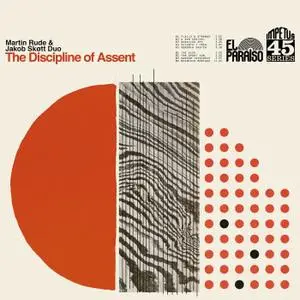 Martin Rude & Jakob Skøtt Duo - The Discipline of Assent (2020)
WEB FLAC (tracks) - 219 Mb | MP3 CBR 320 kbps - 87 Mb | 00:37:13
Psychedelic Rock, Jazz Rock, Jazz Fusion | Label: El Paraiso Records
Martin Rude (Sun River) & Jakob Skøtt (Causa Sui) team up for a genre-defying record that was recorded during an exceptional session on March 3rd 2020. Martin brought his Double Bass, Acoustic & Baritone guitar into the studio of Causa Sui, where Jakob's drums were already miked & prepped by soundwiz Jonas Munk, freshly tuned from the new Causa Sui recordings. The music they played ranges from sprawled out pre-fusion electric jazz to psychedelic folk ragas. After the sessions, the hours of free floating music was edited & dubbed by Jakob Skøtt into shorter cohesive segments, but maintaining the improvised vibe of these first takes.

It is a record that pays homage to the great innovators of jazz: Miles & Trane (or perhaps more fittingly their peak-drummers: Tony Williams, Jack DeJohnette & Elvin Jones), as well as Mingus at his fiercest or Sun Ra at his most exotic. Not merely a tribute, the album doubles down with guitar pickings ala John Fahey & Sandy Bull, as well as sparse layers of oddly-tempered mallet percussion and synthesizers. But perhaps the closest reference isn't something of a certain place in time, but rather a free flowing ethos of stoic proportions: letting happen what it may, turning the accidents and mistakes along the way into something vital.
Tracklist:1.
Flails & Strands
(05:01)
2.
A New Arrival
(03:17)
3.
Aurelius Dye
(03:19)
4.
Setenta y Tres
(02:03)
5.
Sequoia Sketch
(03:17)
6.
The Slip
(02:28)
7.
The Short Sun
(02:45)
8.
Random Treasures
(03:54)
9.
Mountain Montage
(11:03)[/i


–––––––––––-

DON'T MODIFY THIS FILE

–––––––––––-

PERFORMER: auCDtect Task Manager, ver. 1.6.0 RC1 build 1.6.0.1
Copyright © 2008-2010 y-soft. All rights reserved

ANALYZER: auCDtect: CD records authenticity detector, version 0.8.2
Copyright © 2004 Oleg Berngardt. All rights reserved.
Copyright © 2004 Alexander Djourik. All rights reserved.


FILE: 05 Sequoia Sketch.flac
Size: 21271630 Hash: 1B44CDACA261BB2532A43E255C11F4AD Accuracy: -m8
Conclusion: CDDA 100%
Signature: 8476320A8F14BEB2B9BE7F9BD6DD90C68C9994AE
FILE: 04 Setenta y Tres.flac
Size: 13356925 Hash: B63F793AF89BCBEA1A6375C9B9525320 Accuracy: -m8
Conclusion: CDDA 100%
Signature: 8946B98C68EFF95E7C9C207F230752A4DF167FD3
FILE: 03 Aurelius Dye.flac
Size: 22006923 Hash: 2F0837BFB3C58229B6F3864A8660DABE Accuracy: -m8
Conclusion: CDDA 100%
Signature: DA81BA713E5B7DEF65F99F906D00574AF451EF23
FILE: 02 A New Arrival.flac
Size: 20316619 Hash: 41D4AE66242FC7FA38C33DD74E723722 Accuracy: -m8
Conclusion: CDDA 100%
Signature: 323F62877CAD8337BADBF2F647FF49769420A839
FILE: 01 Flails & Strands.flac
Size: 33204766 Hash: ADE26FDAB71482A67E242F32FA7894F0 Accuracy: -m8
Conclusion: CDDA 99%
Signature: 04D61B3CA733A410080182DE312EC9B88D1670D3
FILE: 09 Mountain Montage.flac
Size: 63608073 Hash: E4E07932C0A1DBED98C0B9481B5006B9 Accuracy: -m8
Conclusion: CDDA 100%
Signature: A63B3B16B280AD804962A8EC7C7AFE5E19A72522
FILE: 08 Random Treasures.flac
Size: 23293352 Hash: 46680FE24F6D8680594633073E22F03A Accuracy: -m8
Conclusion: CDDA 99%
Signature: 5EC5B369DF3D1EA0919E47A67B1578AAF2B19B94
FILE: 07 The Short Sun.flac
Size: 17228704 Hash: 2751100AAD47D17A840F73B215E72006 Accuracy: -m8
Conclusion: CDDA 100%
Signature: D44C60E92F2C3ED0DBA1A511D4BEB4850ACCDF18
FILE: 06 The Slip.flac
Size: 15384789 Hash: 3CAAD2FCF726ADB677E17FFBAB131920 Accuracy: -m8
Conclusion: CDDA 100%
Signature: 5FB88BA89546AC2C08F470B95D52A102B2DEE140