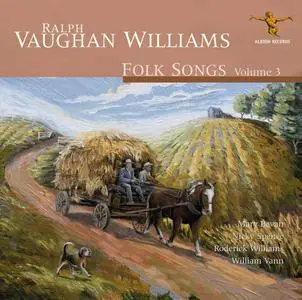 Mary Bevan, Nicky Spence, Roderick Williams & William Vann - Ralph Vaughan Williams: Folk Songs, Vol. 3 (2021)
WEB FLAC (tracks) - 205 Mb | MP3 CBR 320 kbps - 140 Mb | Digital booklet | 01:00:41
Classical | Label: Albion Records
Folk Songs from the Eastern Counties is is the third in a series of four albums recording all 81 of the folk songs in English that Ralph Vaughan Williams arranged for voice and piano or violin. 57 of the 81 songs have not previously been recorded in these arrangements.

This third album has 21 tracks including 14 world premieres. The principal collection (15 tracks) comprises folk songs collected by Vaughan Williams himself from 'The Eastern Counties' primarily Essex, Norfolk and Cambridgeshire and published by him in these arrangements in 1908. These are thus the earliest works in the series. Additionally, there are Twelve Traditional Country Dances arranged for Maud Karpeles in 1931 and songs from The Penguin Book of English Folk Songs and from The Motherland Song Book.

Robert Moore wrote of Volumes 1 and 2 in The American Record Guide: 'These wonderful performances are everything I can imagine VW would have hoped for. When the project is completed, it will stand as one of the finest testaments to his life. The program notes give valuable background information about the songs and the process of recording them. Texts are included though the singers' diction is so clear that they are hardly needed.'

Praised by Opera for her "dramatic wit and vocal control", British soprano Mary Bevan is internationally renowned in baroque, classical and contemporary repertoire, and appears regularly with leading conductors, orchestras and ensembles around the world.

Opera singer Nicky Spence is one of Scotland's proudest sons and his unique skills as a singing actor and the rare honesty of his musicianship are steadfastly earning him a place at the top of the classical music profession.

Roderick Williams is one of this country's most sought after baritones and is constantly in demand, encompassing a repertoire from the baroque to world premires. In 2016 he won the Royal Philharmonic Society's Singer of the Year award.

A multiple-prize winning and critically acclaimed conductor and accompanist, William Vann is equally at home on the podium or at the piano and is the founder and Artistic Director of the London English Song Festival.
Tracklist:
01. Williams: Folk Songs from the Eastern Counties: No. 1, Bushes and Briars
02. Williams: Folk Songs from the Eastern Counties: No. 2, Tarry Trowsers
03. Williams: Folk Songs from the Eastern Counties: No. 3, A Bold Young Farmer
04. Williams: Folk Songs from the Eastern Counties: No. 4, The Lost Lady Found
05. Williams: Folk Songs from the Eastern Counties: No. 5, As I Walked Out
06. Williams: Folk Songs from the Eastern Counties: No. 6, The Lark in the Morning
07. Williams: Folk Songs from the Eastern Counties: No. 7, On Board a Ninety-Eight
08. Williams: Folk Songs from the Eastern Counties: No. 8, The Captain's Apprentice
09. Williams: Folk Songs from the Eastern Counties: No. 9, Ward, the Pirate
10. Williams: Folk Songs from the Eastern Counties: No. 10, The Saucy Bold Robber
11. Williams: Folk Songs from the Eastern Counties: No. 11, The Bold Princess Royal
12. Williams: Folk Songs from the Eastern Counties: No. 12, The Lincolnshire Farmer
13. Williams: Folk Songs from the Eastern Counties: No. 13, The Sheffield Apprentice
14. Williams: Folk Songs from the Eastern Counties: No. 14, Geordie
15. Williams: Folk Songs from the Eastern Counties: No. 15, Harry, the Tailor
16. Williams: 12 Traditional Country Dances
17. Williams: Penguin Book of English Folk Songs (Excerpts): No. 95, Salisbury Plain
18. Williams: Penguin Book of English Folk Songs (Excerpts): No. 15, Banks of Green Willow
19. Williams: Penguin Book of English Folk Songs (Excerpts): No. 18, The Basket of Eggs
20. Williams: The Motherland Song Book, Vol. 3 (Excerpts): No. 8, We Be Three Poor Mariners
21. Williams: The Motherland Song Book, Vol. 3 (Excerpts): No. 1, The Arethusa
–––––––––––-

DON'T MODIFY THIS FILE

–––––––––––-

PERFORMER: auCDtect Task Manager, ver. 1.6.0 RC1 build 1.6.0.1
Copyright © 2008-2010 y-soft. All rights reserved

ANALYZER: auCDtect: CD records authenticity detector, version 0.8.2
Copyright © 2004 Oleg Berngardt. All rights reserved.
Copyright © 2004 Alexander Djourik. All rights reserved.


FILE: 21 - Mary Bevan, Nicky Spence, Roderick Williams, William Vann - Williams- The Motherland Song Book, Vol. 3 (Excerpts)- No. 1, The Arethusa.flac
Size: 9700102 Hash: C072FB034EB15D63EBE7143AA9753403 Accuracy: -m8
Conclusion: CDDA 100%
Signature: 8942D23B6F8BD9DC6421E24C29DA3754EC827631
FILE: 20 - Mary Bevan, Nicky Spence, Roderick Williams, William Vann - Williams- The Motherland Song Book, Vol. 3 (Excerpts)- No. 8, We Be Three Poor Mariners.flac
Size: 4604423 Hash: 720FF93EB3303D3801395C50D41C3DBE Accuracy: -m8
Conclusion: CDDA 99%
Signature: 48E3464F5EB3A7D8FAEA24CD7C398782F11E6074
FILE: 19 - Mary Bevan, Nicky Spence, Roderick Williams, William Vann - Williams- Penguin Book of English Folk Songs (Excerpts)- No. 18, The Basket of Eggs.flac
Size: 12405636 Hash: 1247BC281AD2EBE83C07FD632ADA6FA1 Accuracy: -m8
Conclusion: CDDA 100%
Signature: D77E21881857E32849DDE3DFF59F1691DC448FA4
FILE: 18 - Mary Bevan, Nicky Spence, Roderick Williams, William Vann - Williams- Penguin Book of English Folk Songs (Excerpts)- No. 15, Banks of Green Willow.flac
Size: 5806206 Hash: 3ABBE276BF17870D6B3C5A68503A9B60 Accuracy: -m8
Conclusion: CDDA 100%
Signature: 60CE3CBBEE2DDA878B5DC5BEE9DC3ECB4548FC4A
FILE: 17 - Mary Bevan, Nicky Spence, Roderick Williams, William Vann - Williams- Penguin Book of English Folk Songs (Excerpts)- No. 95, Salisbury Plain.flac
Size: 9879435 Hash: 2570F97C987C782E8936BCFA97CA8235 Accuracy: -m8
Conclusion: CDDA 100%
Signature: 4C7B00A8BD97E0115C7B10EB1E80F7CD2B422ED7
FILE: 16 - Mary Bevan, Nicky Spence, Roderick Williams, William Vann - Williams- 12 Traditional Country Dances.flac
Size: 29082801 Hash: 6074A0B14793DE6EEE799DB83BF7B526 Accuracy: -m8
Conclusion: CDDA 42%
Signature: 81AB09630692352DA6FB71F6BF100C2C46B54156
FILE: 15 - Mary Bevan, Nicky Spence, Roderick Williams, William Vann - Williams- Folk Songs from the Eastern Counties- No. 15, Harry, the Tailor.flac
Size: 7258590 Hash: CB11AB562373485E221556E6C94AA468 Accuracy: -m8
Conclusion: CDDA 100%
Signature: FF3335F4FAAFF237A3E62298D8C8066EAF0F89B0
FILE: 14 - Mary Bevan, Nicky Spence, Roderick Williams, William Vann - Williams- Folk Songs from the Eastern Counties- No. 14, Geordie.flac
Size: 12284003 Hash: 05818216CBD787022C32E398DE26E88D Accuracy: -m8
Conclusion: CDDA 100%
Signature: B6A2D003BB1B95D53585EF8E7A429DD0ADCA2588
FILE: 13 - Mary Bevan, Nicky Spence, Roderick Williams, William Vann - Williams- Folk Songs from the Eastern Counties- No. 13, The Sheffield Apprentice.flac
Size: 14738107 Hash: 1F512DE0A796095000C373FCDE974B26 Accuracy: -m8
Conclusion: CDDA 99%
Signature: 2C2ADCFD5EEBAE49736D72E16A1520844DE14D21
FILE: 12 - Mary Bevan, Nicky Spence, Roderick Williams, William Vann - Williams- Folk Songs from the Eastern Counties- No. 12, The Lincolnshire Farmer.flac
Size: 10499393 Hash: AB084A0E8D619262540D641AE557AFC8 Accuracy: -m8
Conclusion: CDDA 100%
Signature: 07A7FC831EA933E1C2B92826532CAC6E424264CF
FILE: 11 - Mary Bevan, Nicky Spence, Roderick Williams, William Vann - Williams- Folk Songs from the Eastern Counties- No. 11, The Bold Princess Royal.flac
Size: 10258317 Hash: 06816919BA0046841492255D5448D46F Accuracy: -m8
Conclusion: CDDA 100%
Signature: F8F21EE4659CB5EEDF45A4278C6B569E1CB6277C
FILE: 10 - Mary Bevan, Nicky Spence, Roderick Williams, William Vann - Williams- Folk Songs from the Eastern Counties- No. 10, The Saucy Bold Robber.flac
Size: 9342537 Hash: E343D92FFF720B4978314D315C26DEDF Accuracy: -m8
Conclusion: CDDA 100%
Signature: 5478DF171366686A5F8B9A354BA6ECF3F14D8D12
FILE: 09 - Mary Bevan, Nicky Spence, Roderick Williams, William Vann - Williams- Folk Songs from the Eastern Counties- No. 9, Ward, the Pirate.flac
Size: 12305002 Hash: 6D93D26C430D416CAAD6653E094110FA Accuracy: -m8
Conclusion: CDDA 100%
Signature: B16E1CD0946639AE60D59FBBE1F9DEE2F9E5B2F2
FILE: 08 - Mary Bevan, Nicky Spence, Roderick Williams, William Vann - Williams- Folk Songs from the Eastern Counties- No. 8, The Captain's Apprentice.flac
Size: 10820006 Hash: 4726A72A9AE6ED5028ABA238D2E1F933 Accuracy: -m8
Conclusion: CDDA 100%
Signature: 0333819F499BB53DB313383CE756B9AFBA37950E
FILE: 07 - Mary Bevan, Nicky Spence, Roderick Williams, William Vann - Williams- Folk Songs from the Eastern Counties- No. 7, On Board a Ninety-Eight.flac
Size: 10322752 Hash: 46E4FD590EB31B343CC962CDEE6B7030 Accuracy: -m8
Conclusion: CDDA 100%
Signature: 89737EE41CDCDE77CC55F187FC4AED78DFCD07F3
FILE: 06 - Mary Bevan, Nicky Spence, Roderick Williams, William Vann - Williams- Folk Songs from the Eastern Counties- No. 6, The Lark in the Morning.flac
Size: 5477020 Hash: FD2665529FE6DFE769ECF46038A65D6F Accuracy: -m8
Conclusion: CDDA 100%
Signature: A03C6FA446025A10A45D6A7FF6674078CD0AF037
FILE: 05 - Mary Bevan, Nicky Spence, Roderick Williams, William Vann - Williams- Folk Songs from the Eastern Counties- No. 5, As I Walked Out.flac
Size: 6750217 Hash: 9A881F01780FA4B2D004CB7159B12B88 Accuracy: -m8
Conclusion: CDDA 100%
Signature: 4BE8D3218E7ED4A1D83156953027D431A3E989C4
FILE: 04 - Mary Bevan, Nicky Spence, Roderick Williams, William Vann - Williams- Folk Songs from the Eastern Counties- No. 4, The Lost Lady Found.flac
Size: 10566014 Hash: 5ED10BDCCFBF3BF53F22771EE99A8CE2 Accuracy: -m8
Conclusion: CDDA 100%
Signature: DB81ED8C8D837EF5BEF72A95DA96B8BDD0BDE020
FILE: 03 - Mary Bevan, Nicky Spence, Roderick Williams, William Vann - Williams- Folk Songs from the Eastern Counties- No. 3, A Bold Young Farmer.flac
Size: 8630493 Hash: 36B40991590B952FE3DA7D86363B487A Accuracy: -m8
Conclusion: CDDA 100%
Signature: 763AE139610D289C16637FD12C3EF3560524E049
FILE: 02 - Mary Bevan, Nicky Spence, Roderick Williams, William Vann - Williams- Folk Songs from the Eastern Counties- No. 2, Tarry Trowsers.flac
Size: 3290310 Hash: 1A8EE06A5ACD0B986D3819EDF38D831E Accuracy: -m8
Conclusion: CDDA 100%
Signature: 62A9C607A0F7E0C7E7A35852F0D4414C4F91606F
FILE: 01 - Mary Bevan, Nicky Spence, Roderick Williams, William Vann - Williams- Folk Songs from the Eastern Counties- No. 1, Bushes and Briars.flac
Size: 10038021 Hash: 52EF2801D24B8A88073007133389594F Accuracy: -m8
Conclusion: CDDA 100%
Signature: 1C973B4F0257150D6530F241DC681BB9874FA85D