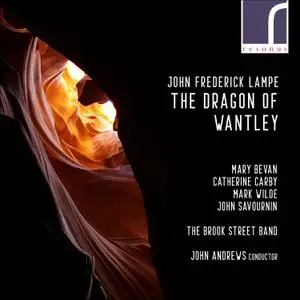 Mary Bevan, Catherine Carby, Mark Wilde, John Savournin, The Brook Street Band, John Andrews - Lampe: The Dragon of Wantley (2022)
WEB FLAC (tracks) - 475 Mb | MP3 CBR 320 kbps - 252 Mb | Digital booklet | 01:47:49
Classical, Opera | Label: Resonus Classics
A rapacious dragon has been terrorising a Yorkshire village. Gubbins and his daughter Margery, together with Mauxalinda, decide to seek the help of Moore of Moore Hall. Moore needs persuading away from his beer but succumbs to Margery's pleading, and her promises of love. Unfortunately, he had already promised to marry Mauxalinda, and so the love triangle has to be resolved in dramatic fashion before Moore heads out and defeats the dragon, restoring harmony and prosperity to the village. Following the BBC Music Magazine Opera Award for his recording of Malcolm Arnold's The Dancing Master, conductor John Andrews returns with the world premiere professional recording of John Frederick Lampe's operatic comedy The Dragon of Wantley. With librettist Henry Carey, Lampe combines a first-rate score with a quintessentially English plot, told in a tone of earthy satire, pastiching opera's conventions with skill and affection, but also a razor wit.