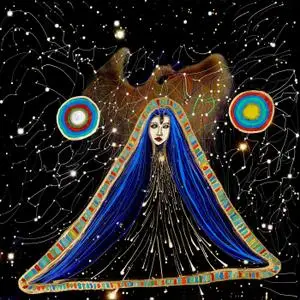 Natalie Rose LeBrecht - Mandarava Rose (2019)
WEB FLAC (tracks) ~ 302.48 Mb | 54:20 | Cover
Ambient Pop, Art Pop, New Age | Label: Galtta Media - GALTTA-027
Mandarava Rose, Natalie Rose LeBrecht's first album since 2010, is the culmination of a decade spent focused on meditation and explorations of inner space. In 2016, she began studying hypnosis and started mentally traveling to what she calls "extraordinary interdimensional spheres", which she felt compelled to channel through her music. Balancing a full-time job with manifesting a new creative vision meant waking up before the crack of dawn to practice the piano and work on compositions. It took her over a year working in this way to bring Mandarava Rose to life. To help broaden the music, LeBrecht brought on two instrumental collaborators: David Lackner, who co-created the woodwind arrangements, performed them on the recordings, and helped participate in the mixing process; and Martin Bisi who co-produced, co-recorded, engineered and co-mixed the album.
The finished work has drawn comparisons to the likes of Philip Glass, the Twin Peaks soundtrack, and Alice Coltrane. LeBrecht was deeply inspired by Alice Coltrane's music, and even dedicates the opening track, "Rishi Stars", to Turiyasangitananda - Coltrane's spiritual name. However, the album as a whole is ultimately unique and authentic; it's a feminine soul-bearing work of sonic art. When asked how she felt about her new music, LeBrecht said, "having a day job that funded the production of this album gave me an immense freedom from concern during the creative process. The result is that I made something genuine and uncompromising, and I have an aspiration that it will open the hearts of those who connect with it."
Described as an "enigmatic chanteuse" by the Huffington Post and a "one-person subculture" by music journalist Douglas Wolk, Natalie Rose LeBrecht has been creating solo music of an interior nature since her childhood. Although she is primarily a self-taught musician, she spent a couple of years working for and studying under the legendary composer, LaMonte Young. LeBrecht has shared bills with Devendra Banhart, Animal Collective, Sharon Van Etten, and Dirty Projectors to name just a few. She is the recipient of a Roulette Jerome Foundation Commission.
Track List:
01. Rishi Stars (05:44)
02. Rosebud & Lotus (10:43)
03. In the Beginning (06:15)
04. Lost (03:17)
05. Autonomy Dream (09:49)
06. Rivers (09:03)
07. Ocean of Ah (05:39)
08. Hear Today (03:52)
All compositions and lyrics by Natalie Rose LeBrecht, copyright 2018
Produced by NRL, Martin Bisi & David Lackner
Woodwind arrangements by DL and NRL
Mastered by Fred Kevorkian
Performances by:
NRL - acoustic and electric pianos, organ, vocals
David Lackner - flute, saxophones, bells, synth
Album cover art by Daniel Subkoff & NRL
–––––––––––-

DON'T MODIFY THIS FILE

–––––––––––-

PERFORMER: auCDtect Task Manager, ver. 1.6.0 RC1 build 1.6.0.1
Copyright © 2008-2010 y-soft. All rights reserved

ANALYZER: auCDtect: CD records authenticity detector, version 0.8.2
Copyright © 2004 Oleg Berngardt. All rights reserved.
Copyright © 2004 Alexander Djourik. All rights reserved.

FILE: 08. Hear Today.flac
Size: 21188923 Hash: A7D207E78922F76F85770D21FA29B0FA Accuracy: -m0
Conclusion: CDDA 99%
Signature: FF0391C4CD470BD974FC3C7A3588F14A834D87CE
FILE: 07. Ocean of Ah.flac
Size: 33186926 Hash: 30CCDF2AEAF8D505D781A5380F94ACEC Accuracy: -m0
Conclusion: CDDA 100%
Signature: 54C020C9BADC5E9517DC675AEBA32FF80CE72091
FILE: 06. Rivers.flac
Size: 54848982 Hash: C9AF4E585B24C2D350C0E44E38859014 Accuracy: -m0
Conclusion: CDDA 100%
Signature: F306A02F51C6EF7520142A7A580E9AB4FD4D7E4C
FILE: 05. Autonomy Dream.flac
Size: 56589574 Hash: 6AA8D6A164B756D6565E00679BFFC8DF Accuracy: -m0
Conclusion: CDDA 99%
Signature: 29653136E8577607058386F5C904F3BC3CE339CA
FILE: 04. Lost.flac
Size: 18172245 Hash: 0D026F5821BC2CBEB92260386F0C3D89 Accuracy: -m0
Conclusion: CDDA 100%
Signature: 0A68819D732A381D72FC38A258AD0AF2357FE328
FILE: 03. In the Beginning.flac
Size: 34980400 Hash: 3BFB6FB114B5D3CF9E65D46535080D49 Accuracy: -m0
Conclusion: CDDA 100%
Signature: C6B2E1677C6C4ADC85B4C70D9625B6E2D13A1E83
FILE: 02. Rosebud & Lotus.flac
Size: 63031511 Hash: 92DA618001B5EC673DF3AA341EA36D16 Accuracy: -m0
Conclusion: CDDA 100%
Signature: ABCC6BB127560535658E354C15EEB76DE114DC90
FILE: 01. Rishi Stars.flac
Size: 31989029 Hash: 1B8BA6427FA951B048C9DBD4AE485288 Accuracy: -m0
Conclusion: CDDA 100%
Signature: A4A32FE1049F41F1ADD9ED4EB41D9D32333E832F