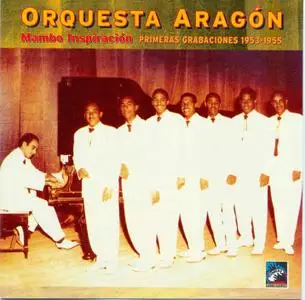 Orquesta Aragon - Mambo Inspiracion
Cuba | MP3 | 320 Kbps | 141 MB
Tumbao Cuban Classics 2002
This is a priceless CD by Barcelona's "Tumbao Cuban Classics". It contains none other than Orquesta Aragon's very first, original recordings in Cuba for RCA Victor during the years 1953 through 1955. Orquesta Aragon's was led by lead violinist, composer, arranger and chorus singer, the late Rafael Lay,Sr.
Hard to find Orquesta Aragon early hits, like, Miguel Angel Pozo's "El Agua de Clavito", "Mambo Inspiracion", the early and original version of "Tres Lindas Cubanas" (1953) with a totally different musical arrangement than its later (1957) recorded version, also Felix Chappottin's "Mentiras Criollas", you will likely find yourself getting up from your chair to dance, Felix Molina's contagious "Mambo Sensacional", Rafael Lay's "Que Bien Estamos", "Vida Te Adoro" and blockbuster hits like Jose Fajardo's "Los Tamalitos de Olga", "Cero Codazos, Cero Cabezazos", "Lo Se Bien","Pare Cochero", "Baila Vicente", "Cuatro Vidas","Noche Azul", "Picando de Vicio", etc. make this compilation a must have for all Orquesta Aragon fans and Cuban music collectors. Singers Jose Chino Olmo from the Hermanos Palau Jazz Band and Fernando Alvarez then a chorus singer with the Beny More Jazz Band, were featured on chorus, starting in 1954. This album also features two flutists, Orquesta Aragon's original Rolando Lozano and Richard Egues who is featured on several tunes. Most of the tunes featured Aragon's original flutist, Rolando Lozano, although he is erroneously credited in this CD liners with only 6 of the album's recordings.
These recordings were remarkably well preserved. This classic CD also features a picture of this great orchestra at a time when it was starting to become popular in Cuba.
01. El Agua De Clavelito
02. Mambo Inspiracion
03. Mentiras Criollas
04. Tres Lindas Cubanas
05. Mambo Sensacional
06. Nunca
07. Vida, Te Adoro
08. Qué Bien Estamos
09. Baila Vicente
10. Pare Cochero
11. Cero Codazos, Cero Cabezazos
12. Lo Sé Bien
13. Los Tamalitos De Olga
14. Cuatro Vidas
15. Linda
16. Mambo Del Beso
17. Nosotros
18. Desconsiderada
19. Noche Azul
20. Picando De Vicio