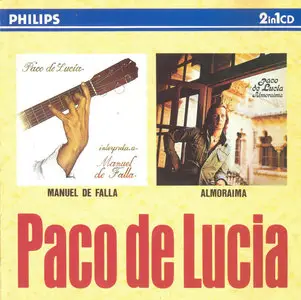 Paco de Lucia - Interpreta a Manuel de Falla / Almoraima (1987)
EAC rip | FLAC image + cue + log + scans / MP3 320 kbps | 01:07:49 | 364 MB / 158 MB (3% rec.)
Flamenco, Classical | Label: Philips (Japan), 40PD-272
Legendary Spanish composer and musician Paco de Lucía was born in Spain in 1947. Although best known for his mastery of flamenco guitar, he also performs in other genres, including jazz, classical and world music. "Interpreta a Manuel de Falla" is his twelfth studio album, contaning the breathtaking mixture of Classical and Flamenco music. "Almoraima", released two years before, belongs to the more traditional Flamenco style.
Tracklist
Interpreta a Manuel de Falla (1978)
1. Danza de los Vecinos [03:12]
2. Danza Ritual des Fuego [04:25]
3. Introduccion y Pantomina [03:03]
4. El Pano Moruno [01:31]
5. Danza del Molinero [03:06]
6. Danza [03:26]
7. Escena [01:26]
8. Cancion del Fuego Fatuo [04:08]
9. Danza des Terror [01:50]
10. Danza de la Molinera [04:04]
Almoraima (1976)
11. Almoraima (Bulerias) [05:27]
12. Cueva del Gato (Rondenas) [05:46]
13. El Cobre (Sevillanas) [03:12]
14. A la Perla de Cadiz (Cantinas) [04:29]
15. Ole (Jaleos) [04:21]
16. Plaza Alta (Solea) [06:14]
17. Rio Ancho (Rumba) [04:31]
18. Llanos des Real (Minera) [03:38]
Total time 01:07:49
Exact Audio Copy V0.99 prebeta 5 from 4. May 2009

Отчёт EAC об извлечении, выполненном 8. декабря 2010, 0:03

Paco de Lucia / Manuel de Falla - Almoraima

Дисковод: TSSTcorpCDDVDW SH-S203B Adapter: 1 ID: 1

Режим чтения : Достоверность
Использование точного потока : Да
Отключение кэша аудио : Да
Использование указателей C2 : Нет

Коррекция смещения при чтении : 6
Способность читать области Lead-in и Lead-out : Нет
Заполнение пропущенных сэмплов тишиной : Да
Удаление блоков с тишиной в начале и конце : Нет
При вычислениях CRC использовались нулевые сэмплы : Да
Интерфейс : Установленный внешний ASPI-интерфейс

Выходной формат : Внутренние WAV-операции
Формат сэмплов : 44.100 Гц; 16 бит; стерео


TOC извлечённого CD

Трек | Старт | Длительность | Начальный сектор | Конечный сектор
––––––––––––––––––––––––––––––––––-
1 | 0:00.00 | 3:12.32 | 0 | 14431
2 | 3:12.32 | 4:25.08 | 14432 | 34314
3 | 7:37.40 | 3:03.02 | 34315 | 48041
4 | 10:40.42 | 1:31.38 | 48042 | 54904
5 | 12:12.05 | 3:06.57 | 54905 | 68911
6 | 15:18.62 | 3:26.30 | 68912 | 84391
7 | 18:45.17 | 1:26.13 | 84392 | 90854
8 | 20:11.30 | 4:08.22 | 90855 | 109476
9 | 24:19.52 | 1:50.63 | 109477 | 117789
10 | 26:10.40 | 4:04.32 | 117790 | 136121
11 | 30:14.72 | 5:27.48 | 136122 | 160694
12 | 35:42.45 | 5:46.37 | 160695 | 186681
13 | 41:29.07 | 3:12.18 | 186682 | 201099
14 | 44:41.25 | 4:29.67 | 201100 | 221341
15 | 49:11.17 | 4:21.28 | 221342 | 240944
16 | 53:32.45 | 6:14.15 | 240945 | 269009
17 | 59:46.60 | 4:31.50 | 269010 | 289384
18 | 64:18.35 | 3:38.55 | 289385 | 305789


Характеристики диапазона извлечения и сообщения об ошибках

Выбранный диапазон

Имя файла C:\Users\T-Rex\Desktop\1\Paco de Lucia - Manuel de Falla - Almoraima.wav

Пиковый уровень 100.0 %
Качество диапазона 100.0 %
CRC копии 711E83C8
Копирование… OK

Ошибок не произошло


AccurateRip: сводка

Трек 1 точное извлечение (доверие 1) [7CE70494]
Трек 2 точное извлечение (доверие 1) [CCA4CDB4]
Трек 3 точное извлечение (доверие 1) [E26356BA]
Трек 4 точное извлечение (доверие 1) [7465BF3B]
Трек 5 точное извлечение (доверие 1) [24B5CF5A]
Трек 6 точное извлечение (доверие 1) [0339762D]
Трек 7 точное извлечение (доверие 1) [69C81BDB]
Трек 8 точное извлечение (доверие 1) [DC2006ED]
Трек 9 точное извлечение (доверие 1) [575F849A]
Трек 10 точное извлечение (доверие 1) [C9C45630]
Трек 11 точное извлечение (доверие 1) [80E60484]
Трек 12 точное извлечение (доверие 1) [32B45CD8]
Трек 13 точное извлечение (доверие 1) [3A44E487]
Трек 14 точное извлечение (доверие 1) [F23F0CCE]
Трек 15 точное извлечение (доверие 1) [1BE6F955]
Трек 16 точное извлечение (доверие 1) [8C3A4985]
Трек 17 точное извлечение (доверие 1) [D6BDB95D]
Трек 18 точное извлечение (доверие 1) [3698110C]

Все треки извлечены точно

Конец отчёта