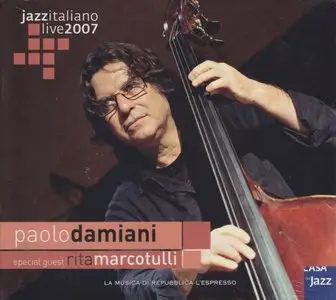 Paolo Damiani - Jazz Italiano Live 2007
RS | Jazz | 1CD | Label: Casa Del Jazz Rome | Publisher: Repubblica L'espresso
File format Mp3 | MP3 256 Kbps | 120.8 Mb |
| No Cue + No Log | Front cover |
Released 2007
Paolo Damiani's dynamic play on the enlargement of the canonical form song, reveal a great deal of expressive characters and situations in the music. The collective conversation is with freedom and ease with an inclination in mesmerizing it's listeners with emotion through the dialogue between Girotto and Sclavis moving with restraint and fantasy.
The music presented on Jazz Italiano live 2007 is lyrical and encompassing. Jazz Italiano Live 2007 is a series publications by
republicca l'espresso
featuring some of the best in Italian Jazz. It was recorded live at the Casa del Jazz in Rome 24/01/2007.
Paolo Damiani (b. 1952) is an Italian jazz cellist and double-bassist. Performing primarily in the avant-garde jazz and post bop mediums, Damiani was born in Rome, Italy. Damiana has performed over his career with a vast array of professional jazz musicians, including Gianluigi Trovesi, Kenny Wheeler, Tony Oxley, Paolo Fresu and John Taylor. He has also recorded on the albums of Deep Forest and Bauhas.
Title: Paolo Damiani - Jazzitaliano Live 2007
Item No.: jil0706
Release Date: 2007
Format: CD (EUROPE)
Musicians: Paolo Damiani - Bass, Cello
Louis Sclavis - Clarinet, Soprano Sax
Javier Girotto - Saxes, Flute
Rita Marcotulli - Piano
Michele Rabbia - Percussions
Diana Torto - Voice
Tracklist
1. Passi
2. Cos'e Che Ti Fa Andare Cosi
3. Tango Lento
4. Ludi Ludi
5. Argentiera
6. Rumori Mediterranei
7. Quello Che Non Voglio
8. Telesonge
9. Le Long Du Temps/Le Verbe
Album available in MP3 256kbps
Mp3 files ripped with xACT
Raipdshare Files: