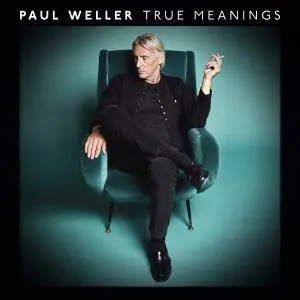 Paul Weller - True Meanings (Deluxe Edition) (2018)
WEB FLAC (tracks) - 445 Mb | MP3 CBR 320 kbps - 176 Mb | 01:16:53
Pop Rock | Label: Parlophone Records
Paul Weller releases his fourteenth solo album in September, the twenty sixth studio album of his entire career. True Meanings is a record unlike any he has ever made before. It is not "a departure", in the sense that soul bearing, melancholic songs have always been an important part of what he does: from English Rose, to Brand New Start, right up to The Ballad Of Jimmy McCabe from last year's Jawbone soundtrack. But never, ever before has he allowed himself an entire album to exhibit this side of his song-writing, or presented them quite like this.

'True Meanings' is an album characterised by grandiose-yet-delicate, lush orchestration: an aesthetic to which Paul's better-than-ever voice, singing some of his most nakedly honest words, is perfectly suited. It is both an album that a lot of his faithful audience have been wanting him to make for a long time, and an album that many new people outside of that audience will relate to.

On the 25th May this year, Paul Weller turned 60: a milestone that has unquestionably had an impact on the feel, both lyrically and musically, of 'True Meanings' which comes across being the most singer-songwriter-style album he has ever made. However, it is also the most collaborative: with more guests than any record he's been involved in before.

As well as all the members of Weller's band, Rod Argent of the Zombies provides Hammond organ on The Soul Searchers and piano and Mellotron on White Horses; folk legends Martin Carthy and Danny Thompson add picked guitar and double bass respectively to Come Along; Little Barrie plays lead guitar on Old Castles; Lucy Rose sings backup on Books; and Movin On is the result of a"scratchy demo"on Paul's phone that was sent to Tom Doyle of the White Label project. Even Noel Gallagher makes a sneaky appearance.

Perhaps most surprisingly of all, especially given how personal and introspective True Meanings feels, lyrics for four of the fourteen songs here were written, to Weller's melodies, by others. Connor O'Brien from Villagers came up with the words to opener The Soul Searchers, while Bowie, Wishing Well and the closing White Horses are all the work, lyrically, of Erland Cooper from Erland & The Carnival.

True Meanings was produced by Paul Weller except 'The Soul Searchers', which was co-produced by Paul and Conor O'Brien and Movin On which was co-produced by Weller and White Label. Thealbum was engineered and recorded by Charles Rees and mixed by Jan Stan Kybert.

The album was recorded in just over 3 weeks at Paul's own Black Barn Studio, with the aforementioned, revolving cast of characters dropping in for a day here and there. The orchestration was added soon after, and that was that. It is always a good sign when the recording of an album is swift, and here you can just hear that the man at the centre of these songs is as focused and inspired – more inspired, even – than he has ever been.
Tracklist:
1. The Soul Searchers
2. Glide
3. Mayfly
4. Gravity
5. Old Castles
6. What Would He Say?
7. Aspects
8. Bowie
9. Wishing Well
10. Come Along
11. Books
12. Movin On
13. May Love Travel With You
14. White Horses
15. The Soul Searchers (Richard Hawley Remix)
16. Aspects (RAVEN Remix)
17. Mayfly (The Reflex Revision)
18. Glide (Instrumental)
19. Old Castles (Instrumental)
–––––––––––-

DON'T MODIFY THIS FILE

–––––––––––-

PERFORMER: auCDtect Task Manager, ver. 1.6.0 RC1 build 1.6.0.1
Copyright © 2008-2010 y-soft. All rights reserved

ANALYZER: auCDtect: CD records authenticity detector, version 0.8.2
Copyright © 2004 Oleg Berngardt. All rights reserved.
Copyright © 2004 Alexander Djourik. All rights reserved.


FILE: 9 - Paul Weller - Wishing Well.flac
Size: 27331421 Hash: 25AF2C46167CFA62C7AE33F4D0F74102 Accuracy: -m0
Conclusion: CDDA 100%
Signature: 401661F089CFF948B94003F77464DAC815686FD5
FILE: 8 - Paul Weller - Bowie.flac
Size: 22101523 Hash: DD59CFAC70CB689F4B44A8F8960C5CEB Accuracy: -m0
Conclusion: CDDA 100%
Signature: 488D7BA31466405172AABAE91A05A6FF56961316
FILE: 7 - Paul Weller - Aspects.flac
Size: 28596023 Hash: ED6B310B0BDAC674A2615E52CAABB4C0 Accuracy: -m0
Conclusion: CDDA 100%
Signature: B1ACB18AACBC3DAAF15A7D54DC198159C3B1713C
FILE: 6 - Paul Weller - What Would He Say_.flac
Size: 25260298 Hash: 24795BFE8D413CA25A37C411334B08DB Accuracy: -m0
Conclusion: CDDA 100%
Signature: 42ABA926CC88646AA9D94DB172EE76E8510AE9A2
FILE: 5 - Paul Weller - Old Castles.flac
Size: 21415803 Hash: 30C57A4C8583927B0F1D96BE9CDD2049 Accuracy: -m0
Conclusion: CDDA 100%
Signature: 4644F49F7CA6930534CF88BBB3103D4E868C8846
FILE: 4 - Paul Weller - Gravity.flac
Size: 15940473 Hash: 873D933B16D7DC2217725C72CE4F846D Accuracy: -m0
Conclusion: CDDA 100%
Signature: 657BE451438124A33D9F6B7B988F7D97DEEF1B87
FILE: 3 - Paul Weller - Mayfly.flac
Size: 23385643 Hash: 34289F4A49D61E62E95ED484250AF1A7 Accuracy: -m0
Conclusion: CDDA 100%
Signature: 0ADBC1414FA76963D127E749C7DE5F365A6BD0C4
FILE: 2 - Paul Weller - Glide.flac
Size: 14237878 Hash: 7EE7416F2695ECBAA4FF1BD96DCF4941 Accuracy: -m0
Conclusion: CDDA 100%
Signature: E36260E571260751C13816A633262F45B3E3FD35
FILE: 14 - Paul Weller - White Horses.flac
Size: 30102330 Hash: 906A6BE8E737948B19068A088F128D30 Accuracy: -m0
Conclusion: CDDA 100%
Signature: C44C5365F524E4DDE191411E1891CCBD999FDE58
FILE: 13 - Paul Weller - May Love Travel With You.flac
Size: 18610515 Hash: 3B41A667A405371E186A0643C4571A48 Accuracy: -m0
Conclusion: CDDA 100%
Signature: B42268D09CAA86B41B5DD862B40AD75EDC6E356C
FILE: 12 - Paul Weller - Movin On.flac
Size: 28223753 Hash: C7F5BFAE5F9E6BFD558F57DFAE9D904B Accuracy: -m0
Conclusion: CDDA 100%
Signature: 74D53611978A30802144FBF02272FA852A7B56CE
FILE: 11 - Paul Weller - Books.flac
Size: 26681163 Hash: D3F3BE40BFC49CFD06CA52967D79A6F4 Accuracy: -m0
Conclusion: CDDA 100%
Signature: 61C4AB630289EFCCECF73C190E57357C53B78A22
FILE: 10 - Paul Weller - Come Along.flac
Size: 17135961 Hash: B0BA8241494F4A1EF58D4DF7CFD6BA56 Accuracy: -m0
Conclusion: CDDA 100%
Signature: 8660572C82E86D4B24B2CD058BA551B1B6486A52
FILE: 1 - Paul Weller - The Soul Searchers.flac
Size: 32315081 Hash: 82889A3B243FCF62E2EC2A9010851900 Accuracy: -m0
Conclusion: CDDA 100%
Signature: B1F1AA199446A4FC2F1B8BB773C48ECD84042AB5
FILE: 17 - Paul Weller - Mayfly (The Reflex Revision).flac
Size: 33763500 Hash: 13C27BD984C1B36B51B586E18FDF1C14 Accuracy: -m0
Conclusion: CDDA 100%
Signature: 058AA7F1591A963368784D50C9A70B209D6B340A
FILE: 16 - Paul Weller - Aspects (RAVEN Remix).flac
Size: 35105373 Hash: 027F03E6C182B35B8BFC9C5A01728E0A Accuracy: -m0
Conclusion: CDDA 99%
Signature: 0C6058C923733C34F0A07F8A98E6DA69767E0D7B
FILE: 15 - Paul Weller - The Soul Searchers (Richard Hawley Remix).flac
Size: 31782777 Hash: FE7AF955C41DD82B8E14D15A919B1A24 Accuracy: -m0
Conclusion: CDDA 100%
Signature: ADD8FBE19777FDD0EB09F1026687BFAA3D46D806
FILE: 19 - Paul Weller - Old Castles (Instrumental).flac
Size: 20570079 Hash: 58E26D1965D77D539FD163F375A07017 Accuracy: -m0
Conclusion: CDDA 100%
Signature: A8E03D0228563D5CA0A4E12A05EDA704145DEED2
FILE: 18 - Paul Weller - Glide (Instrumental).flac
Size: 13536965 Hash: 9395EEB18B8265AACF5C373D56BB06EB Accuracy: -m0
Conclusion: CDDA 99%
Signature: 344FC9DA8BCBB8A373D0D246219253B9F2A34DB9