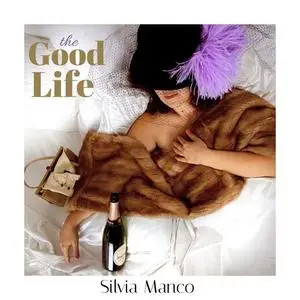 Silvia Manco - The Good Life (2021)
WEB FLAC (tracks) ~ 133.55 Mb | 33:01 | Cover
Vocal Jazz | Country: Italy | Label: GBMUSIC
Both a piano player and a singer as well as a composer and an arranger, a passion for and the study of the piano has been of the utmost importance ever since she was a toddler; Her very first public performances actually took place aside her father who will indeed provide her with an amazing repertoire and an ever so rich stock of standard jazz, bossa nova and international evergreens.
Driven by her appeal to jazz, when just 19, she moves to Rome, not only a place where she will first deepen her study of jazz piano, of harmony and of arrangement, but also a place where she gets to meet and comes to know some major artists who will not hesitate to encourage her to give birth to a trio bearing her very name, drawing up the role of group leader alongside that of piano player in a great number of the capital's jazz bands.
She performed in many international venues in festivals and jazz clubs in Europe, USA, Russia, South Africa, Monte Carlo, Dubai.
The trio, the figure of which represents the quest of a well-rooted sound in pure jazz tradition, with a piercing look to bands led by pianists and vocalists such as Nat King Cole, Shirley Horn and Blossom Dearie, stands out for its repertoire of the wide-melodious-breath standard song; throughout the arrangements, fitted and tailored by this band's pianist herself, it is actually the singing that weaves the plot on which the dialogue amongst the voices, the piano and the other rhythmic section instruments takes place.
The original compositions, the lyrics of which are written in English, in French and in Italian by Silvia Manco, harmoniously veer towards modern style and are imbued by Contemporary music as well as author influence, along with European and American instrumental jazz habitual visiting.
Steadiness in the writing, composing and elaborating phases, aligned with concerts activities all contribute to the release of her first album, in 2007, entitled "Big City is for me" followed by the second album "Afternoon Songs" in 2010 produced by Roberto Gatto, famous Italian jazz drummer, in 2011 "Suddenly it's Christmas time", in 2012 "Casa Azul".
The latest cd released in February 2019 is called "Hip! The Blossom Dearie Songbook": in this work Silvia Manco with her American NY based trio (Dezron Douglas on doublebass and Jerome Jennings on drums), and with the contribution of two extraordinary special guests (Enrico Rava and Max Ionata), collects the legacy of Blossom Dearie, the most Continental of American pianists / vocalists. Silvia embraces this timeless repertoire with a touch of contemporaneity demonstrating an attitude as a true band leader."
Track List:
01. Dindi
02. Midnight Sun
03. Last Tango in Paris
04. Old Devil Moon
05. The Good Life
06. Baubles Bangles and Beads
07. The Shadow of your Smile
08. Tangerine
09. Nature Boy
–––––––––––-
DON'T MODIFY THIS FILE
–––––––––––-
PERFORMER: auCDtect Task Manager, ver. 1.6.0 RC1 build 1.6.0.1
Copyright © 2008-2010 y-soft. All rights reserved
http://y-soft.org
ANALYZER: auCDtect: CD records authenticity detector, version 0.8.2
Copyright © 2004 Oleg Berngardt. All rights reserved.
Copyright © 2004 Alexander Djourik. All rights reserved.
FILE: 09 - Silvia Manco - Nature Boy.flac
Size: 13032325 Hash: ECBDE8BE5F5CA8D5692D517625B8BAC5 Accuracy: -m0
Conclusion: CDDA 100%
Signature: F3E0A9D6A9FCE69BFAE121AF0B1F11BDBD43C3C5
FILE: 08 - Silvia Manco - Tangerine.flac
Size: 11410976 Hash: B3A42E462176E51132A402C5B72E2F29 Accuracy: -m0
Conclusion: CDDA 94%
Signature: 7644A4632ACCAA34A041E4314C6146CF21B621F7
FILE: 07 - Silvia Manco - The Shadow of your Smile.flac
Size: 15617504 Hash: 84DAE3738511D4677D42A2AC38ADED60 Accuracy: -m0
Conclusion: CDDA 87%
Signature: 2064D43976C4AFB7C084E93F87FDA0130EED177C
FILE: 06 - Silvia Manco - Baubles Bangles and Beads.flac
Size: 13544474 Hash: 36363A2E60757082D3CAC499051AE4E8 Accuracy: -m0
Conclusion: CDDA 94%
Signature: 6A769B020B47DD1955B9F2C49C21B0F2F927623B
FILE: 05 - Silvia Manco - The Good Life.flac
Size: 15199653 Hash: E961B0B2B395FFC4CBFD841375ADD92A Accuracy: -m0
Conclusion: CDDA 100%
Signature: 6BBB39A5F8F8DE83F8B9BF5CB9178D7B57936D72
FILE: 04 - Silvia Manco - Old Devil Moon.flac
Size: 14842869 Hash: 47E916DE06E8B197BAB7437EACAA3FB4 Accuracy: -m0
Conclusion: CDDA 94%
Signature: FF19B71E1A4FBDF1B0F2A03BE3E06CCF0BC894FE
FILE: 03 - Silvia Manco - Last Tango in Paris.flac
Size: 14723882 Hash: 68C7A9237C1ED493CE6224F9E5551D4F Accuracy: -m0
Conclusion: CDDA 87%
Signature: 17FA952C5DEDE06788766646516FBA4270162DF5
FILE: 02 - Silvia Manco - Midnight Sun.flac
Size: 22026892 Hash: B0E5A4376CE7F23EAB696B67AA087613 Accuracy: -m0
Conclusion: CDDA 86%
Signature: 417C8B7728506702DEB17BA7200F431DD797D772
FILE: 01 - Silvia Manco - Dindi.flac
Size: 19592790 Hash: 4AC6CEA1856F2F89E83CEDDFF8E3E6D6 Accuracy: -m0
Conclusion: CDDA 85%
Signature: B99197A4DD234FA604E2AB39C129002ADDCE0B0C