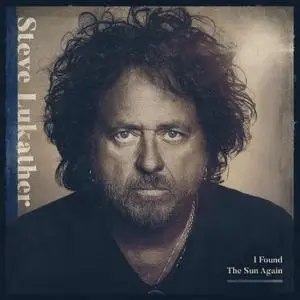 Steve Lukather - I Found The Sun Again (2021)
WEB FLAC (tracks) - 330 Mb | MP3 CBR 320 kbps - 116 Mb | 00:50:18
Blues Rock | Label: Mascot Records
Steve Lukather aka "Luke" and Joseph Williams will release individual solo albums on February 26, 2021 via The Players Club / Mascot Label Group. Both artists have made significant contributions to the other's album.

Over the course of five decades Steve Lukather has placed an indelible stamp on pop culture. Alongside his tenure as the only member of Toto to never take a hiatus from the band, he has performed on thousands of albums as a session musician. He continues to be Toto's band leader, a member of Ringo's All-Starr Band, and a solo artist performing with multiple ensembles.

Steve Lukather's new solo album "I Found The Sun Again" was co-produced by Ken Freeman, who also both engineered and mixed. The players feature many dignitaries that have been in Luke's life for decades. Amongst those are drummer Greg Bissonette, keyboardist Jeff Babko, and bassists Jorgen Carlsson and John Pierce. Life-long friend and Toto band-mate David Paich performs piano and organ across the album, while Joseph Williams sang on multiple tracks alongside writing string and horn arrangements and tracking keys on "Run To Me." Both Paich and Williams co-wrote that specific composition, while friend and band leader of the All-Starrs, Ringo Starr makes a special appearance on the recording and in the video.

I Found The Sun Again features five new original compositions, and three covers personally selected by Luke. Those are Traffic's "Low Spark of High Heeled Boys," Joe Walsh's "Welcome To The Club," and Robin Trower's "Bridge of Sighs." Lukather offers in the liner notes, "ALL these tracks were cut LIVE - no clix - no fix - No rehearsal - one run thru - and record and the whole record was take 2."
Tracklist:
1.
Along For The Ride
(04:56)
2.
Serpent Soul
(04:55)
3.
The Low Spark of High Heeled Boys
(10:35)
4.
Journey Through
(05:54)
5.
Welcome To The Club
(05:57)
6.
I Found The Sun Again
(06:18)
7.
Run To Me (feat. Ringo Starr, Joseph Williams)
(03:17)
8.
Bridge Of Sighs
(08:24)
–––––––––––-

DON'T MODIFY THIS FILE

–––––––––––-

PERFORMER: auCDtect Task Manager, ver. 1.6.0 RC1 build 1.6.0.1
Copyright © 2008-2010 y-soft. All rights reserved

ANALYZER: auCDtect: CD records authenticity detector, version 0.8.2
Copyright © 2004 Oleg Berngardt. All rights reserved.
Copyright © 2004 Alexander Djourik. All rights reserved.


FILE: 08 Bridge Of Sighs.flac
Size: 55952994 Hash: 354A95EF2645B259F2C9CB724F7E04ED Accuracy: -m8
Conclusion: CDDA 100%
Signature: B85899DBE080E4E97A4043F002334629523F52AC
FILE: 07 Run To Me (feat. Ringo Starr Joseph Williams).flac
Size: 23855896 Hash: 334186D2B0F1BAE87AF529EBCBED912F Accuracy: -m8
Conclusion: CDDA 100%
Signature: 05B6607D0E211D2466753A08CB5E6B7E8F09452C
FILE: 06 I Found The Sun Again.flac
Size: 44978763 Hash: 068FAA1E01115CE51E795C0B80FB4CD0 Accuracy: -m8
Conclusion: CDDA 100%
Signature: 1D96E15AD67D620A0FECC56A0CC77F3D51FF6A9C
FILE: 05 Welcome To The Club.flac
Size: 43685292 Hash: 20F9A4D1770B95DEAADD32B84CF6CBF0 Accuracy: -m8
Conclusion: CDDA 100%
Signature: F62258796E64343C7911DD7FBC995FC615DD9530
FILE: 04 Journey Through.flac
Size: 38858044 Hash: 3B585C55A547E7E7D2C50ED4B52E2994 Accuracy: -m8
Conclusion: CDDA 100%
Signature: 92F000AC58E5DE0D35ECC4B0D585E552E1820507
FILE: 03 The Low Spark of High Heeled Boys.flac
Size: 71551887 Hash: 802CE2DDD03D34CD6A112BFCE44DBC72 Accuracy: -m8
Conclusion: CDDA 100%
Signature: BA6BC1D60A0977CD1D3E2517110E58173E375622
FILE: 02 Serpent Soul.flac
Size: 34753733 Hash: 1A01F0705687F86F845825DBEB73E8BF Accuracy: -m8
Conclusion: CDDA 100%
Signature: 0B7DDE9384604A0CA5800983DEDC7692AFE2E220
FILE: 01 Along For The Ride.flac
Size: 35873202 Hash: A7298EBD80192AC2943201826A179DBA Accuracy: -m8
Conclusion: CDDA 100%
Signature: 0609C0F947926FFB1CCD407BD971336021187547