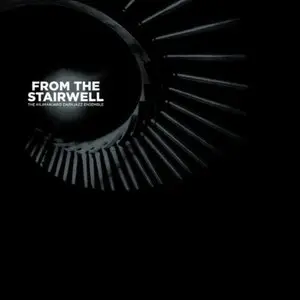 The Kilimanjaro Darkjazz Ensemble - From The Stairwell (2011)
MP3 320 kbps CBR | 62:40 min | 131 MB
Genre: Jazz, Experimental, Ambient | Label: Denovali Records
"From The Stairwell" is a surprise and a logical step at the same time. It is a surprise because the songs are far less beat-driven in comparison to TKDE's earlier works, and even contain a few hopeful tints here and there. It is a logical step because in the end each song turns to have a very diverse dramaturgic flow. This could raise the conjecture that TKDE, initially started out to make music for existing and non-existing films, wanted to incorporate the audiovisual impression completely into songs, making the films superfluous. At times, "From The Stairwell" makes you think of 60's soundtracks, but the organic feeling of those is always interwoven with mechanical elements. Altogether, every single of the numerous details present in TKDE's new songs feels to be at the right place and you can either just dive into the mood or pick one of the many aspects and enjoy it on its own - be it Gideon Kiers' beats & fx, Jason Köhnen's bass & piano, Hilary Jeffery's trombone, Charlotte Cegarra's voice & piano, Eelco Bosman's guitar, Nina Hitz' cello, Sarah Anderson's violin, or - appearing as guest musicians - Eiríkur Óli Ólafsson's trumpet and Coen Kaldeway's saxophone & bass clarinet.
Tracklist:
1. All is One [5:22]
2. Giallo [6:02]
3. White Eyes [8:28]
4. Cocaine [11:28]
5. Celladoor [7:17]
6. Cotard Delusion [5:46]
7. Les Etoiles Mutantes [6:17]
8. Past Midnight [12:03]
Credits:
Bass, Piano - Jason Köhnen
Cello - Nina Hitz
Drums, Effects [Fx], Electronics [Beats] - Gideon Kiers
Guitar - Eelco Bosman
Saxophone [Guest], Bass Clarinet [Guest] - Coen Kaldeway
Trombone - Hilary Jeffery
Trumpet [Guest] - Eiríkur Óli Ólafsson
Violin - Sarah Anderson
Vocals, Piano - Charlotte Cegarra