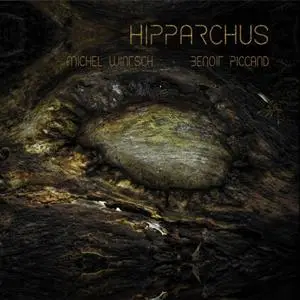 Wintsch-Piccand - Hipparchus (2018)
WEB FLAC (tracks) ~ 166.40 Mb | 35:37 | Cover
Free jazz, Avant-garde | Label: Wide Ear Records
141 BC: Hipparchus of Nicaea, mathematician and astronomer, laid the foundations of trigonometry. 1924 A.D.: In an article entitled "The Music of Tomorrow", Edgar Varese claims a new and simplified art; he urges us to forget the piano. A few decades later, electronic lutherie devices fulfilled his wishes.
2018 A.D.: Michel Wintsch and Benoît Piccand take over in a duo work based on a device that transforms the piano in real time. While the sirens of new technologies sing us an augmented reality, they offer us the listening of an augmented piano. A piano that reveals, in its secret corners, a world of fusion, phonic avalanches, capricious trances, improbable hymns and underground rhythms, from which rise some notes redacted, regurgitated and washed away of any romantic pretensions. Thanks to an alchemy whose recipe is reserved for the protagonists, this instrument so steeped in history, reveals an original texture in a permanent concern for the form that is the hallmark of honest artists.
Track List:
1 Napabe 2:57
2 Zoindeu Deu 8:51
3 Klounes 5:48
4 Vounepou 5:41
5 Védonkpa 6:47
6 Ferla 3:32
7 Fer 2:28
Michel Wintsch: Piano
Benoit Piccand: Live-Electronics
–––––––––––-
DON'T MODIFY THIS FILE
–––––––––––-
PERFORMER: auCDtect Task Manager, ver. 1.6.0 RC1 build 1.6.0.1
Copyright © 2008-2010 y-soft. All rights reserved
http://y-soft.org
ANALYZER: auCDtect: CD records authenticity detector, version 0.8.2
Copyright © 2004 Oleg Berngardt. All rights reserved.
Copyright © 2004 Alexander Djourik. All rights reserved.
FILE: 07 - Fer.flac
Size: 11529319 Hash: 77ADD879C55B8FA82A3FCACF2C529F49 Accuracy: -m0
Conclusion: CDDA 100%
Signature: F7CAF8A168EA057E74C16D128F6F9FA117956DCD
FILE: 06 - Ferla.flac
Size: 18799658 Hash: 4052D5C545FB18FF73D4B313E5C035FC Accuracy: -m0
Conclusion: CDDA 100%
Signature: 9CC1621F7941871B6DBA6F5BF6EEC1CA8A8D977F
FILE: 05 - Védonkpa.flac
Size: 32011310 Hash: 285EA09544024329A70C50A4C90204FF Accuracy: -m0
Conclusion: CDDA 100%
Signature: C74E1FE24751BC6465701B5744D83DE866B6F8EC
FILE: 04 - Vounepou.flac
Size: 31501955 Hash: 0A8B2189CE58389AD6CDEACC698605AE Accuracy: -m0
Conclusion: CDDA 100%
Signature: 7267BB5028016375427BF3FE555694B7C51EF671
FILE: 03 - Klounes.flac
Size: 21156304 Hash: F530D52E63DFC2C5054DF50B5B01AECC Accuracy: -m0
Conclusion: CDDA 100%
Signature: 906EDA5DA189D38A5A02AF8FF05F49F7913E6E72
FILE: 02 - Zoindeu deu.flac
Size: 43191909 Hash: 177E25549ED0AA27049F0CF265AB8694 Accuracy: -m0
Conclusion: CDDA 100%
Signature: 1CBC8A70DBC75BC24DF2299E5ABF5030C081EFB7
FILE: 01 - Napabe.flac
Size: 16142389 Hash: 1827B8A22037A2AA74C84FF0995F93F1 Accuracy: -m0
Conclusion: CDDA 100%
Signature: 69196919C8934292611CFDEBC7E2C55ED1AD5F69