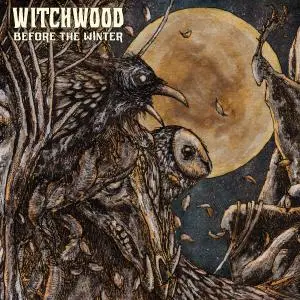 Witchwood - Before the Winter (2020)
WEB FLAC (tracks) ~ 349.12 Mb | MP3 CBR 320kbps ~ 129.30 Mb | 55:45 | Cover
Progressive Rock, Heavy Prog | Country: Italy | Label: Jolly Roger Records
Witchwood were born in 2014 from the ashes of Buttered Bacon Biscuits, they released a self-produced Cd in 2010 "From the solitary woods" (reprinted on Cd and Lp by Jolly Roger Rec. in 2017) and positively reviewed by many italian and foreign music magazines and websites. After the split some members of the band followed mastermind Ricky (vocals, guitar and main writer of B.B.B. and Witchwood) in the Witchwood project.
Debut album "Litanies From The Woods" (2015) is the result of 2 years of songwriting, long and hard rehearsals and recording sessions and features ten tracks (78 minutes) and it is a long journey from 70's hard rock, to progressive, psych, southern rock and blues. Got very excellent acceptance from public and press, both in and outside Italy, which allowed a strong promotional-push: they played live at Hammer of Doom and as guest for The Vintage Caravan in Germany, and at Malta Doom Metal Fest, deserved good visibility on all main specialized webzines and magazines; both Cd and Lp first runs went quickly sold out. Rightly Witchwood were considered one of the best bands from the new "retro-rock" wave, voted as "best emerging band in 2015" by Rock Hard Italy readers and reached the final in the italian Wacken Metal Battle competition. One year later the acclaimed debut, Italian 70's hard rockers Witchwood came back with 'Handful Of Stars' the right way to celebrate the appreciations received for the debut album, to introduce the new guitar player Antonino Stella, appreciated session man and long time Ricky's friend and to present new videoclip for "Handful of Stars" with drawings by artist Dimitri Corradini. Last 4 years the band played live and collected all the energies and inspirations to release the new, best possible album, entitled "Before the Winter". A long time, but worths the wait! Available on gatefold cover 2 Lp with bonus track, Cd, Digital.
Track List:
1. Anthem For A Child (5:24)
2. A Taste Of Winter (5:01)
3. Feelin' (4:12)
4. A Crimson Moon (5:07)
5. Hesperus (8:35)
6. No Reason To Cry (4:51)
7. Nasrid (4:19)
8. Crazy Little Lover (7:44)
9. Slow Colours Of Shade (10:42)
- Riccardo "Ricky" Dal Pane / vocals, guitars, mandolin, percussion
- Andrea "Andy" Palli / drums, percussion
- Stefano "Steve" Olivi / Hammond, piano, synth, Mellotron, Fender Rhodes
- Luca Celotti / bass
- Samuele "Sam" Tesori / flute, harmonica
- Antonino "Woody" Stella / guitars, backing vocals
With:
- Diego Banchero / fretless bass (4,7)
- Natascia Placci / soprano (7,9)
- Jenifer Vargas / soul vocals & backing vocals (4,5,8)
–––––––––––-
DON'T MODIFY THIS FILE
–––––––––––-
PERFORMER: auCDtect Task Manager, ver. 1.6.0 RC1 build 1.6.0.1
Copyright © 2008-2010 y-soft. All rights reserved
http://y-soft.org
ANALYZER: auCDtect: CD records authenticity detector, version 0.8.2
Copyright © 2004 Oleg Berngardt. All rights reserved.
Copyright © 2004 Alexander Djourik. All rights reserved.
FILE: Witchwood - Before the Winter - 09 Slow Colours of Shade.flac
Size: 70294710 Hash: 499EB00789734D74261FB55EE93C8BDF Accuracy: -m0
Conclusion: CDDA 100%
Signature: BD9E8A32EE97A28EC25E666794E318C568C840FD
FILE: Witchwood - Before the Winter - 08 Crazy Little Lover.flac
Size: 48534392 Hash: D87A8AEED7C8DA1B7B117C436A4E5A34 Accuracy: -m0
Conclusion: CDDA 100%
Signature: 4AA79B3DEA2CAD3C8FBA5D566D3A9EBD01A53CBC
FILE: Witchwood - Before the Winter - 07 Nasrid.flac
Size: 20839660 Hash: 0EA633BB8B47533484608DA95DBCC0B5 Accuracy: -m0
Conclusion: CDDA 100%
Signature: 2ECDEF7D630717B85C6A288AF82553839F966CF1
FILE: Witchwood - Before the Winter - 06 No Reason to Cry.flac
Size: 33210821 Hash: 5A788A2ED829C38505D2BED2CDBE43D0 Accuracy: -m0
Conclusion: CDDA 100%
Signature: 16DA02C929C04B0033466394026AE8F6AA88A94E
FILE: Witchwood - Before the Winter - 05 Hesperus.flac
Size: 56946249 Hash: 2A56880C43C656175571EB1ACC39CE2F Accuracy: -m0
Conclusion: CDDA 100%
Signature: 77827B28FB8F46DFDF07F1EDF703BF6BD2AB23F1
FILE: Witchwood - Before the Winter - 04 Crimson Moon.flac
Size: 29728779 Hash: 1C1FB75B99C0337E2DD2E79AF5D729E1 Accuracy: -m0
Conclusion: CDDA 100%
Signature: 48C0D07BBD0331C281EDD1F11501642CD694C78A
FILE: Witchwood - Before the Winter - 03 Feelin'.flac
Size: 30458693 Hash: 42D19A9AD8426A05BE3DEEC54933CB40 Accuracy: -m0
Conclusion: MPEG 95%
Signature: 4F109E685742034121B04C5EB67A24BC8FB5399F
FILE: Witchwood - Before the Winter - 02 A Taste of Winter.flac
Size: 36356808 Hash: CF2C4342CA29ED6E863121563AAC3AC0 Accuracy: -m0
Conclusion: CDDA 100%
Signature: D40107DD5A9F638C05714055A51C33DD503D03C3
FILE: Witchwood - Before the Winter - 01 Anthem for a Child.flac
Size: 36527964 Hash: E585A385851DCBADD448BFA84F31D072 Accuracy: -m0
Conclusion: CDDA 99%
Signature: 2A35FC09155F43534EBA35D82C9F079DB41109E4
All thanks go to the Olaf_alien