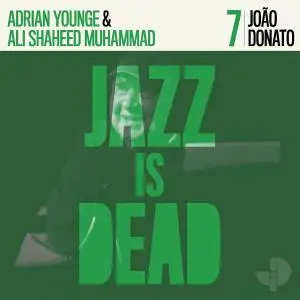 Adrian Younge & Ali Shaheed Muhammad - João Donato JID007 (2021)
WEB FLAC (tracks) - 182 Mb | MP3 CBR 320 kbps - 63 Mb | 00:26:48
Contemporary Jazz, Jazz-Funk | Label: Jazz is Dead
Where's João Donato? It's a frequently asked question, referring simultaneously to the physical location and the musical moment he inhabits. A sampling of some of his more descriptive song titles suggests Donato's comfort with musical hybrids: "Bluchanga," "Sambolero," and "Sambongo," to name just a few. Lacking a name for his style of music, Donato's is a distinct sound, immediately recognizable from the first few bars of any of his compositions. He was funky back when "funk" was a bad word (listen to either of his 1960s Brazilian LPs for proof). His compositions are deceptively simple, while his arrangements are harmonically complex, resulting in songs that are seemingly childlike, yet reveal their intricate details upon repeat listening.
Tracklist:
1.
Não Negue Seu Coracão
(03:10)
2.
Aquarius (Bring Her Back Home)
(03:14)
3.
Desejo de Amor
(03:28)
4.
Forever More
(03:03)
5.
Sua Beleza e Beleza
(03:00)
6.
Liaisons
(03:01)
7.
Adrian, Ali and Gregory
(02:23)
8.
Vermelho Quente
(02:20)
9.
Conexão
(03:06)
–––––––––––-

DON'T MODIFY THIS FILE

–––––––––––-

PERFORMER: auCDtect Task Manager, ver. 1.6.0 RC1 build 1.6.0.1
Copyright © 2008-2010 y-soft. All rights reserved

ANALYZER: auCDtect: CD records authenticity detector, version 0.8.2
Copyright © 2004 Oleg Berngardt. All rights reserved.
Copyright © 2004 Alexander Djourik. All rights reserved.


FILE: 09. Conexão.flac
Size: 21271065 Hash: 338A368D2E71D495F6263CC2B1E053B7 Accuracy: -m8
Conclusion: CDDA 100%
Signature: B03F4E748F19708FCA674D568D54BFBD2FF64EF4
FILE: 08. Vermelho Quente.flac
Size: 16248326 Hash: F309CD2FB74571C468E748C84FDE7653 Accuracy: -m8
Conclusion: CDDA 99%
Signature: 97FB1C9F93B541E4DF82597A4E97071CE8587DE2
FILE: 07. Adrian, Ali and Gregory.flac
Size: 15861120 Hash: 9E15DF94DAA1335CEA7F925CEC99EE45 Accuracy: -m8
Conclusion: CDDA 87%
Signature: 27613F84DC8D01073CF435FDADCEB65295659D8D
FILE: 06. Liasons.flac
Size: 21796226 Hash: FA88E613C18E12891D334D0465D8CAD3 Accuracy: -m8
Conclusion: CDDA 42%
Signature: D29B1BBD21C8FA7AFBDC1C5561FF92DCFFABD418
FILE: 05. Sua Beleza e Beleza.flac
Size: 21547630 Hash: 9F46B1DC0D93B4674082A085A4B91B41 Accuracy: -m8
Conclusion: CDDA 49%
Signature: 7B5D19E77727FE1FFFD5B8A515AB55C91A93D00F
FILE: 04. Forever More.flac
Size: 23163744 Hash: 33B52A436529939D814C35FF644EF5B2 Accuracy: -m8
Conclusion: CDDA 86%
Signature: 1C40D1C5DEF58E7072AF93C299C82EF496BC3CAA
FILE: 03. Desejo de Amor.flac
Size: 24611863 Hash: 16D9D2F5FB2D793CFBD6C84057A81293 Accuracy: -m8
Conclusion: CDDA 54%
Signature: 8D419F06FED13E85D5013C9F98634C352C21BC80
FILE: 02. Aquarius (Bring Her Back Home).flac
Size: 23580939 Hash: 4B6782EB2AC6EF801BC032AE93E0B58C Accuracy: -m8
Conclusion: CDDA 100%
Signature: E23D499FCF0126D8C396DDB877253FA147D7E493
FILE: 01. Não Negue Seu Coracão.flac
Size: 22779069 Hash: 2596DD0865B46F32284E5EBEAB38D44B Accuracy: -m8
Conclusion: CDDA 86%
Signature: 7CF69790D8154C156A931B9F1D775C91AD090779