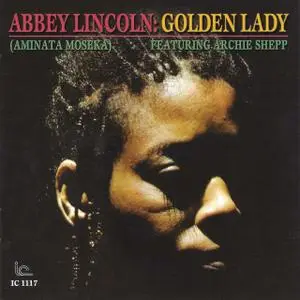 Abbey Lincoln - Golden Lady (1980 Reissue) (2010)
WEB | FLAC (tracks) - 271 MB | MP3 (CBR 320 kbps) - 113 MB | 43:45
Genre: Jazz, Vocal Jazz | Label: Inner City Jazz
Abbey Lincoln's follow-up album to People in Me retains her wise and somewhat defiant attitude, while expressing deep-seated feelings of womanhood, personal growth, and freedom. This recording departs from the prior effort in that only half of the tracks are originals, while saxophonist Archie Shepp and trumpeter Roy Burrowes take over for Dave Liebman when he was with a primarily Japanese/American mix of bandmates. Here it's an all-U.S.-based group with drummer Freddie Waits, bassist Jack Gregg, and the exceptional pianist Hilton Ruiz joining Shepp, Burrowes, and Lincoln. During this time period, she took her African roots seriously, adopting the name Aminata Moseka as conferred upon her by the Minister of Culture in Zaire, but the music is all mainstream jazz and ballads. This album – which has been thankfully released on CD – contains three of her all-time definitive statements. "Throw It Away" is a ballad-blues, a quintessential song outlining how people would rather dispose of things, possessions, and more importantly relationships rather than positively work on solving issues and finding common ground. It represents the poignant epitome of how American society has degenerated into selective memory mode. The other two tracks are more personalized statements, but also geared to how the general public is more interested in imagery than substance. "Painted Lady" is a self-portrait on stage acting, and how the performer is viewed as an easy target in a jaunty swing-blues, spoken rather than sung at times with some vocal overdubbing. On occasion using "la la las" or shouted-out "hah hah hah" anguished screams, Lincoln-Moseka expresses her frustration with hypocritical people who boast and crow about their freedom while constricting their domesticated pet creatures, which fly during the lilting waltz "Caged Bird," with Shepp on soprano sax. Revisiting this song originally done in 1973, her line "I know why the caged bird sings" is a personal defense as well as a grand statement to the stratosphere. Also included are the sad refrain of Duke Ellington's "Sophisticated Lady," with Shepp's toothy tenor and the burnished brass of Burrowes looking over the singer's shoulders; a pure melancholy version of Stevie Wonder's "Golden Lady"; and a nearly ten-minute take of Michel Legrand's "What Are You Doing the Rest of Your Life?," a strong and supple but open-ended statement reinforced by the horns, taking few emotional chances for fear of a rejected reply. During this late-'70s/early-'80s period, Lincoln-Moseka asserted herself in ways that made her stand out from the crowded arena of female jazz vocalists, and – as always – she had something to say to society. Golden Lady is not her very best, but should be considered as one of her better albums.
Track List:
1. Sophisticated Lady
2. Golden Lady
3. Painted Lady
4. Throw It Away
5. What Are You Doing the Rest of Your Life
6. Caged Bird
–––––––––––-
DON'T MODIFY THIS FILE
–––––––––––-
PERFORMER: auCDtect Task Manager, ver. 1.6.0 RC1 build 1.6.0.1
Copyright © 2008-2010 y-soft. All rights reserved
http://y-soft.org
ANALYZER: auCDtect: CD records authenticity detector, version 0.8.2
Copyright © 2004 Oleg Berngardt. All rights reserved.
Copyright © 2004 Alexander Djourik. All rights reserved.
FILE: 1 Sophisticated Lady.flac
Size: 43049505 Hash: 8E0AD36E0AC5E1FC67575E12952D5FA7 Accuracy: -m0
Conclusion: CDDA 100%
Signature: 3B88E64B68DDBC42A60B12D88BD582FEE3DE5942
FILE: 2 Golden Lady.flac
Size: 46123440 Hash: 295D2FCE2BB2B2A2C1921A4CB247AA30 Accuracy: -m0
Conclusion: CDDA 100%
Signature: C5251713C93715539600A3401EEDD8A927B7A726
FILE: 3 Painted Lady.flac
Size: 33469225 Hash: F2DDF46EA7DA53A61F398B8404DA0966 Accuracy: -m0
Conclusion: CDDA 100%
Signature: 325A359B0316015DE1A9B0829C45FA2DA50ECE30
FILE: 4 Throw It Away.flac
Size: 38994105 Hash: DA25E4FE9948571DE4207A56DBF9271A Accuracy: -m0
Conclusion: CDDA 100%
Signature: A9D07C294F00FE65396596E7F78941E7E2669C4A
FILE: 5 What Are You Doing The Rest Of Your Life.flac
Size: 56579572 Hash: 1C5C25F68571E7C95B71158C30C98DF1 Accuracy: -m0
Conclusion: CDDA 100%
Signature: 41C80E7ED2BB70C9CA9D0AA2EDD587B25BA23B5E
FILE: 6 Caged Bird.flac
Size: 40065060 Hash: 94D2A579435D52C5C8074DF032DA29F8 Accuracy: -m0
Conclusion: CDDA 100%
Signature: 6EAB9896078AB7A455DF80836D11BB3A7EC5F7B5