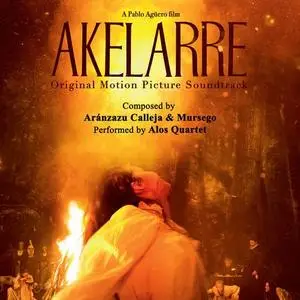 Alos Quartet - Akelarre (Original Motion Picture Soundtrack) (2021)
FLAC tracks | 27:30 | 129 Mb
Genre: Soundtrack / Label: Plaza Mayor Company, Ltd.
The album was written by composer Alos Quartet and released on January 8, 2021. The soundtrack contains 19 tracks with a total duration of about 30 minutes. The compilation is a compilation of original music. The release of the record was handled by the label Plaza Mayor Company, Ltd..
Track List:
[00:58] 01. Alos Quartet - Epaileak
[02:33] 02. Alos Quartet; Amaia Aberasturi; Garazi Urkola; Yune Nogueiras; Jone Laspiur; Irati de Saez de Urabain; Lorea Ibarra; Julen Achiary - Festa
[01:13] 03. Alos Quartet; Aránzazu Calleja; Maite Arroitajauregi; Antton Calleja - Kaputxak
[01:17] 04. Alos Quartet - Neskak Giltzapean
[00:57] 05. Alos Quartet; Maite Arroitajauregi; Antton Calleja - Eskailerak
[00:57] 06. Alos Quartet - Su Txikia
[01:21] 07. Alos Quartet; Antton Calleja - Frau Troffea
[01:25] 08. Alos Quartet - Sorgina Naiz
[00:29] 09. Alos Quartet - Amaia Giltzapeturik
[01:47] 10. Alos Quartet; Amaia Aberasturi; Garazi Urkola; Yune Nogueiras; Jone Laspiur; Irati Saez de Urabain; Lorea Ibarra - Neskak Sotoan
[00:59] 11. Alos Quartet; Amaia Aberasturi; Garazi Urkola; Yune Nogueiras; Jone Laspiur; Irati Saez de Urabain; Lorea Ibarra - Ez Dugu Nahi Beste Berorik
[02:03] 12. Alos Quartet; Aránzazu Calleja; Maite Arroitajauregi - Eskailerak Jaisten
[01:13] 13. Alos Quartet; Xabi Zeberio - Kondena
[02:51] 14. Alos Quartet; Maite Arroitajauregi; Amaia Aberasturi; Garazi Urkola; Yune Nogueiras; Jone Laspiur; Irati Saez de Urabain; Lorea Ibarra; Julen Achiary; Ander Berrojalbiz - Akelarre
[00:38] 15. Alos Quartet; Amaia Aberasturi; Garazi Urkola; Yune Nogueiras; Jone Laspiur; Irati Saez de Urabain; Lorea Ibarra - Udazkeneko Ilargia
[01:37] 16. Alos Quartet; Maite Arroitajauregi - Salta Dezagun
[01:08] 17. Alos Quartet; Amaia Aberasturi; Garazi Urkola; Yune Nogueiras; Jone Laspiur; Irati Saez de Urabain; Lorea Ibarra; Julen Achiary; Xabi Zeberio - Ternuatik Gure Portura
[03:17] 18. Alos Quartet; Aránzazu Calleja; Maite Arroitajauregi; Amaia Aberasturi; Garazi Urkola; Yune Nogueiras; Jone Laspiur; Irati Saez de Urabain; Lorea Ibarra; Antton Calleja; Lorea Argarate - Denok Gaittun Sorginak
[00:39] 19. Alos Quartet; Xabi Zebeiro - Zurea Sorginkeria (Bonus Track)
ANALYZER: auCDtect: CD records authenticity detector, version 0.8.2
Copyright © 2004 Oleg Berngardt. All rights reserved.
Copyright © 2004 Alexander Djourik. All rights reserved.


FILE: 08 - Sorgina Naiz.flac
Size: 6848829 Hash: 6C6CCFD8CD4929EB5033984C039E488F Accuracy: -m40
Conclusion: CDDA 100%
Signature: D469CF4A7A310B3990A68B84868229988E9B1630
FILE: 09 - Amaia Giltzapeturik.flac
Size: 1791837 Hash: 07A16C489221A5DAFE12E2B679CB7459 Accuracy: -m40
Conclusion: CDDA 100%
Signature: 1C995C1706881240AEBC404010836FF758A33138
FILE: 10 - Neskak Sotoan.flac
Size: 9714304 Hash: 8CEDB52EF5498B8DD7884ABD4E03A44D Accuracy: -m40
Conclusion: CDDA 100%
Signature: F94EF126A7DFDAE58132372FA3F654D6FA7C3C5A
FILE: 11 - Ez Dugu Nahi Beste Berorik.flac
Size: 5085024 Hash: B3D29149F314231B68A66C27D3FEE063 Accuracy: -m40
Conclusion: CDDA 100%
Signature: 855BE964424FB90DAA3D548EBB1FD0E80E15E190
FILE: 12 - Eskailerak Jaisten.flac
Size: 10065621 Hash: 853F80785E012B7ED5222A20F40AB2C9 Accuracy: -m40
Conclusion: CDDA 100%
Signature: 971DA4346A5547937BA6C6299ECF2B437CE25F45
FILE: 13 - Kondena.flac
Size: 5477855 Hash: DBBE2ADE6965C8134D17989EC0441D03 Accuracy: -m40
Conclusion: CDDA 99%
Signature: D09A3EDC57150A8615596FF15D043C203E56C700
FILE: 14 - Akelarre.flac
Size: 15495533 Hash: 1C99C9799EDEEA3B5FF32289A249DD59 Accuracy: -m40
Conclusion: CDDA 100%
Signature: C9B4A8DDB7FF67B8C285BE75BA9129F2C20DBE62
FILE: 15 - Udazkeneko Ilargia.flac
Size: 2982971 Hash: 970648734A03120D06A3940AC101AA1D Accuracy: -m40
Conclusion: CDDA 100%
Signature: 3680059606C71808114F37ED46C2C9227A5D0521
FILE: 16 - Salta Dezagun.flac
Size: 8133890 Hash: 662873A33FD8E10CDC4138264684AA5B Accuracy: -m40
Conclusion: CDDA 100%
Signature: 6FC34A616D91020DCFE10318A3C8441AA226C720
FILE: 17 - Ternuatik Gure Portura.flac
Size: 4965840 Hash: 667EB86F3794CD1C17E1A5D76B064C40 Accuracy: -m40
Conclusion: CDDA 100%
Signature: 107EF1CCDD090F18AF0AB13B7F246F553D8CA085
FILE: 18 - Denok Gaittun Sorginak.flac
Size: 17862172 Hash: B6676A927107E64E1106394446E9BB03 Accuracy: -m40
Conclusion: CDDA 100%
Signature: 91A129A78EB2212C804F305B0C5D10478EF18FC0
FILE: 19 - Zurea Sorginkeria (Bonus Track).flac
Size: 2849801 Hash: 90D18C4C10615346A41ABCC40F601FDE Accuracy: -m40
Conclusion: CDDA 100%
Signature: 71DE0E2DB182DEA8249D3AB5FB9BA32E5FEB055D
FILE: 01 - Epaileak.flac
Size: 4880817 Hash: DEBDEF4BFA8712ED7F6DE4B10531D126 Accuracy: -m40
Conclusion: CDDA 100%
Signature: D91D437968D6DAB6D4A6A7031EEB000BEAD9B31D
FILE: 02 - Festa.flac
Size: 13348945 Hash: 535BC63B35ECBCD623FE4B0D9732AB3B Accuracy: -m40
Conclusion: CDDA 100%
Signature: 738B7DE5E42D9F78E1C0B3520B2E95E4B07829A2
FILE: 03 - Kaputxak.flac
Size: 5688830 Hash: 73D6987F2B9AA8ED513F019B9EAE402E Accuracy: -m40
Conclusion: CDDA 100%
Signature: 447D05A0493D57E12ADA6957ED758F6550D26098
FILE: 04 - Neskak Giltzapean.flac
Size: 5154927 Hash: 9BC04953202B27B1767D3E8D56C9D55E Accuracy: -m40
Conclusion: CDDA 100%
Signature: 4106BCCB0474D5F1CF2FA509B7F9F4151067C123
FILE: 05 - Eskailerak.flac
Size: 4157750 Hash: A120EE510C06045D4EA04ABA3111B465 Accuracy: -m40
Conclusion: CDDA 100%
Signature: 7F9D72E4ACAAB73302FA017E519247C8CFFFBBF2
FILE: 06 - Su Txikia.flac
Size: 3943763 Hash: 672D4360DDF26079694D8596A0B859AD Accuracy: -m40
Conclusion: CDDA 100%
Signature: 092A5C0698E559075460633ADEB71A9F71E7C5AB
FILE: 07 - Frau Troffea.flac
Size: 5599270 Hash: 757417E150408313C087B7A702CE1124 Accuracy: -m40
Conclusion: CDDA 100%
Signature: 091F5AA4BF1331A49BE1D78EDD1D9F1D8E24B730