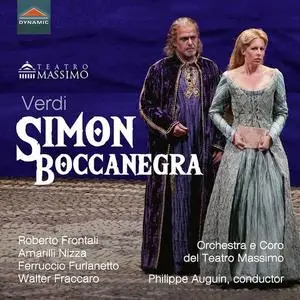 Amarilli Nizza, Ferruccio Furlanetto, Orchestra del Teatro Massimo di Palermo, Philippe Auguin - Verdi: Simon Boccanegra (2021)
FLAC tracks / MP3 320 kbps | 2:08:45 | 300 / 500 Mb
Genre: Classical / Label: Dynamic
Simon Boccanegra is set in 14th-century Genoa where Simon, formerly a dashing corsair, has become Doge. Though reunited with his long-lost daughter, the city becomes immersed in turmoil in a story rich in vengeance and the redemptive power of love. Verdi wrote the opera in 1857 but revised it in 1881 in association with Arrigo Boito, with whom he was to work on Otello. Verdi's inclusion of a new scene set in the Great Council Chamber, was part of an approach that defines a completely new musical perspective, coherent with the language of the 1880s, and which ensured the opera's belated triumph.
Track List:
01. Simon Boccanegra (1881 Version): Prelude [Live]
02. Simon Boccanegra, Prologue (1881 Version): Che dicesti? [Live]
03. Simon Boccanegra, Prologue (1881 Version): All'alba tutti qui verrete? [Live]
04. Simon Boccanegra, Prologue (1881 Version): L'atra magion vedete [Live]
05. Simon Boccanegra, Prologue (1881 Version): A te l'estremo addio [Live]
06. Simon Boccanegra, Prologue (1881 Version): Il lacerato spirito [Live]
07. Simon Boccanegra, Prologue (1881 Version): Suona ogni labbro il mio nome [Live]
08. Simon Boccanegra, Prologue (1881 Version): Del mar sul lido fra gente ostile [Live]
09. Simon Boccanegra, Prologue (1881 Version): Oh, de' Fieschi implacata, orrida razza [Live]
10. Simon Boccanegra, Prologue (1881 Version): Doge il popol t'acclama! [Live]
11. Simon Boccanegra, Act I (1881 Version): Prelude [Live]
12. Simon Boccanegra, Act I (1881 Version): Come in quest'ora bruna [Live]
13. Simon Boccanegra, Act I (1881 Version): Cielo di stelle orbato [Live]
14. Simon Boccanegra, Act I (1881 Version): Vieni a mirar la cerula [Live]
15. Simon Boccanegra, Act I (1881 Version): Ah! Che fia? [Live]
16. Simon Boccanegra, Act I (1881 Version): Sì, sì dell'ara il giubilo [Live]
17. Simon Boccanegra, Act I (1881 Version): Propizio ei giunge! [Live]
18. Simon Boccanegra, Act I (1881 Version): Vieni a me, ti benedico [Live]
19. Simon Boccanegra, Act I (1881 Version): Paolo! Signor! [Live]
20. Simon Boccanegra, Act I (1881 Version): Dinne, perché in quest'eremo [Live]
21. Simon Boccanegra, Act I (1881 Version): Orfanella il tetto umile [Live]
22. Simon Boccanegra, Act I (1881 Version): Dinne, alcun là non vedesti? [Live]
23. Simon Boccanegra, Act I (1881 Version): Figlia! A tal nome io palpito [Live]
24. Simon Boccanegra, Act I (1881 Version): Che rispose? [Live]
25. Simon Boccanegra, Act I (1881 Version): Che disse? A me negolla [Live]
26. Simon Boccanegra, Act I (1881 Version): Messeri, il re di Tartaria [Live]
27. Simon Boccanegra, Act I (1881 Version): Qual clamor! [Live]
28. Simon Boccanegra, Act I (1881 Version): Nell'ora soave che all'estasi invita [Live]
29. Simon Boccanegra, Act I (1881 Version): Plebe! Patrizi! Popolo [Live]
30. Simon Boccanegra, Act I (1881 Version): Ecco la spada [Live]
31. Simon Boccanegra, Act I (1881 Version): V'è in queste mura un vil che m'ode [Live]
32. Simon Boccanegra, Act II (1881 Version): Quei due vedesti? [Live]
33. Simon Boccanegra, Act II (1881 Version): Prigioniero in qual loco m'adduci [Live]
34. Simon Boccanegra, Act II (1881 Version): Udisti? [Live]
35. Simon Boccanegra, Act II (1881 Version): Sento avvampar nell'anima [Live]
36. Simon Boccanegra, Act II (1881 Version): Cielo pietoso, rendila [Live]
37. Simon Boccanegra, Act II (1881 Version): Tu qui? Amelia! [Live]
38. Simon Boccanegra, Act II (1881 Version): Parla, in tuo cor virgineo [Live]
39. Simon Boccanegra, Act II (1881 Version): Il Doge vien [Live]
40. Simon Boccanegra, Act II (1881 Version): Figlia! Sì afflitto, o padre mio? [Live]
41. Simon Boccanegra, Act II (1881 Version): Doge ancor proveran la tua clemenza i traditori? [Live]
42. Simon Boccanegra, Act II (1881 Version): Oh! Amelia, ami un nemico [Live]
43. Simon Boccanegra, Act II (1881 Version): Perdon, perdon, Amelia [Live]
44. Simon Boccanegra, Act II (1881 Version): All'armi, all'armi, o Liguri [Live]
45. Simon Boccanegra, Act III (1881 Version): Evviva il Doge! [Live]
46. Simon Boccanegra, Act III (1881 Version): Libero sei. Ecco la spada [Live]
47. Simon Boccanegra, Act III (1881 Version): Cittadini, per ordine del Doge [Live]
48. Simon Boccanegra, Act III (1881 Version): M'ardon le tempia [Live]
49. Simon Boccanegra, Act III (1881 Version): Delle faci festanti al barlume [Live]
50. Simon Boccanegra, Act III (1881 Version): Come un fantasima Fiesco t'appar [Live]
51. Simon Boccanegra, Act III (1881 Version): Piango, perchè mi parla [Live]
52. Simon Boccanegra, Act III (1881 Version): Chi veggo! [Live]
53. Simon Boccanegra, Act III (1881 Version): Gran Dio, li benedici [Live]
54. Simon Boccanegra, Act III (1881 Version): Senatori, sancite il voto estremo [Live]
ANALYZER: auCDtect: CD records authenticity detector, version 0.8.2
Copyright © 2004 Oleg Berngardt. All rights reserved.
Copyright © 2004 Alexander Djourik. All rights reserved.


FILE: 01 - Simon Boccanegra (1881 Version)_ Prelude [Live].flac
Size: 3895892 Hash: 6B3757B4798673F63518F97437826D62 Accuracy: -m40
Conclusion: CDDA 100%
Signature: EF7AD3064713C0F042BB1C888ADCDB2B3907608F
FILE: 02 - Simon Boccanegra, Prologue (1881 Version)_ Che dicesti_ [Live].flac
Size: 13114815 Hash: 8089F45F398F89313936C1A83BD6095C Accuracy: -m40
Conclusion: CDDA 100%
Signature: 0E5FB50A3BE14BBF3EF3FA57A0FD5E7B3C6C4CCA
FILE: 03 - Simon Boccanegra, Prologue (1881 Version)_ All'alba tutti qui verrete_ [Live].flac
Size: 6461566 Hash: 316B423B87DE705220DD108371E11F17 Accuracy: -m40
Conclusion: CDDA 100%
Signature: BC289BC0C3AC5C6FA57E681408E2DFA0919EF031
FILE: 04 - Simon Boccanegra, Prologue (1881 Version)_ L'atra magion vedete [Live].flac
Size: 12266440 Hash: BCD694E633F3102FC927066F3F866107 Accuracy: -m40
Conclusion: CDDA 100%
Signature: AF1898D2C278DB0303D9165306405C89F96DC3AC
FILE: 05 - Simon Boccanegra, Prologue (1881 Version)_ A te l'estremo addio [Live].flac
Size: 6417464 Hash: 398EFFF0CDADEC6C3377164997107FB0 Accuracy: -m40
Conclusion: CDDA 100%
Signature: D038BF1695847459B192182D43504E470E209A8D
FILE: 06 - Simon Boccanegra, Prologue (1881 Version)_ Il lacerato spirito [Live].flac
Size: 13820108 Hash: 9561258C1E1A3BADA1FDE4F622E13C79 Accuracy: -m40
Conclusion: CDDA 100%
Signature: 4F5529281AECB77FBDB5C3CEBDA72FB6AC9B16FF
FILE: 07 - Simon Boccanegra, Prologue (1881 Version)_ Suona ogni labbro il mio nome [Live].flac
Size: 14525892 Hash: 08BA694AA86C89A31AAE0470DA273985 Accuracy: -m40
Conclusion: CDDA 100%
Signature: 04C32CFB7D9D8501313AFDE65186F7B8E1A813BA
FILE: 08 - Simon Boccanegra, Prologue (1881 Version)_ Del mar sul lido fra gente ostile [Live].flac
Size: 9444540 Hash: C4B3DA9E1C4AB80F011D08B066E949FA Accuracy: -m40
Conclusion: CDDA 100%
Signature: 393E341C5B148B74BB801E8096F29DE60C252C11
FILE: 09 - Simon Boccanegra, Prologue (1881 Version)_ Oh, de' Fieschi implacata, orrida razza [Live].flac
Size: 8347130 Hash: 016DD88AF1DFDB2344A09377E2BD019E Accuracy: -m40
Conclusion: CDDA 100%
Signature: F8B9441C1003FCBF316BCE17854D6CF2B630DECF
FILE: 10 - Simon Boccanegra, Prologue (1881 Version)_ Doge il popol t'acclama! [Live].flac
Size: 9891810 Hash: 5776543F5296EC74704E64E1830E8D90 Accuracy: -m40
Conclusion: CDDA 99%
Signature: A6F9D3F0BAE30C543D70BA457BA030D7D6C75102
FILE: 11 - Simon Boccanegra, Act I (1881 Version)_ Prelude [Live].flac
Size: 5585189 Hash: 145520BCA4E449D9BCDCF6A77649A75C Accuracy: -m40
Conclusion: CDDA 100%
Signature: 800022D4AFA9384E2697550201ACD6D44E54F3E0
FILE: 12 - Simon Boccanegra, Act I (1881 Version)_ Come in quest'ora bruna [Live].flac
Size: 14071078 Hash: EEFA945B65DB89426B86D5868F1BC98C Accuracy: -m40
Conclusion: CDDA 100%
Signature: C85BD0DEE33C89DECCF2A52F5F22DD104DC419AB
FILE: 13 - Simon Boccanegra, Act I (1881 Version)_ Cielo di stelle orbato [Live].flac
Size: 9454117 Hash: B8370884451C7D33AFF8232398161C0A Accuracy: -m40
Conclusion: CDDA 100%
Signature: 6B1CE51031546204159C36F3615233CF7DFD90B0
FILE: 14 - Simon Boccanegra, Act I (1881 Version)_ Vieni a mirar la cerula [Live].flac
Size: 11134809 Hash: D0BD929837CD4F3A3BF1B8DB6113488B Accuracy: -m40
Conclusion: CDDA 100%
Signature: 9B4F0C89DB77EB568538DB29E7BF9DA8E3879F90
FILE: 15 - Simon Boccanegra, Act I (1881 Version)_ Ah! Che fia_ [Live].flac
Size: 3814080 Hash: C83665C1A4D7EF68D30155B3B99A776D Accuracy: -m40
Conclusion: CDDA 100%
Signature: 7575ADE348AC7A39F0ECD70A5E741D95B2D34934
FILE: 16 - Simon Boccanegra, Act I (1881 Version)_ Sì, sì dell'ara il giubilo [Live].flac
Size: 5557218 Hash: 9CB17737ADCCDE37CB093AC6307FFEF1 Accuracy: -m40
Conclusion: CDDA 100%
Signature: 81E0ABF72B739167E32C880FAF5AD14A74DDAD04
FILE: 17 - Simon Boccanegra, Act I (1881 Version)_ Propizio ei giunge! [Live].flac
Size: 8584911 Hash: E6CA8F887A6B7154358371C8332DB912 Accuracy: -m40
Conclusion: ???
Signature: 7A8B64D0F4501D6C6CC284BA9A7AC184DDA51DDF
FILE: 18 - Simon Boccanegra, Act I (1881 Version)_ Vieni a me, ti benedico [Live].flac
Size: 9948688 Hash: 96AC0CBFADF0A71813B0D359E6DA0663 Accuracy: -m40
Conclusion: CDDA 99%
Signature: 4959E8307D1F61309C35A405CAD31747A5E0296E
FILE: 19 - Simon Boccanegra, Act I (1881 Version)_ Paolo! Signor! [Live].flac
Size: 5091410 Hash: 9A3D7FECE1FA63F64B298889BE33096A Accuracy: -m40
Conclusion: CDDA 100%
Signature: AD9A7058B0A2ABC9FA496A9408293209642925C5
FILE: 20 - Simon Boccanegra, Act I (1881 Version)_ Dinne, perché in quest'eremo [Live].flac
Size: 6817476 Hash: 387673DE452D1384DDBA2C9792362D56 Accuracy: -m40
Conclusion: CDDA 100%
Signature: C22D7711F69C55358CF60F9DEC88CDC6C4162E68
FILE: 21 - Simon Boccanegra, Act I (1881 Version)_ Orfanella il tetto umile [Live].flac
Size: 16247631 Hash: A5FEFF672FEF0937E615BE171FCC6E07 Accuracy: -m40
Conclusion: CDDA 100%
Signature: EF757D03902173BE0560D6E469133DF28A92B6E8
FILE: 22 - Simon Boccanegra, Act I (1881 Version)_ Dinne, alcun là non vedesti_ [Live].flac
Size: 5820188 Hash: 6A7B31540B7FABAD282E0422375A6DD8 Accuracy: -m40
Conclusion: CDDA 100%
Signature: 92283D3AD423BFFA68C02E2E0B822B4FEA516600
FILE: 23 - Simon Boccanegra, Act I (1881 Version)_ Figlia! A tal nome io palpito [Live].flac
Size: 13982445 Hash: 5061E03B13665BDA05056E9C54AF6396 Accuracy: -m40
Conclusion: CDDA 86%
Signature: 3D0967458F8698F8D84B953FEBF81FBD73E84475
FILE: 24 - Simon Boccanegra, Act I (1881 Version)_ Che rispose_ [Live].flac
Size: 1957244 Hash: B4A9F11E711FB3F6F7D519EA2ED10624 Accuracy: -m40
Conclusion: CDDA 100%
Signature: 523AE5281E645AF7A6D43B9DB9EFDA3E07F55AB6
FILE: 25 - Simon Boccanegra, Act I (1881 Version)_ Che disse_ A me negolla [Live].flac
Size: 3901579 Hash: 12B091DDF3F60BB662988916B4C9C3F9 Accuracy: -m40
Conclusion: CDDA 100%
Signature: 736DCC5B886758501C84013FC4524CD2C8A8EEE9
FILE: 26 - Simon Boccanegra, Act I (1881 Version)_ Messeri, il re di Tartaria [Live].flac
Size: 8645378 Hash: 8260E735C30BDB5973776EA9D82D8939 Accuracy: -m40
Conclusion: CDDA 100%
Signature: 847EDC4DEAC0A4181FC2ECF2FE984F263764C9E8
FILE: 27 - Simon Boccanegra, Act I (1881 Version)_ Qual clamor! [Live].flac
Size: 23858879 Hash: 5DECEAC6C0F350F88E38F6A7EFDD9ECB Accuracy: -m40
Conclusion: CDDA 100%
Signature: 985EFFE8AC95D5F7CD5CE67E940765BC5D51FE32
FILE: 28 - Simon Boccanegra, Act I (1881 Version)_ Nell'ora soave che all'estasi invita [Live].flac
Size: 9758765 Hash: 7EA1AD0571A5EAEA4E44443FD72A5023 Accuracy: -m40
Conclusion: CDDA 100%
Signature: B5528ED8AAF8B10E5C439F307479E97224117641
FILE: 29 - Simon Boccanegra, Act I (1881 Version)_ Plebe! Patrizi! Popolo [Live].flac
Size: 21620969 Hash: F48DFBC4BB0C966819D593006A63E43A Accuracy: -m40
Conclusion: CDDA 99%
Signature: E46C19007578D5E04947DDD3378092700931AA87
FILE: 30 - Simon Boccanegra, Act I (1881 Version)_ Ecco la spada [Live].flac
Size: 5829343 Hash: 6E06E56BD96BED4853CEAD83310E4045 Accuracy: -m40
Conclusion: CDDA 100%
Signature: F6D28A25E235FF60C575C3553150B45710018139
FILE: 31 - Simon Boccanegra, Act I (1881 Version)_ V'è in queste mura un vil che m'ode [Live].flac
Size: 11404866 Hash: 8DFE36695B925A8BCE2F909E02186371 Accuracy: -m40
Conclusion: CDDA 100%
Signature: AE1C52C8FE7D19AB0385AA3C037BB851DD059262
FILE: 32 - Simon Boccanegra, Act II (1881 Version)_ Quei due vedesti_ [Live].flac
Size: 10322212 Hash: 9AAC0D9C87F6B519DFB330845F550EE4 Accuracy: -m40
Conclusion: CDDA 100%
Signature: 10BED2450AD6154C4F037915F0CCA717F632FAB2
FILE: 33 - Simon Boccanegra, Act II (1881 Version)_ Prigioniero in qual loco m'adduci [Live].flac
Size: 7095999 Hash: E8BE0C3B9232CF163777394059E2EB3B Accuracy: -m40
Conclusion: CDDA 100%
Signature: 79A3042E887EF3F8F3088268A9CCE798F2EA9AA7
FILE: 34 - Simon Boccanegra, Act II (1881 Version)_ Udisti_ [Live].flac
Size: 6720160 Hash: 7B8E75CAC0C51DC36B115DC502ABA260 Accuracy: -m40
Conclusion: CDDA 100%
Signature: C5DD08F2015F2443D795E437969DDCEEBEAEA723
FILE: 35 - Simon Boccanegra, Act II (1881 Version)_ Sento avvampar nell'anima [Live].flac
Size: 7545265 Hash: 332028E54233D253D01B46AFAE549386 Accuracy: -m40
Conclusion: CDDA 100%
Signature: B979DAA07AAC3C357EE2BB3B30CA2B9AA75EA815
FILE: 36 - Simon Boccanegra, Act II (1881 Version)_ Cielo pietoso, rendila [Live].flac
Size: 10806599 Hash: 39F5A2E6E87BFDD206BC37FFDDF7D66C Accuracy: -m40
Conclusion: CDDA 100%
Signature: 46283D44651941D33BDCF5F1494D8E2E19991A5F
FILE: 37 - Simon Boccanegra, Act II (1881 Version)_ Tu qui_ Amelia! [Live].flac
Size: 4248811 Hash: 863305047C227A61FC869B3487E7FE2D Accuracy: -m40
Conclusion: CDDA 100%
Signature: 867AB3F6F5C3233EF6529E1DECBC6FC783A420A4
FILE: 38 - Simon Boccanegra, Act II (1881 Version)_ Parla, in tuo cor virgineo [Live].flac
Size: 10053081 Hash: FCB3BB2A98E34CD6B12888A26A8CF121 Accuracy: -m40
Conclusion: CDDA 99%
Signature: B2B9A667C393F3F15247258BF1BF12141C8FFCC3
FILE: 39 - Simon Boccanegra, Act II (1881 Version)_ Il Doge vien [Live].flac
Size: 5069688 Hash: 8A66483B06828EDF42DA365F9E6674C2 Accuracy: -m40
Conclusion: CDDA 100%
Signature: BE02C9BD08CC403410298C0522DE8BD8892A0268
FILE: 40 - Simon Boccanegra, Act II (1881 Version)_ Figlia! Sì afflitto, o padre mio_ [Live].flac
Size: 12352248 Hash: 2A21FE0A794CC5A045027284CEDBE0E6 Accuracy: -m40
Conclusion: CDDA 76%
Signature: DC046EB866B73DBACCC632524F39BDD269089B33
FILE: 41 - Simon Boccanegra, Act II (1881 Version)_ Doge ancor proveran la tua clemenza i traditori_ [Live].flac
Size: 6027016 Hash: 5C91B528FD0E0174C0E2683ADA04A9DF Accuracy: -m40
Conclusion: CDDA 100%
Signature: 0A99090E569139D11DAF523BECB876084FDDDE01
FILE: 42 - Simon Boccanegra, Act II (1881 Version)_ Oh! Amelia, ami un nemico [Live].flac
Size: 13394251 Hash: 1C428A66789EF7922BE7E4DC17185B70 Accuracy: -m40
Conclusion: CDDA 100%
Signature: AAF899431E38A67FB1403A2A12A3032301670FC4
FILE: 43 - Simon Boccanegra, Act II (1881 Version)_ Perdon, perdon, Amelia [Live].flac
Size: 15968643 Hash: 601B7E38080004117D3ED262215AC68A Accuracy: -m40
Conclusion: CDDA 99%
Signature: CA6E0FF512E58720993A96B1566FAA353DB05AD7
FILE: 44 - Simon Boccanegra, Act II (1881 Version)_ All'armi, all'armi, o Liguri [Live].flac
Size: 7555392 Hash: 88A8E95DC44A7E517A7ADA81636C3BA5 Accuracy: -m40
Conclusion: CDDA 100%
Signature: 1048540B1722E3424D18F6CD942D51A5E6BA4F04
FILE: 45 - Simon Boccanegra, Act III (1881 Version)_ Evviva il Doge! [Live].flac
Size: 3821127 Hash: 75490E6649BC3A85F708BE4F54CCA65D Accuracy: -m40
Conclusion: CDDA 100%
Signature: 588EDAB90C920A3E4ED46DFE3453CD8AC88AA6AD
FILE: 46 - Simon Boccanegra, Act III (1881 Version)_ Libero sei. Ecco la spada [Live].flac
Size: 16356183 Hash: 03F257BC83DC2345B2077FC5D5E9AD91 Accuracy: -m40
Conclusion: CDDA 100%
Signature: 29E4770BA61E29EA3D538BED6970473D324557B1
FILE: 47 - Simon Boccanegra, Act III (1881 Version)_ Cittadini, per ordine del Doge [Live].flac
Size: 5492480 Hash: BD89BDEF3035AFE4B7744848996126CB Accuracy: -m40
Conclusion: CDDA 100%
Signature: 6843EED62853F988A5EC026B2ECD5DF9CCB323E5
FILE: 48 - Simon Boccanegra, Act III (1881 Version)_ M'ardon le tempia [Live].flac
Size: 10008882 Hash: A1D4072A481AE79CF5A955942CBF4403 Accuracy: -m40
Conclusion: CDDA 100%
Signature: 7BEC297250DAC923D8A68249439CC90470CA8C1E
FILE: 49 - Simon Boccanegra, Act III (1881 Version)_ Delle faci festanti al barlume [Live].flac
Size: 8013457 Hash: D69D7A46D28CE66EDD0EB23E91BC48E6 Accuracy: -m40
Conclusion: CDDA 100%
Signature: 69240EA45BD124DCEF9987BAC060ECB01906386D
FILE: 50 - Simon Boccanegra, Act III (1881 Version)_ Come un fantasima Fiesco t'appar [Live].flac
Size: 8722170 Hash: 25BE086228C51897F8294758ACA779D5 Accuracy: -m40
Conclusion: CDDA 100%
Signature: 89BCB9BE8A39A5D36E6B03E1A33678FEAD94D395
FILE: 51 - Simon Boccanegra, Act III (1881 Version)_ Piango, perchè mi parla [Live].flac
Size: 15086599 Hash: 878BAFC73D76CB4864CBE5231839A5DA Accuracy: -m40
Conclusion: CDDA 100%
Signature: A6A9EAA6522AE68F31AD5BF60325C703F320B22F
FILE: 52 - Simon Boccanegra, Act III (1881 Version)_ Chi veggo! [Live].flac
Size: 7626468 Hash: F9C209D3DF435B4694E2FE002AD7672C Accuracy: -m40
Conclusion: CDDA 100%
Signature: 1B347F39E8B60133CE1169631F31332D73AD592B
FILE: 53 - Simon Boccanegra, Act III (1881 Version)_ Gran Dio, li benedici [Live].flac
Size: 17756312 Hash: 8F482FE829EC4FD10D2DCAC2146A609D Accuracy: -m40
Conclusion: CDDA 100%
Signature: 861AAE717DEDEF465DB78BBA647D5CB636E73166
FILE: 54 - Simon Boccanegra, Act III (1881 Version)_ Senatori, sancite il voto estremo [Live].flac
Size: 13709955 Hash: D6BC4E38BDA31DF1CC47FFAD10166BD1 Accuracy: -m40
Conclusion: CDDA 100%
Signature: FA5B04C070EB8FC7F1A98A7D8C4A1F6C3759D371