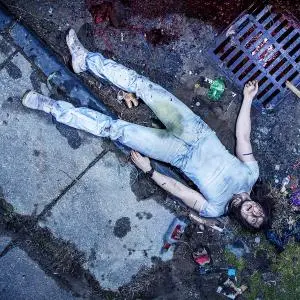 Andrew W.K. - God is Partying (2021)
WEB FLAC (Tracks) 352 MB | Cover | 51:51 | MP3 CBR 320 kbps | 121 MB
Hard Rock | Label: Napalm Records Handels GmbH
When Andrew W.K.—né Andrew Wilkes-Krier—burst onto the scene in a blaze of hyperactive, hyper-intense glory, it could've been the dumbest frat rock joke ever. "When it's time to party, we will party hard! Hey!" was an actual lyric, and the overarching theme of his debut album, I Get Wet. Culturally, the early 2000s was a time of great cynicism and skepticism: He had to be in on the joke, right? Turns out, he was in on it—but it was no joke. Andrew W.K. was serious about the notion of having a good time, just not in some nihilistic, let's-get-wasted sense. He became a motivational speaker and a guru of the power of positive thinking and living—lecturing at Yale, NYU and Oxford Union. And he's never stopped preaching the virtues of feeling good about feeling good. The Michigan-raised singer delves into good vs. evil on his sixth album, once again meant to be listened to with arms raised to the heavens and head-banging as a show of proselytizing devotion. Like AA, religion or conspiracy theories, either you're on board or you aren't. "Stay True to Your Heart" delivers a simple message (it's right there in the title) via a majestic, soaring power ballad. "You've got to close your eyes/ And open up your soul/ Let the power rise/ Give it total control/ Until your head's on fire/ Until your body aches/ Like a fever burning with desire/ Will you do whatever it takes?" he extolls, sometimes veering into falsetto in his fervor. Sonically, it is pure, delicious, '80s-style cheese (admittedly, an acquired taste); if you're willing to play along, it can leave you feeling like you're ready to go into battle. "Remember Your Oath"—which is just begging for inclusion on a Bill & Ted movie soundtrack—is a reminder that weakness can seep in, so it's important to stay strong. "So now your demon's back again/ I can't believe that you let him in … You broke your body, broke your spirit/ You broke your heart," Andrew W.K. laments as the guitar solo practically weeps. There is Iron Maiden metal mysticism (opener "Everybody Sins," which roils for two minutes before W.K.'s rasp enters) and sounds of Chicago industrial circa-1997 (the 10-minute menace "I'm In Heaven"). Piano drama "And Then We Blew Apart" revels in Queen-worth grandiosity, even if it's not clear if it's a break-up track or the story of a shared feeling so big, it destroyed the whole planet. Still, take solace: The world can be a tough, dirty place, and it can take a lot of work to keep up an optimistic outlook—but Andrew W.K. believes in you.
TRACKLIST
1. Andrew W.K. - Everybody Sins
2. Andrew W.K. - Babalon
3. Andrew W.K. - No One to Know
4. Andrew W.K. - Stay True to Your Heart
5. Andrew W.K. - Goddess Partying
6. Andrew W.K. - I'm in Heaven
7. Andrew W.K. - Remember Your Oath
8. Andrew W.K. - My Tower
9. Andrew W.K. - And Then We Blew Apart
10. Andrew W.K. - I Made It
11. Andrew W.K. - Not Anymore
12. Andrew W.K. - Everybody Sins (Radio Edit)
–––––––––––-
DON'T MODIFY THIS FILE
–––––––––––-
PERFORMER: auCDtect Task Manager, ver. 1.6.0 RC1 build 1.6.0.1
Copyright © 2008-2010 y-soft. All rights reserved
http://y-soft.org
ANALYZER: auCDtect: CD records authenticity detector, version 0.8.2
Copyright © 2004 Oleg Berngardt. All rights reserved.
Copyright © 2004 Alexander Djourik. All rights reserved.
FILE: 12 - Everybody Sins (Radio Edit).flac
Size: 32295246 Hash: 745CE8C6BF7175CD6B8E37ECA4989746 Accuracy: -m0
Conclusion: CDDA 99%
Signature: F7ED6BAE94DAC8058240A9B14920C08810672777
FILE: 11 - Not Anymore.flac
Size: 23916167 Hash: 74F436B766973ADF187B869F43512212 Accuracy: -m0
Conclusion: CDDA 99%
Signature: F24EC44E838FE87CE3A7FCF9B400A5A5AEF89C52
FILE: 10 - I Made It.flac
Size: 32416394 Hash: 9193A3BDE4F05AE038A5B62E8856F44F Accuracy: -m0
Conclusion: CDDA 100%
Signature: AB01FB8E36CC65BD2FA865614DCAC47DEEDE346F
FILE: 09 - And Then We Blew Apart.flac
Size: 30292108 Hash: AC45B6D1705A52FB319114AFA75FC03C Accuracy: -m0
Conclusion: CDDA 100%
Signature: D2A063021BB6B0F65EDBCB8C68D4D01008246E18
FILE: 08 - My Tower.flac
Size: 45406301 Hash: E29AC23FC7EE81C168B2CE8E5A57B761 Accuracy: -m0
Conclusion: CDDA 100%
Signature: AEA810D28D422F088A781753510A37AB60A733AE
FILE: 07 - Remember Your Oath.flac
Size: 29091047 Hash: 6B33315B39C6C2999EFBD230CF5561A2 Accuracy: -m0
Conclusion: CDDA 100%
Signature: 04F0BB78B4FC3F4B76C1D36CEC9B12F2A91806E9
FILE: 06 - I'm in Heaven.flac
Size: 24258256 Hash: CB6B730214CA83D121892774361EB18A Accuracy: -m0
Conclusion: CDDA 100%
Signature: 80BE65A27C87D38522CF82F97DF40843AA289408
FILE: 05 - Goddess Partying.flac
Size: 4796387 Hash: 3B60848889BF57C66B03986F2647F047 Accuracy: -m0
Conclusion: CDDA 100%
Signature: BF90EA8355550DBA9A3BF9BDBF82C39B70C14B62
FILE: 04 - Stay True to Your Heart.flac
Size: 25473171 Hash: F37B43C25F9FEBABC8A8CA2F0C72A6E1 Accuracy: -m0
Conclusion: CDDA 100%
Signature: C117C1B97AF12AAD2B2F836F01E91DCA89321305
FILE: 03 - No One to Know.flac
Size: 41967494 Hash: 1238DD82E866B193F87F5E0D1E0D1A55 Accuracy: -m0
Conclusion: CDDA 100%
Signature: 4C126596A92971C9CFAC2577ED3867370CC88152
FILE: 02 - Babalon.flac
Size: 32547489 Hash: 212ACE3F4E6C025F4EB30D268FDFA802 Accuracy: -m0
Conclusion: CDDA 100%
Signature: D1EA07EF80ED382A8773E68E9CF6454EB226438D
FILE: 01 - Everybody Sins.flac
Size: 45735718 Hash: 54CD8C4EB1FB85CCB8E9BC40809AD362 Accuracy: -m0
Conclusion: CDDA 100%
Signature: 071F86C80BC62D3CB99090A3543369A32FD43A5C