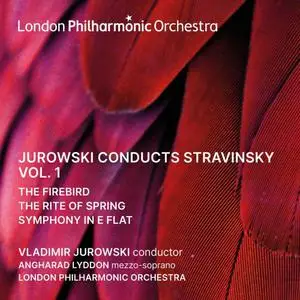 Angharad Lyddo, London Philharmonic Orchestra - Jurowski conducts Stravinsky, Vol. 1 (2022)
FLAC (tracks), Lossless +Booklet | 2:26:43 | 571 Mb
Genre: Classical / Label: London Philharmonic Orchestra
The first of three volumes focusing on Stravinsky's music conducted by Vladimir Jurowski includes his Opus One, the Symphony in E-flat, unmistakably Russian and that young Igor was a pupil of Rimsky-Korsakov. It's a likeable piece, leaning to Borodin in places, confident and imaginative, with a featherlight Scherzo, an intensely eloquent Largo, and a Finale of Imperial swagger, handsomely brought off by the LPO and Jurowski in immediate and clear sound, the very ideal of the Royal Festival Hall. Mezzo Angharad Lyddon is excellent in Faun and Shepherdess, straight out of the Tchaikovsky songbook, and anticipations of the Stravinsky to come (Firebird anyway) surface with Scherzo fantastique, given a buoyant outing, with fantasy and clarity in equal measure. The 'lost and found' Funeral Song – interesting because Stravinsky wrote it (in memoriam Rimsky) rather than for its musical worth, although Jurowski finds more than some previous performances (the piece went viral a few years ago). A shame that this first disc does not include Fireworks, Stravinsky's Opus Four, for then his first five Opuses would be together, although that way of cataloguing his works would cease.
Track List:
1. Stravinsky: Symphony in E-Flat, Op. 1: I. Allegro moderato (Live) (10:15)
2. Stravinsky: Symphony in E-Flat, Op. 1: II. Scherzo Allegretto (Live) (5:54)
3. Stravinsky: Symphony in E-Flat, Op. 1: III. Largo (Live) (10:56)
4. Stravinsky: Symphony in E-Flat, Op. 1: IV. Finale. Allegro molto (Live) (8:09)
5. Stravinsky: The Faun and the Shepherdess, Op. 2: I. The Shepherdess (Live) (2:55)
6. Stravinsky: The Faun and the Shepherdess, Op. 2: II. The Faun (Live) (3:19)
7. Stravinsky: The Faun and the Shepherdess, Op. 2: III. The River (Live) (3:50)
8. Stravinsky: Scherzo fantastique, Op. 3 (Live) (13:13)
9. Stravinsky: Funeral Song, Op. 5 (Live) (10:18)
10. Stravinsky: The Firebird: Introduction (Live) (2:34)
11. Stravinsky: The Firebird, Tableau 1: The Magic Garden of Kashchei (Live) (1:50)
12. Stravinsky: The Firebird, Tableau 1: Appearance of the Firebird pursued by Ivan Tsarevitch (Live) (2:27)
13. Stravinsky: The Firebird, Tableau 1: Dance of the Firebird (Live) (1:28)
14. Stravinsky: The Firebird, Tableau 1: Prince Ivan Captures the Firebird (Live) (0:57)
15. Stravinsky: The Firebird, Tableau 1: Supplication of the Firebird (Live) (8:09)
16. Stravinsky: The Firebird, Tableau 1: The Princesses' Game with the Golden Apples (Live) (2:31)
17. Stravinsky: The Firebird, Tableau 1: Sudden Appearance of Ivan Tsarevitch (Live) (5:50)
18. Stravinsky: The Firebird, Tableau 1: Daybreak – Ivan Tsarevitch Enters into Kashchei's Palace (Live) (7:25)
19. Stravinsky: The Firebird, Tableau 1: Dance of Kashchei's Followers under the Spell of the Firebird (Live) (0:48)
20. Stravinsky: The Firebird, Tableau 1: Infernal Dance of all Kashchei's Subjects (Live) (4:35)
21. Stravinsky: The Firebird, Tableau 1: Lullaby (The Firebird) (Live) (2:43)
22. Stravinsky: The Firebird, Tableau 1: Kashchei's Awakening – Kashchei's Death – Profound Darkness (Live) (2:21)
23. Stravinsky: The Firebird, Tableau 2: Disappearance of Kashchei's Palace and Magic Spells – The Petrified Warriors Return to Life (Live) (3:21)
24. Stravinsky: The Rite of Spring, Part One - Adoration of the Earth: Introduction (Live) (3:13)
25. Stravinsky: The Rite of Spring, Part One - Adoration of the Earth: The Augurs of Spring – Dances of the Young Girls (Live) (3:17)
26. Stravinsky: The Rite of Spring, Part One - Adoration of the Earth: Ritual of Abduction (Live) (1:13)
27. Stravinsky: The Rite of Spring, Part One - Adoration of the Earth: Spring Rounds (Live) (2:55)
28. Stravinsky: The Rite of Spring, Part One - Adoration of the Earth: Ritual of the River Tribes (Live) (1:38)
29. Stravinsky: The Rite of Spring, Part One - Adoration of the Earth: Procession of the Sage (Live) (0:44)
30. Stravinsky: The Rite of Spring, Part One - Adoration of the Earth: The Sage (Live) (0:30)
31. Stravinsky: The Rite of Spring, Part One - Adoration of the Earth: Dance of the Earth (Live) (1:05)
32. Stravinsky: The Rite of Spring, Part Two - The Sacrifice: Introduction (Live) (3:44)
33. Stravinsky: The Rite of Spring, Part Two - The Sacrifice: Mystic Circles of the Young Girls (Live) (2:59)
34. Stravinsky: The Rite of Spring, Part Two - The Sacrifice: Glorification of the Chosen One (Live) (1:25)
35. Stravinsky: The Rite of Spring, Part Two - The Sacrifice: Evocation of the Ancestors (Live) (0:44)
36. Stravinsky: The Rite of Spring, Part Two - The Sacrifice: Ritual Action of the Ancestors (Live) (3:13)
37. Stravinsky: The Rite of Spring, Part Two - The Sacrifice: Sacrificial Dance (The Chosen One) (Live) (4:30)
ANALYZER: auCDtect: CD records authenticity detector, version 0.8.2
Copyright © 2004 Oleg Berngardt. All rights reserved.
Copyright © 2004 Alexander Djourik. All rights reserved.


FILE: 01. Stravinsky Symphony in E-Flat, Op. 1 I. Allegro moderato (Live).flac
Size: 46772079 Hash: 1634F69A166381CE1A46D57ABE9A1734 Accuracy: -m40
Conclusion: CDDA 100%
Signature: 6A7ABC6BFB61E5F967C126437186B27DD8D0BF40
FILE: 02. Stravinsky Symphony in E-Flat, Op. 1 II. Scherzo Allegretto (Live).flac
Size: 23633189 Hash: 546DB6F2604EE4933AD559F65A729878 Accuracy: -m40
Conclusion: CDDA 100%
Signature: 09144CB45D6401F9D6366FC23F1A13BA4E80A62E
FILE: 03. Stravinsky Symphony in E-Flat, Op. 1 III. Largo (Live).flac
Size: 43524904 Hash: 337B6C5135E89C8EEB41FCB4AE77C984 Accuracy: -m40
Conclusion: CDDA 100%
Signature: EF9DAE8FB5B078B11CCD887A198F2B8EB9BF5DF6
FILE: 04. Stravinsky Symphony in E-Flat, Op. 1 IV. Finale. Allegro molto (Live).flac
Size: 37708023 Hash: 37966A831E24BA599B9834F95F568FE8 Accuracy: -m40
Conclusion: CDDA 100%
Signature: E3F24BB0F8A5CCE0BE97DEB660E8489C730DB8E1
FILE: 05. Stravinsky The Faun and the Shepherdess, Op. 2 I. The Shepherdess (Live).flac
Size: 11017108 Hash: 5B665DEFD0A86AD987662798A92B802C Accuracy: -m40
Conclusion: CDDA 99%
Signature: 7158613154437DF8AF498D88879639CC7922F137
FILE: 06. Stravinsky The Faun and the Shepherdess, Op. 2 II. The Faun (Live).flac
Size: 14062985 Hash: 3F3EB888D435DFE60A3EEB3F378BDCF7 Accuracy: -m40
Conclusion: CDDA 100%
Signature: 64B173BEEE2AE44954B9FAAE7507B77A6D8A1EC1
FILE: 07. Stravinsky The Faun and the Shepherdess, Op. 2 III. The River (Live).flac
Size: 17613539 Hash: A50590DAAEC342E3BCCFA228C57F7969 Accuracy: -m40
Conclusion: CDDA 100%
Signature: 83F4D55BB18703F2DD9AA97D7F07C7316BBAC993
FILE: 08. Stravinsky Scherzo fantastique, Op. 3 (Live).flac
Size: 60016301 Hash: AC4F4D24685EC4150150CA7E27681665 Accuracy: -m40
Conclusion: CDDA 100%
Signature: F4E088D34966B8369D63E3E67602A099DA031702
FILE: 09. Stravinsky Funeral Song, Op. 5 (Live).flac
Size: 36500500 Hash: 1B2C9CE246199503E7384E3E5444160B Accuracy: -m40
Conclusion: CDDA 100%
Signature: C8D5F875598D69F1F6D5BF82BDF62D84C5A8C2DD
FILE: 10. Stravinsky The Firebird Introduction (Live).flac
Size: 6403587 Hash: 3BAC1F77DB3FCA19039989F1A75F2FE7 Accuracy: -m40
Conclusion: CDDA 99%
Signature: 9172E203B85424C122723BC2BDAD9773D043726F
FILE: 11. Stravinsky The Firebird, Tableau 1 The Magic Garden of Kashchei (Live).flac
Size: 5097206 Hash: B1E9AED4A7A7E171CB6A8570255C576B Accuracy: -m40
Conclusion: CDDA 100%
Signature: 6FE8D678663383B4A3331DE0C0120EB2DDC358A0
FILE: 12. Stravinsky The Firebird, Tableau 1 Appearance of the Firebird pursued by Ivan Tsarevitch (Live).flac
Size: 8667683 Hash: 35E783812868B288FD8A247F3FC6683B Accuracy: -m40
Conclusion: CDDA 100%
Signature: E976F2E6962381DEED7037E62FFB785963EE8D83
FILE: 13. Stravinsky The Firebird, Tableau 1 Dance of the Firebird (Live).flac
Size: 6257452 Hash: AF522BAAB7B470E7C32B852EDCE10CF0 Accuracy: -m40
Conclusion: CDDA 100%
Signature: 1A7F025DC72A5BD8D9C5B564F278480F38488BFB
FILE: 14. Stravinsky The Firebird, Tableau 1 Prince Ivan Captures the Firebird (Live).flac
Size: 3751857 Hash: 9542032A14EED6086F4B44955CC1258A Accuracy: -m40
Conclusion: CDDA 100%
Signature: 9EC4034423F5F6E18831783AA4375122DD372B4D
FILE: 15. Stravinsky The Firebird, Tableau 1 Supplication of the Firebird (Live).flac
Size: 28522829 Hash: 6A3040BD5940DD848332E85686101797 Accuracy: -m40
Conclusion: CDDA 99%
Signature: 2DBCFC50528E454C986C4CCACB5AA2976AE1471D
FILE: 16. Stravinsky The Firebird, Tableau 1 The Princesses' Game with the Golden Apples (Live).flac
Size: 9935308 Hash: 253158ADA49909DE7F27A2994A044CF0 Accuracy: -m40
Conclusion: CDDA 100%
Signature: 2D1179BD1FE0F2512B2E2D80CA28A13F0F6B7731
FILE: 17. Stravinsky The Firebird, Tableau 1 Sudden Appearance of Ivan Tsarevitch (Live).flac
Size: 18054929 Hash: 793FCEB27D54AA2E63BE7AF995D10233 Accuracy: -m40
Conclusion: CDDA 100%
Signature: D76EE7A6A8E79E6EEAF29AC6F7FB9E4BE9B7E267
FILE: 18. Stravinsky The Firebird, Tableau 1 Daybreak – Ivan Tsarevitch Enters into Kashchei's Palace (Live).flac
Size: 30168143 Hash: 89677447E83D94E9727508B38636C728 Accuracy: -m40
Conclusion: CDDA 100%
Signature: 88C6FD13556B97CD2B050135B18E6E494F3DB464
FILE: 19. Stravinsky The Firebird, Tableau 1 Dance of Kashchei's Followers under the Spell of the Firebird (Live).flac
Size: 3798896 Hash: 00FFE04FA4DB7239E6EE2B5429EEEE82 Accuracy: -m40
Conclusion: CDDA 99%
Signature: B8F52E782E21153308597C76AF009760ACF6C161
FILE: 20. Stravinsky The Firebird, Tableau 1 Infernal Dance of all Kashchei's Subjects (Live).flac
Size: 22917184 Hash: 83690B2FF593647295E865C9E6CD6D1D Accuracy: -m40
Conclusion: CDDA 100%
Signature: 3769C9A3320BDAFE995C37E89DC81A6CBBD53B43
FILE: 21. Stravinsky The Firebird, Tableau 1 Lullaby (The Firebird) (Live).flac
Size: 8993757 Hash: B63BEED56CF858BADA579A28660E4260 Accuracy: -m40
Conclusion: CDDA 100%
Signature: DAF68CA04A2CDB219CD837A3122833AF5EC0D95A
FILE: 22. Stravinsky The Firebird, Tableau 1 Kashchei's Awakening – Kashchei's Death – Profound Darkness (Live).flac
Size: 7509992 Hash: F990484465D6C2FB84EF1DD95758416E Accuracy: -m40
Conclusion: CDDA 100%
Signature: DCDE1CB19E0A963EDFA7432F7964694A69B3D3E9
FILE: 23. Stravinsky The Firebird, Tableau 2 Disappearance of Kashchei's Palace and Magic Spells.flac
Size: 17622511 Hash: A818D455D21E39B258EE2908929D5D2E Accuracy: -m40
Conclusion: CDDA 100%
Signature: 7915C5B0628A91F40D800B2BB3B193EA71990D96
FILE: 24. Stravinsky The Rite of Spring, Part One - Adoration of the Earth Introduction (Live).flac
Size: 10494580 Hash: 264D8C9BF34D62584F6BF89177ADB7DA Accuracy: -m40
Conclusion: MPEG 99%
Signature: B8EA2C8416AA5C80E4A2A4945493CD28C13DBE48
FILE: 25. Stravinsky The Rite of Spring, Part One - Adoration of the Earth The Augurs of Spring – Dances of the Young Girls (Live).flac
Size: 14238905 Hash: F7FF0CF2ED9238301439FD01364F0B55 Accuracy: -m40
Conclusion: CDDA 99%
Signature: 07E7F56C03C2B38C1A5D2537BBFE94DA3FB3E4F9
FILE: 26. Stravinsky The Rite of Spring, Part One - Adoration of the Earth Ritual of Abduction (Live).flac
Size: 6595698 Hash: 97B9FCB0FE71187DA7A57E8CF8FBC46F Accuracy: -m40
Conclusion: CDDA 100%
Signature: AE7EA7862888958D9622E6676A917FB2A4579AD9
FILE: 27. Stravinsky The Rite of Spring, Part One - Adoration of the Earth Spring Rounds (Live).flac
Size: 12640928 Hash: A38950294B882BBD5C58FA350119B902 Accuracy: -m40
Conclusion: CDDA 100%
Signature: A3A4A7A98D323E70D785E9FD13D4D3CDBDC0F3C9
FILE: 28. Stravinsky The Rite of Spring, Part One - Adoration of the Earth Ritual of the River Tribes (Live).flac
Size: 8733779 Hash: 11B7D5D243B78A75D371553DB21AE51B Accuracy: -m40
Conclusion: CDDA 76%
Signature: E7A4F1B8689932BA108D229EF40E9581037BD13B
FILE: 29. Stravinsky The Rite of Spring, Part One - Adoration of the Earth Procession of the Sage (Live).flac
Size: 4277444 Hash: 916D5FE65C5B36972C07C734C0E20668 Accuracy: -m40
Conclusion: CDDA 100%
Signature: BD61D561E30E8FD193029EF9231414FB5ED9A442
FILE: 30. Stravinsky The Rite of Spring, Part One - Adoration of the Earth The Sage (Live).flac
Size: 1213828 Hash: 87F1FBBA4B5A180C0E07A8F3C624038D Accuracy: -m40
Conclusion: CDDA 100%
Signature: E25DFD4A9679949CE6EE21AD6AC8F8B69247602F
FILE: 31. Stravinsky The Rite of Spring, Part One - Adoration of the Earth Dance of the Earth (Live).flac
Size: 5789239 Hash: DE61563C4930978029206D6F26A227AE Accuracy: -m40
Conclusion: CDDA 100%
Signature: 6773E79CE8D18179C92F2E792C69AF3B29C54263
FILE: 32. Stravinsky The Rite of Spring, Part Two - The Sacrifice Introduction (Live).flac
Size: 11761067 Hash: 92AFEB720AE0117E8A7DA44185A29C32 Accuracy: -m40
Conclusion: CDDA 100%
Signature: D4B1A0BC0D02C1C02D61729E493D1FA6C23E421B
FILE: 33. Stravinsky The Rite of Spring, Part Two - The Sacrifice Mystic Circles of the Young Girls (Live).flac
Size: 10051796 Hash: 8C0D06AC4139F200AC3796129EF0DFFA Accuracy: -m40
Conclusion: CDDA 100%
Signature: 81C6DE106CA91D40DF25CE3C0369EB55FCC17D9C
FILE: 34. Stravinsky The Rite of Spring, Part Two - The Sacrifice Glorification of the Chosen One (Live).flac
Size: 8013094 Hash: 416AABEC9B9459CA59CAB97D2EC6D4AB Accuracy: -m40
Conclusion: CDDA 100%
Signature: 15C6803CB82F8536252D7E7ED017259402B43E32
FILE: 35. Stravinsky The Rite of Spring, Part Two - The Sacrifice Evocation of the Ancestors (Live).flac
Size: 3014448 Hash: 646BA034A6B7830C2A602D88AE337A46 Accuracy: -m40
Conclusion: CDDA 100%
Signature: 95F69D3DA90DCCA6F7F4CCA0C811ED7CF0E19206
FILE: 36. Stravinsky The Rite of Spring, Part Two - The Sacrifice Ritual Action of the Ancestors (Live).flac
Size: 11767702 Hash: E54555798B502352E70326D8F8282F67 Accuracy: -m40
Conclusion: CDDA 100%
Signature: 81357CD133F5A61DF7177023C30CB2892EB130AF
FILE: 37. Stravinsky The Rite of Spring, Part Two - The Sacrifice Sacrificial Dance (The Chosen One) (Live).flac
Size: 21803605 Hash: 8CFEF2E83A6A3E016D8A3783D3375E4C Accuracy: -m40
Conclusion: CDDA 100%
Signature: 4AB3D4400ED3CEAF740C5CAADB931F49BFF06469