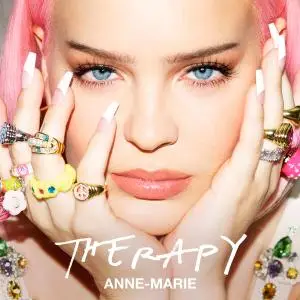 Anne-Marie - Therapy (2021)
WEB FLAC (Tracks) 229 MB | Cover | 33:49 | MP3 CBR 320 kbps | 82 MB
Pop | Label: Atlantic Records - Asylum
Therapy is the second studio album by British singer Anne-Marie. It was released on 23 July 2021, through Major Tom's and Asylum Records. The album serves as a follow-up to her debut album Speak Your Mind (2018), with the album containing guest appearances by KSI, Digital Farm Animals, Little Mix, Niall Horan, Nathan Dawe, MoStack, and Rudimental. The album was supported by four singles: "Don't Play", "Way Too Long", "Our Song", and "Kiss My (Uh-Oh)", while "Beautiful" was released as the first promotional single off the album on 12 July 2021.
Planning for Anne-Marie's second album began in 2019; in an interview with Music Week in March of that year, she provided information on her upcoming second studio album, stating "I love the studio. I was able to get in there and have some sort of therapy with my own brain for a week and that's going towards the next album". She further commented that "the first album was made up of so many songs that people had heard for years and that's amazing. But for me as a creative person, I'm writing something new all the time and all I want to do is put it out straight away. That wasn't the way it happened with [the debut] album so, for this next one, I'm hoping to be more active on writing and put something out straight away that's fresh and no one's heard before."
During 2020, Anne-Marie released the standalone singles "Birthday", "Her", "To Be Young" (featuring American singer and rapper Doja Cat) and "Problems", with "Birthday" and "To Be Young" later appearing on the Japanese edition of Therapy.
On 15 January 2021, Anne-Marie released the lead single of Therapy, "Don't Play", in collaboration with British YouTuber and rapper-singer KSI and English DJ and producer Digital Farm Animals.[4] On 9 April 2021, the second single "Way Too Long" was released in collaboration with English producer [[Nathan Dawe] and British rapper MoStack. On 21 May 2021, the third single "Our Song", a collaboration with Niall Horan, was released. On that date, Anne-Marie announced the title, cover art, and release date of Therapy. She later announced that she would embark on the Dysfunctional Tour in 2022, and Therapy: The Live Experience on 7 August 2021 in support of the album.
On 6 July 2021, via Twitter, Anne-Marie created a website that involved her fans/followers to figure out the track-listing for the album, with new ones appearing daily.
TRACKLIST
1. Anne-Marie - x2
2. Anne-Marie - Don't Play
3. Anne-Marie - Kiss My (Uh Oh)
4. Anne-Marie - Who I Am
5. Anne-Marie - Our Song
6. Nathan Dawe - Way Too Long
7. Anne-Marie - Breathing
8. Rudimental - Unlovable (feat. Rudimental)
9. Anne-Marie - Beautiful
10. Anne-Marie - Tell Your Girlfriend
11. Anne-Marie - Better Not Together
12. Anne-Marie - Therapy
–––––––––––-
DON'T MODIFY THIS FILE
–––––––––––-
PERFORMER: auCDtect Task Manager, ver. 1.6.0 RC1 build 1.6.0.1
Copyright © 2008-2010 y-soft. All rights reserved
http://y-soft.org
ANALYZER: auCDtect: CD records authenticity detector, version 0.8.2
Copyright © 2004 Oleg Berngardt. All rights reserved.
Copyright © 2004 Alexander Djourik. All rights reserved.
FILE: 12 - Therapy.flac
Size: 18903088 Hash: A345EF41A53BEF73C5468E822FF482D8 Accuracy: -m40
Conclusion: CDDA 85%
Signature: 7347A83B2B55B665F80C73C85E0E862FEEEC3F1E
FILE: 11 - Better Not Together.flac
Size: 20405270 Hash: CE6AF68BD139F1F1E4375ABE4106885D Accuracy: -m40
Conclusion: CDDA 100%
Signature: 7B0262304F184992368C79349BB6834C66F51ABC
FILE: 10 - Tell Your Girlfriend.flac
Size: 14834768 Hash: C035768BE12F3874CC4BAAF911ECAEF0 Accuracy: -m40
Conclusion: CDDA 99%
Signature: 61B85487FB60588BC1E6CF148C06BAEAE5620E4E
FILE: 09 - Beautiful.flac
Size: 22506254 Hash: EAD8614F627786F06BA8EEC8AEC98583 Accuracy: -m40
Conclusion: CDDA 100%
Signature: 57936B6FC267E58568520C980D197D5DA87ED039
FILE: 08 - Unlovable (feat. Rudimental).flac
Size: 17505649 Hash: C5AC1094390626BAC9915257255C9F4E Accuracy: -m40
Conclusion: CDDA 100%
Signature: A8268B805C2D03A5E96743479BD88BA04527FE1A
FILE: 07 - Breathing.flac
Size: 21521663 Hash: 9B2A979AD829FBD2DF5C0DD671D56C48 Accuracy: -m40
Conclusion: CDDA 100%
Signature: D950E4F155635366A6844C34FAC393F5BD0BC5A2
FILE: 06 - Way Too Long.flac
Size: 18620405 Hash: 831B437A1A10A200E36C88CCDBB9992D Accuracy: -m40
Conclusion: CDDA 92%
Signature: 759DBF8CC49B22AEDBDE085A3739726F3F6ACF5B
FILE: 05 - Our Song.flac
Size: 18728637 Hash: 654B2279B4B41F125076FAEAF7A2F002 Accuracy: -m40
Conclusion: CDDA 100%
Signature: B203D3FEDEA63D23049515CF7E36D03E1EB3B42E
FILE: 04 - Who I Am.flac
Size: 19718520 Hash: 5683439304EAA957E8E6618ADBBB88E7 Accuracy: -m40
Conclusion: CDDA 100%
Signature: BDDCF284F6E0A4C1B7B6394EB0D871E1CE8A077D
FILE: 03 - Kiss My (Uh Oh).flac
Size: 22458741 Hash: 14A146A3A097C6AF2D2B071B2288B8BE Accuracy: -m40
Conclusion: CDDA 100%
Signature: F0B7622EECF993E1F808DBB64C278ACDBA7E3836
FILE: 02 - Don't Play.flac
Size: 22226340 Hash: 1BBBC8C4510B706CC2EAC002201AB5BE Accuracy: -m40
Conclusion: CDDA 100%
Signature: BE90971820F35141B3013585EC43900A99D0F4DD
FILE: 01 - x2.flac
Size: 18719321 Hash: E41CE8C1BDD761516C57BB074276FCE3 Accuracy: -m40
Conclusion: CDDA 99%
Signature: 7E21A96E0476215F8EF37AE79AA36502F0E03694