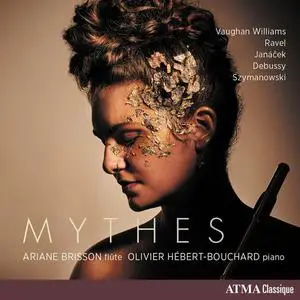 Ariane Brisson, Olivier Hébert-Bouchard - Mythes (2022)
FLAC (tracks), Lossless | 1:09:40 | 238 Mb
Genre: Classical / Label: Les Disques ATMA Inc.
Ariane Brisson, flautist, and Olivier Hebert-Bouchard, pianist, present Mythes, an album of transcriptions of works by Claude Debussy, Leo Janacek, Maurice Ravel, Ralph Vaughan Williams, and Karol Szymanowski. Inspired by the magical, mythical world of sprites and fairies, the program includes Debussy's Prelude a l'apres-midi d'un faune in an arrangement by Gustave Samazeuilh; Janacek's Pohadka (A Fairy Tale); and Ravel's Sonatine pour piano in transcriptions by Ariane Brisson; along with Vaughan Williams' Lark Ascending, and Szymanowski's Mythes for violin and piano, Op. 30 both transcribed by Ariane Brisson.
Track List:
01. The Lark Ascending (Transcr. for Flute and Piano)
02. Sonatine, M. 40 (Transcr. for Flute and Piano): I. Modéré
03. Sonatine, M. 40 (Transcr. for Flute and Piano): II. Mouvement de menuet
04. Sonatine, M. 40 (Transcr. for Flute and Piano): III. Animé
05. A Tale (Transcr. for Flute and Piano): I. Con moto – andante
06. A Tale (Transcr. for Flute and Piano): II. Con moto – adagio
07. A Tale (Transcr. for Flute and Piano): III. Allegro
08. Prélude à l'après-midi d'un faune, L. 86 (Transcr. for Flute and Piano)
09. Myths, Op. 30 (Transcr. for Flute and Piano): I. The Fountain of Arethusa
10. Myths, Op. 30 (Transcr. for Flute and Piano): II. Narcissus
11. Myths, Op. 30 (Transcr. for Flute and Piano): III. Dryads and Pan
ANALYZER: auCDtect: CD records authenticity detector, version 0.8.2
Copyright © 2004 Oleg Berngardt. All rights reserved.
Copyright © 2004 Alexander Djourik. All rights reserved.


FILE: 01 - Sonatine, M. 40 _ Ravel_ Sonatine, M. 40 - I. Modéré (trans. for flute and piano).flac
Size: 14132521 Hash: A5F0E891D59EC782ECA687B98035EEB1 Accuracy: -m40
Conclusion: CDDA 94%
Signature: EBC445058E7CEF23326D35CAB62ABF01C9C69CD8
FILE: 01 - Vaughan Williams_ The Lark Ascending (trans. for flute and piano).flac
Size: 53263943 Hash: D5ED789D7D8C7D2BDBD82F9577BBCBDF Accuracy: -m40
Conclusion: CDDA 54%
Signature: F12F4C95688E1E86A0D3675B7C7B4A4431C70125
FILE: 02 - Sonatine, M. 40 _ Ravel_ Sonatine, M. 40 - II. Mouvement de menuet (trans. for flute and piano).flac
Size: 10668182 Hash: 1C14BB0DAB5AE3D83A244FAA8269C68E Accuracy: -m40
Conclusion: CDDA 100%
Signature: 7B2355239E38B360CF7D2B0467C67C9C95AF306B
FILE: 03 - Sonatine, M. 40 _ Ravel_ Sonatine, M. 40 - III. Animé (trans. for flute and piano).flac
Size: 14136129 Hash: C5F39918B200251A6C657383183259F0 Accuracy: -m40
Conclusion: CDDA 100%
Signature: 12F460B656B2E7BAB94C53DC51950767ADCBB711
FILE: 04 - A Tale _ Janáček_ A Tale - I. Con moto – andante (trans. for flute and piano).flac
Size: 17902170 Hash: 8201A3E53609C3AF14C4EC3264BE4176 Accuracy: -m40
Conclusion: MPEG 93%
Signature: BBB9417030F36B009EC17432AC2712AD7DC72C6A
FILE: 05 - A Tale _ Janáček_ A Tale - II. Con moto – adagio (trans. for flute and piano).flac
Size: 13423447 Hash: 4671E3CF40FF1ECA16889F7AB76A914B Accuracy: -m40
Conclusion: MPEG 89%
Signature: 07630726B93AC363D64E7D86719EE79DE1307671
FILE: 06 - A Tale _ Janáček_ A Tale - III. Allegro (trans. for flute and piano).flac
Size: 9878579 Hash: BEE336FB74B3D90E0C16C8AB3D7DFCE0 Accuracy: -m40
Conclusion: CDDA 62%
Signature: D3082A1E37393553A6B86F58031BDB431AD96608
FILE: 07 - Myths for violin and piano, Op. 30 _ Szymanowski_ Myths for violin and piano, Op. 30 - I. The Fountain of Arethusa (trans. for flute and piano).flac
Size: 23999270 Hash: A3B42F19CF7B756850B14BD4E607F843 Accuracy: -m40
Conclusion: CDDA 100%
Signature: 17F88F38F6E5AB637DC87090F85B208EE3FE283E
FILE: 08 - Debussy_ Prélude à l'après-midi d'un faune, L. 86 (Trans. for flute and piano).flac
Size: 36895255 Hash: C498E1FC8395B967569455610857D668 Accuracy: -m40
Conclusion: CDDA 42%
Signature: A367C7ACA63B52CF0F24D6904D75E318B3C11A60
FILE: 08 - Myths for violin and piano, Op. 30 _ Szymanowski_ Myths for violin and piano, Op. 30 - II. Narcissus (trans. for flute and piano).flac
Size: 27394740 Hash: ABFF9B874E213324A502DED3F810DE6A Accuracy: -m40
Conclusion: CDDA 99%
Signature: 9AFC921F23D7114D7A52E4F194BD179EDDD4D838
FILE: 09 - Myths for violin and piano, Op. 30 _ Szymanowski_ Myths for violin and piano, Op. 30 - III. Dryads and Pan (trans. for flute and piano).flac
Size: 29649540 Hash: 68E0C7F864BD394E253592F28D394E81 Accuracy: -m40
Conclusion: CDDA 54%
Signature: 6492A9995E54CC62DB69603D59EEBE464D8A8229