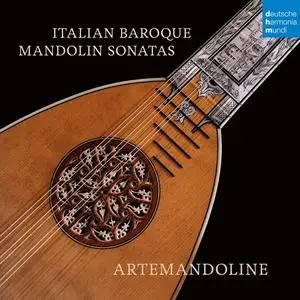 Artemandoline - Italian Baroque Mandolin Sonatas (2021)
FLAC tracks | 55:06 | 260 Mb
Genre: Classical / Label: deutsche harmonia mundi
World premiere recordings of forgotten 18th century masterpieces for mandolin and b. c.
For their two dhm recordings with soprano Nuria Rial (jpc 6657259 & 9675273) released so far, the baroque ensemble Artemandoline under the direction of Juan Carlos Munoz received fantastic reviews: "The recordings enchant with their inventiveness, refinement and above all with their engaging melodies - and an inspired and rousing orchestra." (Toccata)
For their new instrumental album, the musicians have unearthed genuine discoveries of Italian baroque compositional art: The ensemble presents world premiere recordings of forgotten masterpieces written in 18th century Florence and Rome for mandolin and basso continuo. These rarities were found in music libraries in Washington, Milan and also in Germany, in Münster. The works are by the Florentine composers Ranieri Capponi (1680-1744) and Niccolò Susier (1679-1766), the composers Nicola Romaldi (1680-1740) and Francesco Piccone (1685-1745), who were active in Rome, and the northern Italian composer Giovanni Pietro Sesto da Trento (18th century). All works possess immense expressive depth and melodious charm - music full of energy, beauty and virtuosity.
Track List:
1. 12 Sonate da camera, No. 12 in G Major : I. Largo (2:06)
2. 12 Sonate da camera, No. 12 in G Major : II. Allegro nobile (2:59)
3. 12 Sonate da camera, No. 12 in G Major : III. Fuga (2:06)
4. 12 Sonate da camera, No. 12 in G Major : IV. Scherzo pastorale - Allegro moderato (4:13)
5. Sonata per mandola : I. Adagio (1:11)
6. Sonata per mandola : II. Allegro (1:34)
7. Sonata per mandola : III. Gavotta (2:17)
8. Sonata per mandola : IV. Giga (2:18)
9. Sonata per mandola : I. Adagio (2:37)
10. Sonata per mandola : II. Allegro (2:47)
11. Sonata per mandola : III. Largo (1:13)
12. Sonata per mandola : IV. Allegro (1:32)
13. 12 Sonate da camera, No. 8 in E Minor : I. Largo (2:54)
14. 12 Sonate da camera, No. 8 in E Minor : II. Allegro assai (2:00)
15. 12 Sonate da camera, No. 8 in E Minor : III. Affettuoso (4:02)
16. 12 Sonate da camera, No. 8 in E Minor : IV. Allegro assai (2:03)
17. Sonata di mandolino : I. Larghetto (1:48)
18. Sonata di mandolino : II. Allegro (2:29)
19. Sonata di mandolino : III. Larghetto (4:54)
20. Sonata di mandolino : IV. Allegro (2:01)
21. Sinfonia per la mandola in D Minor : I. Allegro (1:58)
22. Sinfonia per la mandola in D Minor : II. Largo (1:53)
23. Sinfonia per la mandola in D Minor : III. Giga (0:55)
24. Sinfonia per la mandola in D Minor : IV. Minuetto (1:28)
ANALYZER: auCDtect: CD records authenticity detector, version 0.8.2
Copyright © 2004 Oleg Berngardt. All rights reserved.
Copyright © 2004 Alexander Djourik. All rights reserved.


FILE: 01 - 12 Sonate da camera, No. 12 in G Major _ I. Largo.flac
Size: 8520987 Hash: 67A7CDBBB545193A3AAAABD96A9C2880 Accuracy: -m40
Conclusion: CDDA 100%
Signature: 1057CFBB03F2A6DC271911897E62EF69E619A38A
FILE: 02 - 12 Sonate da camera, No. 12 in G Major _ II. Allegro nobile.flac
Size: 15239973 Hash: F6EDF58B02B95717CAE4788D7DFC0C48 Accuracy: -m40
Conclusion: CDDA 99%
Signature: 2C1FCDF088ACEDE1BA97B8A006DD8B71F18A2159
FILE: 03 - 12 Sonate da camera, No. 12 in G Major _ III. Fuga.flac
Size: 9414231 Hash: 53F545650CFF3089B0AE8A6F80023036 Accuracy: -m40
Conclusion: CDDA 100%
Signature: AE98C751E80A1834249511369E8EB29289614839
FILE: 04 - 12 Sonate da camera, No. 12 in G Major _ IV. Scherzo pastorale - Allegro moderato.flac
Size: 20289072 Hash: 1E1D64E95C5ABAD60FA9642A83C1B1C8 Accuracy: -m40
Conclusion: CDDA 100%
Signature: C9F11117261DBDBC1C47EA4A2393B6831FDCA2A4
FILE: 05 - Sonata per mandola _ I. Adagio.flac
Size: 5056441 Hash: EE4A2445559A61EC5CA604EA921658E8 Accuracy: -m40
Conclusion: CDDA 100%
Signature: CF7BD614CA14EBD85E9F76AA9778603D8B24475A
FILE: 06 - Sonata per mandola _ II. Allegro.flac
Size: 9348476 Hash: EC0A4D0CA2F81BCD71174573013B4174 Accuracy: -m40
Conclusion: CDDA 99%
Signature: D00A67C042F4A31FA6898C60C67BA3DFDA8F4F59
FILE: 07 - Sonata per mandola _ III. Gavotta.flac
Size: 11980210 Hash: A006106FA534B8FCAD6F82FE529ADB4A Accuracy: -m40
Conclusion: CDDA 100%
Signature: 0F194FBC2A09BB873880D7FE5A50DF9433429F35
FILE: 08 - Sonata per mandola _ IV. Giga.flac
Size: 12439907 Hash: 6D10D84CBB0BD5C8741192C5B88FDF21 Accuracy: -m40
Conclusion: CDDA 58%
Signature: 09419D153675B254FB1D7F66A9D61CAF8B592A7F
FILE: 09 - Sonata per mandola _ I. Adagio.flac
Size: 11699072 Hash: 3183AD025E70B12D4CD445A01C718B2B Accuracy: -m40
Conclusion: CDDA 100%
Signature: 5B628563E4EDF87BBF25ECDDD3A22C25C936D201
FILE: 10 - Sonata per mandola _ II. Allegro.flac
Size: 13544011 Hash: A6AAFB02AA1C45D40CA4689C0A504A70 Accuracy: -m40
Conclusion: CDDA 100%
Signature: E6736199C9114C050B05678582A6265B173AFDBC
FILE: 11 - Sonata per mandola _ III. Largo.flac
Size: 5170886 Hash: 05E3F02F31193218A2B3E1AE4EA7B8BC Accuracy: -m40
Conclusion: CDDA 99%
Signature: C315F52446A0F648D3DF50C21371957CB01A3057
FILE: 12 - Sonata per mandola _ IV. Allegro.flac
Size: 7465628 Hash: D74DC2ADE326B4721F4421FC64AC07C1 Accuracy: -m40
Conclusion: CDDA 100%
Signature: 430A41C41C870D4C198F1B99D1537480A0424020
FILE: 13 - 12 Sonate da camera, No. 8 in E Minor _ I. Largo.flac
Size: 13437657 Hash: BAAA499C80C6AB2A10ED1055803911F3 Accuracy: -m40
Conclusion: CDDA 100%
Signature: 19226B2A8B6E0408D571AA5DC9ECC11770386915
FILE: 14 - 12 Sonate da camera, No. 8 in E Minor _ II. Allegro assai.flac
Size: 10656498 Hash: 7125ECF44BCFF2B7B510E38BDED5110D Accuracy: -m40
Conclusion: CDDA 100%
Signature: CC412AACAD7A8D5207527F665199FF441DB2C7A0
FILE: 15 - 12 Sonate da camera, No. 8 in E Minor _ III. Affettuoso.flac
Size: 19804964 Hash: BB3307FEDD6C44EE8FF7C543094B9A68 Accuracy: -m40
Conclusion: CDDA 100%
Signature: C7436659C70D270B04E4CF3E75DDBB4AF30DBD78
FILE: 16 - 12 Sonate da camera, No. 8 in E Minor _ IV. Allegro assai.flac
Size: 10865866 Hash: 1B390F5C497CDF3BB0B770F9C33200D9 Accuracy: -m40
Conclusion: CDDA 100%
Signature: 386864CF556CF2AE7518A24218B288718CA35C25
FILE: 17 - Sonata di mandolino _ I. Larghetto.flac
Size: 9379488 Hash: 5B68A03744778FF6DCCA0624011DCDA1 Accuracy: -m40
Conclusion: CDDA 100%
Signature: 843F9556F027FAD446D94D8ED112247FC70A984B
FILE: 18 - Sonata di mandolino _ II. Allegro.flac
Size: 13952756 Hash: 4290E7670D84E0132390C98F2A2263C7 Accuracy: -m40
Conclusion: CDDA 100%
Signature: 59A9AB24F1F820196CECAC30D41E95A7128A97B8
FILE: 19 - Sonata di mandolino _ III. Larghetto.flac
Size: 22770956 Hash: EA8B6C7A850D953E8B2C60C80626D7A9 Accuracy: -m40
Conclusion: CDDA 100%
Signature: B55769DB3C9770D16E0A6AD811F5AE0B80AB4FDB
FILE: 20 - Sonata di mandolino _ IV. Allegro.flac
Size: 11136301 Hash: C2F3530B791A800DCC8F7C287B0A716C Accuracy: -m40
Conclusion: CDDA 100%
Signature: 55DAB10C92AC06C96767F58ED7DA18789FC050F4
FILE: 21 - Sinfonia per la mandola in D Minor _ I. Allegro.flac
Size: 9644031 Hash: B69EB95DB1DC500676128A0E76DF01E2 Accuracy: -m40
Conclusion: CDDA 99%
Signature: 3E42A7A7E379524767E7957E7D8DE27A6DC2C7D0
FILE: 22 - Sinfonia per la mandola in D Minor _ II. Largo.flac
Size: 7077707 Hash: 1DFF610204473556CA5B5731FC0DF344 Accuracy: -m40
Conclusion: CDDA 92%
Signature: 57EC4AA25C07E9ECB147E19670FB5FB553576DB4
FILE: 23 - Sinfonia per la mandola in D Minor _ III. Giga.flac
Size: 4472349 Hash: 872EA4ECF127CB9274E860F60705F7B2 Accuracy: -m40
Conclusion: CDDA 100%
Signature: A249F0DD6E91CC16BA73C2FC8C5B87BD1CA44166
FILE: 24 - Sinfonia per la mandola in D Minor _ IV. Minuetto.flac
Size: 6794255 Hash: 2BAB6173953B4AF5EAB22AEDC60693EF Accuracy: -m40
Conclusion: CDDA 100%
Signature: D71C642F4AF42E9CEC058A3531F9C5421A5A88EA