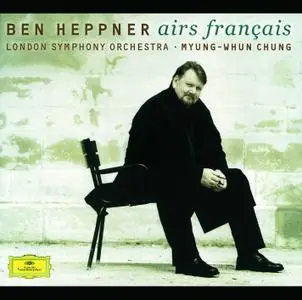 Ben Heppner, London Symphony Orchestra, Myung-Whun Chung - French Opera Arias (2001)
WEB | FLAC (tracks) - 322 MB | 01:14:14
Genre: Classical | Label: Deutsche Grammophon
A few decades from now, someone will put together a series of recordings devoted to "the greatest tenors of the 21st century". Will Ben Heppner be featured on one of these? Most likely more than one. What other conclusion can you reach after hearing these splendiferous performances of French arias, presented as the Canadian singer's debut under his new, exclusive DG contract? To begin with, there's nothing really typical about this recital, from the choice of repertoire–extended arias from some of the less-traveled operatic territory–to this revered label's confirmation of big-budget stature on an artist who's neither a "three tenor" nor a singer under the age of 14. No, this is really grown-up stuff, and Heppner proves not only a seasoned and commanding presence, but an artist of the highest magnitude, with the vocal equipment and musical intelligence to at once rivet an audience to its seats and compel it to spontaneously rise in a collective ovation.

Not one of these arias is a safe walk in the park for any tenor; all require a marathon runner's stamina and demand extremes of technique and range. Only a singer in top form and with a voice that's both powerful and versatile will successfully negotiate, for example, the tortuous phrases (and high B-flats, Bs, and D-flat) of "Seul pour lutter" from Berlioz's Benvenuto Cellini–which Heppner does with virtually no strain (and apparently no fear). He really takes us inside these scenes, thanks in part to the length of most of the selections; but it's primarily his confident dramatic sense and his ability to communicate that gives an impression of a live stage presentation rather than a studio effort. Listen to how Heppner movingly portrays the tormented emotions of the father in the 11-minute-long "Rachel, quand du Seigneur" from Halévy's La Juive, and to how he captures the prayerful mood of Massenet's "Ô Souverain, ô juge, ô père", and then elevates this lovely melody and its character's compelling spiritual vision to one of the more affecting displays of pure vocal artistry that you'll ever hear.

The singing is consistently grand and eloquent, rich in tone, unflagging in quality and smooth as glass across registers, showing as good an example as you'll find of a singer well-matched with material. Not surprisingly, Heppner's heroes are Fritz Wunderlich and Jussi Bjoerling, and in this singer's every note and phrase you can hear the lyricism, textual awareness, and consummate musicality that's a tribute to those legends. And just when you're suspecting that he's got even more in reserve, Heppner confirms it with a majestically swelling crescendo or burst of power that soars in perfect complement to his equally impressive soft, tender moments. The disc's last track, Berlioz's wildly wonderful arrangement of La Marseillaise, is a brilliant if slightly quirky finale. Myung-Whun Chung is a splendid collaborator who gives full rein to his orchestra where required but never fails to give the ultimate power and glory to the singer. The one disappointment here is the sound: the orchestra is strangely recessed and constricted, which gives the recording an old-timey ambience that doesn't suit the repertoire or conform to the standard of today's best digital engineering. However, that condition didn't stop me from listening to this at least five of six times already–and I'm certain it won't prove an obstacle to anyone who wants to get in on a chance to hear one of the 21st century's greatest tenors without waiting 20 or 30 years for those special tribute recordings to come out.
Track List:
Les Troyens / Act 5 (Hector Berlioz)
1. No.41 Récitatif mesuré et air: "Inutiles regrets" - "Ah! quand viendra" 06:15
La Damnation de Faust, Op.24 / Part 4 (Hector Berlioz)
2. Scène 16. Invocation à la Nature. "Nature immense" 05:45
La Damnation de Faust, Op.24 / Part 3 (Hector Berlioz)
3. Scène 8. Air de Faust. "Merci, doux crépuscule!" 05:08
Benvenuto Cellini / Act 2 (Hector Berlioz)
4. "Seul pour lutter, seul avec mon courage" 08:12
Béatrice et Bénédict / Act 1 (Hector Berlioz)
5. "Ah! Je vais l'aimer" 02:35
La Juive / Act 4 (Jacques Fromental Halevy)
6. "Rachel, quand du Seigneur la grâce tutélaire" 10:55
Sapho Pièce lyrique en 5 actes / Acte 1 (Jules Massenet)
7. Ah, qu'il est loin, mon pays 04:16
Le Cid / Act 3 (Jules Massenet)
8. O Souverain, ô juge, ô pére 05:35
Le Cid / Act 1 (Jules Massenet)
9. O noble lame éticelante 04:57
L'Africaine / Act 4 (Giacomo Meyerbeer)
10. "Pays merveilleux … O paradis" (sung in French) (Vasco) 06:21
Les Huguenots / Act 1 (Giacomo Meyerbeer)
11. Plus blanche 06:18
Le prophète / Act 3 (Giacomo Meyerbeer)
12. Roi du Ciel 03:47
La Marseillaise (Claude-Joseph Rouget de Lisle)
13. Rouget de Lisle: La Marseillaise - Selected verses in order vs 1/6/5 04:10
Performers:
Ben Heppner (tenor)
London Symphony Orchestra
Chung, Myung-Whun (conductor)
–––––––––––-
DON'T MODIFY THIS FILE
–––––––––––-
PERFORMER: auCDtect Task Manager, ver. 1.6.0 RC1 build 1.6.0.1
Copyright © 2008-2010 y-soft. All rights reserved
http://y-soft.org
ANALYZER: auCDtect: CD records authenticity detector, version 0.8.2
Copyright © 2004 Oleg Berngardt. All rights reserved.
Copyright © 2004 Alexander Djourik. All rights reserved.
FILE: 01 - No.41 Récitatif mesuré et air_.flac
Size: 28057744 Hash: 7C5B5BDB9A46490CF62220182F1AF55F Accuracy: -m0
Conclusion: CDDA 100%
Signature: B373FAF57CCCA6A87668F4C46E76F2372376FA0C
FILE: 02 - Scène 16. Invocation à la Natur.flac
Size: 23248832 Hash: 118F865D522D7051C3ADA8C2BD3209F5 Accuracy: -m0
Conclusion: CDDA 99%
Signature: B10363DD4A761FEB53E416EACADF8FC3913C5EFE
FILE: 03 - Scène 8. Air de Faust. _Merci,.flac
Size: 16842796 Hash: 90675EDB5C74C62C0D67F37159C0B0FB Accuracy: -m0
Conclusion: CDDA 100%
Signature: C21E9AE37F8CE6FDC3BD98A7B28E76C0B6A1EF9F
FILE: 04 - _Seul pour lutter, seul avec mo.flac
Size: 28494171 Hash: 90DF756FFE1418E1F06D9599CAE4536D Accuracy: -m0
Conclusion: CDDA 100%
Signature: B568692022F549EC8A854ACC94850AC70C7C9FB3
FILE: 05 - _Ah! Je vais l'aimer_.flac
Size: 12022667 Hash: B80F51CD461DD9DD8EFB03B442B26BDB Accuracy: -m0
Conclusion: CDDA 100%
Signature: 726D5860ADB185DC2C7FE167CECEFAFEA85F7A7A
FILE: 06 - _Rachel, quand du Seigneur la g.flac
Size: 46099788 Hash: 3BFBC036755728EDC1C748F00D4900D3 Accuracy: -m0
Conclusion: CDDA 100%
Signature: 1ABD7F1E48F9A8C1C1E117D9D3D79C024A2D9F82
FILE: 07 - Ah, qu'il est loin, mon pays.flac
Size: 17317511 Hash: 39FC0EF997F710CBBE6208B42E3B2968 Accuracy: -m0
Conclusion: CDDA 100%
Signature: 1766F2D219E32BDD5D9F19995799F471ABFD9238
FILE: 08 - O Souverain, ô juge, ô pére.flac
Size: 20216155 Hash: AF7D9361EF7884A8E0ADBDF04C692CE3 Accuracy: -m0
Conclusion: CDDA 100%
Signature: 00B4BE4DC38DB4204C14099F9B15ACBED0FAC5BE
FILE: 09 - O noble lame éticelante.flac
Size: 24238027 Hash: 0E77B5FBDF85679BF5A43D171DBF4B75 Accuracy: -m0
Conclusion: CDDA 100%
Signature: B35C5EA65CCFE902B1D991A66392F5E33D06EDCC
FILE: 10 - _Pays merveilleux … O paradis.flac
Size: 26648699 Hash: 2AFD7FB0646CF1D554186E2EEB17885D Accuracy: -m0
Conclusion: CDDA 100%
Signature: AB9492CF57149F2798924E5E3225056024449B15
FILE: 11 - Plus blanche.flac
Size: 23788544 Hash: B0B24844E147FBC7399BB6F7FA405023 Accuracy: -m0
Conclusion: CDDA 100%
Signature: E69944D844F16348B50B1D47B4C488021CBCF688
FILE: 12 - Roi du Ciel.flac
Size: 19088868 Hash: 34007F6E3E30BDD2E3C4C4A558C476D8 Accuracy: -m0
Conclusion: CDDA 100%
Signature: 7B2AA20FD437CF364215786D4AD506206861A3B9
FILE: 13 - Rouget de Lisle_ La Marseillais.flac
Size: 19961558 Hash: F187F73F2F27993EACC7C8E1F2C171B6 Accuracy: -m0
Conclusion: CDDA 99%
Signature: B4EF3B61CE6F10DEF698E60E049BE0FE3DED8050