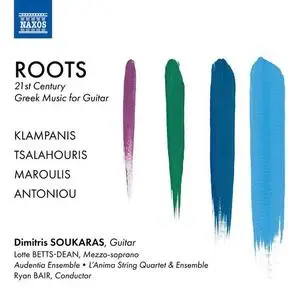 Dimitris Soukaras, L' Anima String Quartet - Roots: 21st Century Greek Music for Guitar (2021)
FLAC tracks | 56:49 | 253 Mb
Genre: Classical / Label: Naxos
The music in this programme covers a spectrum of genres that have flourished in Greece in recent years, from jazz to contemporary avant-garde. These have all had a strong impact on guitarist Dimitris Soukaras's development as an artist, and in making this recording he took the opportunity to invite some of Greece's leading composers to write for his instrument for the first time. All works are world premiere recordings.
Track List:
01. Ariadne's Duality
02. Haiku, Op. 109: No. 5, —
03. Haiku, Op. 109: No. 2, —
04. Haiku, Op. 109: No. 3, —
05. Haiku, Op. 109: No. 4, —
06. Haiku, Op. 109: No. 1, —
07. Haiku, Op. 109: No. 6, —
08. Haiku, Op. 109: No. 7, —
09. Haiku, Op. 109: No. 8, —
10. Haiku, Op. 109: No. 9, —
11. Allegory of the Tragic Hero
12. Hommage: I. Captain Michalis (There Was No Island)
13. Hommage: II. Dream of the Neighbourhood Youngsters
14. Hommage: III. The Ballad of Uri
15. Hommage: IV. The Train Has Left
16. Hommage: V. Waltz of Lost Dreams
17. Hommage: VI. Folk Couplets
18. Hommage: VII. Eagle Without Wings
19. Hommage: VIII. Kemal
ANALYZER: auCDtect: CD records authenticity detector, version 0.8.2
Copyright © 2004 Oleg Berngardt. All rights reserved.
Copyright © 2004 Alexander Djourik. All rights reserved.


FILE: 01 - Ariadne's Duality.flac
Size: 27146952 Hash: 69A76CDF3C758D647C640EDCFAD25A75 Accuracy: -m40
Conclusion: ???
Signature: E910F21CD857B6C17A6BA80AC352EAFEAB5FE21D
FILE: 02 - Haiku, Op. 109_ No. 5, —.flac
Size: 5460767 Hash: 16D9045992918D2E1699DFFD25D19390 Accuracy: -m40
Conclusion: CDDA 99%
Signature: 5C9C17FF8385A544DED05863A042238B14545EB7
FILE: 03 - Haiku, Op. 109_ No. 2, —.flac
Size: 6888631 Hash: 27675A3ABC429AA50DDAE5601CCEF9BE Accuracy: -m40
Conclusion: CDDA 100%
Signature: DDFAC1ED8C6698A6B6687C750B94860C7565C4F8
FILE: 04 - Haiku, Op. 109_ No. 3, —.flac
Size: 3154367 Hash: 8DA18DC38BE23FA64F5B5AF0152D9D56 Accuracy: -m40
Conclusion: CDDA 100%
Signature: 75C7D38AC7C250EB60B2E63F73C5AF11E2916E15
FILE: 05 - Haiku, Op. 109_ No. 4, —.flac
Size: 6122216 Hash: CAFF6D928831C938C590D74FC3EED891 Accuracy: -m40
Conclusion: CDDA 100%
Signature: 42112F3BEB12E37A7B1D3948D042EFA8FDDB994A
FILE: 06 - Haiku, Op. 109_ No. 1, —.flac
Size: 6108129 Hash: 0DF49414C15D340825BF5AE27B99BB09 Accuracy: -m40
Conclusion: CDDA 99%
Signature: 4C769BC580BF80724DE986E4DFAADC29DA858335
FILE: 07 - Haiku, Op. 109_ No. 6, —.flac
Size: 2014856 Hash: 1C20DC43CAC1D94900D17B03EF770DFB Accuracy: -m40
Conclusion: CDDA 100%
Signature: B97BD714445F391DAB806924A6D8D7102F85610F
FILE: 08 - Haiku, Op. 109_ No. 7, —.flac
Size: 6020947 Hash: 667DFD1601133FC9EABF3006F274CAC6 Accuracy: -m40
Conclusion: CDDA 100%
Signature: 6F7B76541E51214A2E074958780455A679FCE300
FILE: 09 - Haiku, Op. 109_ No. 8, —.flac
Size: 5961940 Hash: 46CF95901A234DC5912E2F42CB62E52F Accuracy: -m40
Conclusion: CDDA 100%
Signature: C46F403CC5E76A3AA19C00AB8F22F95FE9456D21
FILE: 10 - Haiku, Op. 109_ No. 9, —.flac
Size: 7437332 Hash: 0A15A032E489B47FFB2294C15C9B9EA5 Accuracy: -m40
Conclusion: CDDA 100%
Signature: BFE0ED4E1361BF92D2E0100EB431624241F788E9
FILE: 11 - Allegory of the Tragic Hero.flac
Size: 36181541 Hash: 96E80968FBFDDB4E05F96395439C9EA2 Accuracy: -m40
Conclusion: CDDA 100%
Signature: 093E77C89B52A384E6F81BCAC9740E72B234B8D6
FILE: 12 - Hommage_ I. Captain Michalis (There Was No Island).flac
Size: 15070535 Hash: 1406C4A1CD199F3EC312297F37F2E430 Accuracy: -m40
Conclusion: CDDA 100%
Signature: 20C6186D8D1F97E64E2621075DCF2644D14AA4EE
FILE: 13 - Hommage_ II. Dream of the Neighbourhood Youngsters.flac
Size: 18715955 Hash: 5D8B8C57A6103AF44AA4B061DB1A97D1 Accuracy: -m40
Conclusion: CDDA 100%
Signature: 1A2265DF9C87058FED8942A2334F7406FC163F75
FILE: 14 - Hommage_ III. The Ballad of Uri.flac
Size: 15886405 Hash: 5D2DFA7303E2786CF39599323E8F2713 Accuracy: -m40
Conclusion: CDDA 100%
Signature: 8C6643601F846A27E1CDA1B93634C57BB7930CE4
FILE: 15 - Hommage_ IV. The Train Has Left.flac
Size: 19121095 Hash: 4CC8278FBEE474A69266828DC17242D9 Accuracy: -m40
Conclusion: CDDA 100%
Signature: 8E95E89D640B3BF1C2BE3CC3F05E90F0B77CB44A
FILE: 16 - Hommage_ V. Waltz of Lost Dreams.flac
Size: 13143123 Hash: 23EE03F364D7191C0E218CF22AD38B88 Accuracy: -m40
Conclusion: CDDA 100%
Signature: 341B1279CF74A7054CE0D7E4B3DA26C5A66AEACE
FILE: 17 - Hommage_ VI. Folk Couplets.flac
Size: 20068595 Hash: 79EF04F33D36CAE72D2B322DA5ACB33E Accuracy: -m40
Conclusion: CDDA 100%
Signature: 0FECB0C8D7672ABEF898FCF49800F1F22669250E
FILE: 18 - Hommage_ VII. Eagle Without Wings.flac
Size: 22208832 Hash: A4078C0CC73E73ABF6B54B5FF2E61FCE Accuracy: -m40
Conclusion: CDDA 100%
Signature: E8E80D9E942F22D17037BFE8E2A40922E4E9B662
FILE: 19 - Hommage_ VIII. Kemal.flac
Size: 30005669 Hash: 923A2E5B9C0022D8AC7673935E1EF4A6 Accuracy: -m40
Conclusion: CDDA 100%
Signature: 306A757E48B110600A5CBE7C7E2947E7385CB51E