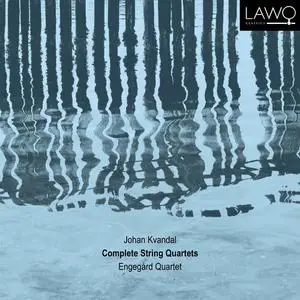 Engegård Quartet - Johan Kvandal: Complete String Quartets (2023)
FLAC (tracks), Lossless / MP3 320 kbps | 1:13:44 | 170 / 340 Mb
Genre: Classical / Label: Lawo Classics
JOHAN KVANDAL'S MUSIC FOR STRING QUARTET Johan Kvandal's string quartets nos. 1–3 have already been recorded, but here we are also introduced to his other works for this classical ensemble. The Engegård Quartet are ideal interpreters of these often challenging works spanning almost four decades of the composer's life. Thus they show the artistic development of one of the foremost Norwegian composers of the post-war generation.
Track List:
1. Fugue for String Quartet (1946) (3:02)
2. String Quartet No. 1, Op. 11: I. Allegro (4:53)
3. String Quartet No. 1, Op. 11: II. Andante (8:14)
4. String Quartet No. 1, Op. 11: III. Allegretto un poco animato (4:27)
5. String Quartet No. 1, Op. 11: IV. Allegro (6:21)
6. String Quartet No. 2, Op. 27: I. Prolog (4:27)
7. String Quartet No. 2, Op. 27: II. Lo stesso tempo (4:53)
8. String Quartet No. 2, Op. 27: III. Adagio – Allegro vivace (4:54)
9. String Quartet No. 2, Op. 27: IV. Epilog (3:13)
10. Two Norwegian Dances, Op. 44: I. Halling (3:46)
11. Two Norwegian Dances, Op. 44: II. Springdans (2:46)
12. String Quartet No. 3, Op. 60: I. Andante sostenuto (6:48)
13. String Quartet No. 3, Op. 60: II. Adagio (8:21)
14. String Quartet No. 3, Op. 60: III. Scherzo (3:02)
15. String Quartet No. 3, Op. 60: IV. Andante sostenuto – Allegro vivace (4:47)
ANALYZER: auCDtect: CD records authenticity detector, version 0.8.2
Copyright © 2004 Oleg Berngardt. All rights reserved.
Copyright © 2004 Alexander Djourik. All rights reserved.


FILE: 01 - Fugue for String Quartet (1946).flac
Size: 15256030 Hash: 73CC062D56A77B726FD44AF3901E3D89 Accuracy: -m40
Conclusion: CDDA 100%
Signature: E692F00C4324D833E7DA0091C8DBF3EE921DB2F2
FILE: 02 - String Quartet No. 1, Op. 11_ I. Allegro.flac
Size: 25830676 Hash: 4C72457B6AC199DAAF440D07C318280E Accuracy: -m40
Conclusion: CDDA 100%
Signature: ED04C1B6F403493C590A860B09124C0DE66A2F6E
FILE: 03 - String Quartet No. 1, Op. 11_ II. Andante.flac
Size: 39239969 Hash: 2AA04EE3CA09954D80D3D13EDBC5965A Accuracy: -m40
Conclusion: CDDA 99%
Signature: A2708304E4E81BD652B9CDEEDAA5328F0EF53011
FILE: 04 - String Quartet No. 1, Op. 11_ III. Allegretto un poco animato.flac
Size: 22782220 Hash: F343AD74C96BDBB254C7AE187AD7E04D Accuracy: -m40
Conclusion: CDDA 100%
Signature: F7AB7A058B8787E981AA1B1A1D7C40679B0A54CD
FILE: 05 - String Quartet No. 1, Op. 11_ IV. Allegro.flac
Size: 31750738 Hash: F1082D087DD58ED1EB42DD533887D1ED Accuracy: -m40
Conclusion: CDDA 100%
Signature: 87E242C5AFD67E4A3E56D0244D52E1C880AEFAE2
FILE: 06 - String Quartet No. 2, Op. 27_ I. Prolog.flac
Size: 19166228 Hash: 28DEE6775F581183AF50FA078769FC2C Accuracy: -m40
Conclusion: CDDA 100%
Signature: E69578ABD86194AFED3EDFD61CEBA8861FAF8A9A
FILE: 07 - String Quartet No. 2, Op. 27_ II. Lo stesso tempo.flac
Size: 23025784 Hash: A44B983DEF7893D767F1DBB099292D1C Accuracy: -m40
Conclusion: CDDA 99%
Signature: 087E3F32BF7B4C95A8A0EF1F798B1D5D29A680E9
FILE: 08 - String Quartet No. 2, Op. 27_ III. Adagio – Allegro vivace.flac
Size: 23699285 Hash: 66F2790810D1171CBDA1B1DB673644D0 Accuracy: -m40
Conclusion: CDDA 100%
Signature: F1DC2C1A46B3D8D2F6306D67A50B75F136904127
FILE: 09 - String Quartet No. 2, Op. 27_ IV. Epilog.flac
Size: 14061986 Hash: 6ABE9D175362C18651FB2B9844A2697A Accuracy: -m40
Conclusion: CDDA 100%
Signature: DCAB318FAFD63B2E8C440EA6AF68AEB4171307A1
FILE: 10 - Two Norwegian Dances, Op. 44_ I. Halling.flac
Size: 20223785 Hash: 0F9FAFEB8EF7A451FBA61856491C719B Accuracy: -m40
Conclusion: CDDA 100%
Signature: A85AA4B1BF75E21C814F851FC40C5245F09B229D
FILE: 11 - Two Norwegian Dances, Op. 44_ II. Springdans.flac
Size: 13980460 Hash: 505C8D3AC57F9358417D4B02A64EF78C Accuracy: -m40
Conclusion: CDDA 100%
Signature: 9F72D1305446F432508D4F9B2248699DFF76D2E5
FILE: 12 - String Quartet No. 3, Op. 60_ I. Andante sostenuto.flac
Size: 33585065 Hash: 9466E8C9952B067D9F98DE98EC5257FB Accuracy: -m40
Conclusion: CDDA 100%
Signature: 327DB2426E567C0CE1DDC5E7F67AF706C5AF274B
FILE: 13 - String Quartet No. 3, Op. 60_ II. Adagio.flac
Size: 37118851 Hash: 6CD189909C703C3BAA795A9A7B0FDDB0 Accuracy: -m40
Conclusion: CDDA 99%
Signature: 9036D66D33AE399E9D315979B10D2F7B09E0714A
FILE: 14 - String Quartet No. 3, Op. 60_ III. Scherzo.flac
Size: 13922273 Hash: 45A369706CCB641BFD4294541C69AEE8 Accuracy: -m40
Conclusion: CDDA 100%
Signature: 38C0C5A71559C60E4C9C7255A847E709B470A3F9
FILE: 15 - String Quartet No. 3, Op. 60_ IV. Andante sostenuto – Allegro vivace.flac
Size: 24588612 Hash: DE447849C5363563766E0AE5593D0DAE Accuracy: -m40
Conclusion: CDDA 100%
Signature: 199A114456B2F6B5EDD448165329F01E8FAE92A7