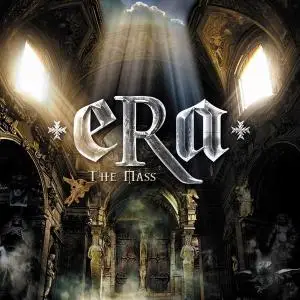 Era - The Mass (2003)
EAC Rip | FLAC (tracks+.cue+log) - 331 MB | MP3 CBR 320 kbps (LAME 3.93) - 118 MB | Covers - 267 MB
Genre: New Age, Enigmatic | RAR 3% Rec. | Label: Mercury/Tranman Entertainment (981460-2)
The name of Era's third studio release, The Mass, was a departure from the eponymous titles of their previous albums. "The Mass" was also the name of the album's lead single, a track which differed from Era's previous songs in a significant way: rather than forming the choral backdrop themselves, Era used a sample of 'O Fortuna' (from Carl Orff's famous 'Carmina Burana'). The actual tune is a more upbeat version of "Divano", from Era 2, but the inclusion of the samples is a great idea. Though the track ends slightly abruptly, it remains one of the most wonderfully evocative songs of the New Age genre.
All of which suggests a new, more diverse style for Era. This hypothesis is substantiated by the inclusion of several experimental tracks: "If You Shout" is amongst the most mainstream of Era's efforts to perfect the commercial choral structure (as well as being amongst the most successful, admittedly). Meanwhile, "Voxifera" and "The Champions" has an increased contribution from the orchestra, a facet which works well given the context of the songs. Unfortunately, "Don't You Forget" does not fare as well; the idea of having pointless children's dialogue superimposed on an already workaday ballad should not really have been conceived, let alone followed up.
However, Era retain enough of their trademark Gregorian goodness to satisfy fans of old, with "Looking for Something" and "Don't Go Away" being solid forays into the genre. Unfortunately, Era also retain the rather annoying habit of editing several of their old songs and passing them off as new compositions. Both of the new versions found here suffer from Era's penchant of imposing unnecessary electric guitar solos, massacring the carefully wrought atmosphere. "Enae Volare" almost gets away with its misplaced Rock interlude by utilising the full power of the choir; "Avemano Orchestral" is not so lucky.
Tracklist:
01. The Mass
02. Looking For Something
03. Don't Go Away
04. Don't You Forget
05. If You Shout
06. Avemano (Orchestral)
07. Enae Volare
08. Sombre Day
09. Voxifera
10. The Champions
11. The Mass (The Nåid Remix) (Bonus track)
12. Looking For something (Daren Tate Mix) (Bonus track)
Total time:
50:17
Exact Audio Copy V1.0 beta 3 from 29. August 2011

Отчёт EAC об извлечении, выполненном 5. июня 2014, 22:39

Era / The Mass (Mercury - 981460-2)

Дисковод: Optiarc DVD RW AD-7803H Adapter: 1 ID: 0

Режим чтения : Достоверность
Использование точного потока : Да
Отключение кэша аудио : Да
Использование указателей C2 : Нет

Коррекция смещения при чтении : 48
Способность читать области Lead-in и Lead-out : Нет
Заполнение пропущенных сэмплов тишиной : Да
Удаление блоков с тишиной в начале и конце : Нет
При вычислениях CRC использовались нулевые сэмплы : Да
Интерфейс : Встроенный Win32-интерфейс для Win NT/2000
Обработка зазоров : Добавлено к предыдущему треку

Выходной формат : Пользовательский кодировщик
Выбранный битрейт : 1024 kBit/s
Качество : Высокий
Добавление ID3-тега : Нет
Утилита сжатия : C:\Program Files (x86)\Exact Audio Copy\Flac\flac.exe
Дополнительные параметры : -8 -V -T "ARTIST=%artist%" -T "TITLE=%title%" -T "ALBUM=%albumtitle%" -T "DATE=%year%" -T "TRACKNUMBER=%tracknr%" -T "GENRE=%genre%" -T "COMMENT=ripped by Jurassic Giant Bird" %source%


TOC извлечённого CD

Трек | Старт | Длительность | Начальный сектор | Конечный сектор
––––––––––––––––––––––––––––––––––-
1 | 0:00.00 | 3:41.05 | 0 | 16579
2 | 3:41.05 | 4:09.47 | 16580 | 35301
3 | 7:50.52 | 4:24.12 | 35302 | 55113
4 | 12:14.64 | 3:41.24 | 55114 | 71712
5 | 15:56.13 | 3:49.17 | 71713 | 88904
6 | 19:45.30 | 4:21.02 | 88905 | 108481
7 | 24:06.32 | 3:35.26 | 108482 | 124632
8 | 27:41.58 | 3:41.68 | 124633 | 141275
9 | 31:23.51 | 4:21.16 | 141276 | 160866
10 | 35:44.67 | 3:28.56 | 160867 | 176522
11 | 39:13.48 | 3:25.45 | 176523 | 191942
12 | 42:39.18 | 7:38.23 | 191943 | 226315


Трек 1

Имя файла C:\Users\Саша\Music\Раздачи\01. The Mass.wav

Длина предзазора 0:00:02.00

Пиковый уровень 99.3 %
Скорость извлечения 1.0 X
Качество трека 99.9 %
CRC теста A2357CB5
CRC копии A2357CB5
Точное извлечение (достоверность 3) [927EF9D7] (AR v1)
Копирование… OK

Трек 2

Имя файла C:\Users\Саша\Music\Раздачи\02. Looking For Something.wav

Длина предзазора 0:00:00.11

Пиковый уровень 99.4 %
Скорость извлечения 1.1 X
Качество трека 99.9 %
CRC теста B510D771
CRC копии B510D771
Точное извлечение (достоверность 3) [38B19161] (AR v1)
Копирование… OK

Трек 3

Имя файла C:\Users\Саша\Music\Раздачи\03. Don't Go Away.wav

Длина предзазора 0:00:00.34

Пиковый уровень 99.3 %
Скорость извлечения 1.4 X
Качество трека 100.0 %
CRC теста 90FFB36C
CRC копии 90FFB36C
Точное извлечение (достоверность 2) [15A96332] (AR v1)
Копирование… OK

Трек 4

Имя файла C:\Users\Саша\Music\Раздачи\04. Don't You Forget.wav

Длина предзазора 0:00:01.34

Пиковый уровень 99.3 %
Скорость извлечения 1.5 X
Качество трека 100.0 %
CRC теста F8B4807B
CRC копии F8B4807B
Точное извлечение (достоверность 3) [C41514B1] (AR v1)
Копирование… OK

Трек 5

Имя файла C:\Users\Саша\Music\Раздачи\05. If You Shout.wav

Длина предзазора 0:00:00.18

Пиковый уровень 99.3 %
Скорость извлечения 1.6 X
Качество трека 100.0 %
CRC теста 0BACE46A
CRC копии 0BACE46A
Точное извлечение (достоверность 3) [C7BD1A53] (AR v1)
Копирование… OK

Трек 6

Имя файла C:\Users\Саша\Music\Раздачи\06. Avemano Orchestral.wav

Длина предзазора 0:00:00.19

Пиковый уровень 99.3 %
Скорость извлечения 1.7 X
Качество трека 100.0 %
CRC теста 2D173E62
CRC копии 2D173E62
Точное извлечение (достоверность 3) [F911D894] (AR v1)
Копирование… OK

Трек 7

Имя файла C:\Users\Саша\Music\Раздачи\07. Enae Volare.wav

Длина предзазора 0:00:00.63

Пиковый уровень 99.3 %
Скорость извлечения 1.8 X
Качество трека 100.0 %
CRC теста DC3F2E71
CRC копии DC3F2E71
Точное извлечение (достоверность 3) [883686C3] (AR v1)
Копирование… OK

Трек 8

Имя файла C:\Users\Саша\Music\Раздачи\08. Sombre Day.wav

Длина предзазора 0:00:01.13

Пиковый уровень 99.2 %
Скорость извлечения 1.8 X
Качество трека 100.0 %
CRC теста 8D966EA3
CRC копии 8D966EA3
Точное извлечение (достоверность 3) [A2D4000A] (AR v1)
Копирование… OK

Трек 9

Имя файла C:\Users\Саша\Music\Раздачи\09. Voxifera.wav

Длина предзазора 0:00:00.22

Пиковый уровень 99.3 %
Скорость извлечения 2.0 X
Качество трека 100.0 %
CRC теста FC60CC16
CRC копии FC60CC16
Точное извлечение (достоверность 3) [0F732D29] (AR v1)
Копирование… OK

Трек 10

Имя файла C:\Users\Саша\Music\Раздачи\10. The Champions.wav

Длина предзазора 0:00:00.65

Пиковый уровень 99.3 %
Скорость извлечения 2.0 X
Качество трека 100.0 %
CRC теста 3EAB0FFF
CRC копии 3EAB0FFF
Точное извлечение (достоверность 1) [C6A6F532] (AR v2)
Копирование… OK

Трек 11

Имя файла C:\Users\Саша\Music\Раздачи\11. The Mass (The Nåid Remix).wav

Длина предзазора 0:00:00.68

Пиковый уровень 98.8 %
Скорость извлечения 2.1 X
Качество трека 100.0 %
CRC теста 9B642448
CRC копии 9B642448
Точное извлечение (достоверность 1) [95BDEDDD] (AR v2)
Копирование… OK

Трек 12

Имя файла C:\Users\Саша\Music\Раздачи\12. Looking For something (Daren Tate Mix).wav

Длина предзазора 0:00:01.50

Пиковый уровень 99.3 %
Скорость извлечения 2.3 X
Качество трека 100.0 %
CRC теста 69F536BC
CRC копии 69F536BC
Точное извлечение (достоверность 1) [F6E721AB] (AR v2)
Копирование… OK


Все треки извлечены точно

Ошибок не произошло

Конец отчёта

==== Контрольная сумма отчёта DC83BAD1099D8CAB6272D866931A812455250C4FE183EDCAEED382DC3F5BE625 ====
[CUETools log; Date: 02.06.2021 1:17:36; Version: 2.1.4]
[CTDB TOCID: ReHsECZEG0xAv2ZSEBs9XA2Pchk-] found.
Track | CTDB Status
1 | (12/14) Accurately ripped
2 | (12/14) Accurately ripped
3 | (12/14) Accurately ripped
4 | (12/14) Accurately ripped
5 | (12/14) Accurately ripped
6 | (12/14) Accurately ripped
7 | (12/14) Accurately ripped
8 | (12/14) Accurately ripped
9 | (11/14) Accurately ripped
10 | ( 9/14) Accurately ripped
11 | (12/14) Accurately ripped
12 | (11/14) Accurately ripped
[AccurateRip ID: 00155396-00c78357-ae0bc90c] found.
Track [ CRC | V2 ] Status
01 [927ef9d7|2094d37f] (3+3/6) Accurately ripped
02 [38b19161|d7892cb9] (3+3/6) Accurately ripped
03 [15a96332|3dca5cdb] (2+3/5) Accurately ripped
04 [c41514b1|276c4ecf] (3+3/6) Accurately ripped
05 [c7bd1a53|48bca42d] (3+3/6) Accurately ripped
06 [f911d894|0b4216a0] (3+3/6) Accurately ripped
07 [883686c3|ee3ec22d] (3+3/6) Accurately ripped
08 [a2d4000a|3d1d6711] (3+3/6) Accurately ripped
09 [0f732d29|8bab53c2] (3+3/6) Accurately ripped
10 [eb955d04|c6a6f532] (0+3/3) Accurately ripped
11 [e48b168a|95bdeddd] (0+3/3) Accurately ripped
12 [d1f5e5c7|f6e721ab] (0+3/3) Accurately ripped

Track Peak [ CRC32 ] [W/O NULL] [ LOG ]
– 99,4 [9BF7986D] [5BA9B1CB]
01 99,3 [A2357CB5] [2A934384] CRC32
02 99,4 [B510D771] [B9E3B53A] CRC32
03 99,3 [90FFB36C] [77FA8047] CRC32
04 99,3 [F8B4807B] [B35C8C9B] CRC32
05 99,3 [0BACE46A] [0EDE78FF] CRC32
06 99,3 [2D173E62] [3AD57D69] CRC32
07 99,3 [DC3F2E71] [CCAEDAE4] CRC32
08 99,2 [8D966EA3] [9573088F] CRC32
09 99,3 [FC60CC16] [0EA2914D] CRC32
10 99,3 [3EAB0FFF] [8977864C] CRC32
11 98,8 [9B642448] [99F72F57] CRC32
12 99,3 [69F536BC] [380BF43B] CRC32
Thanks to
Jurassic Giant BirdSee also:
Era - Reborn (2008)
Era - The 7th Sword (2017)