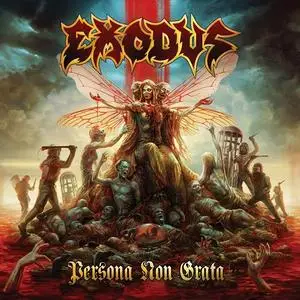 Exodus - Persona Non Grata (2021)
U.S.A. | MP3 CBR 320 Kbps | 138 MB
Thrash Metal | Label : Nuclear Blast
Exodus have officially returned with their first new album in seven years, "Persona Non Grata." The record, which will be available tomorrow (November 19), offers a full-on thrash attack that is sure to satisfy fans old and new. The effort is chock-full of riffy and shredding guitar work mixed with the kind of blistering vocals one would expect from the band. As one navigates the album, it is clear to see that the group have stayed true to the sound that made them a household name in the Bay Area. All in all, "Persona Non Grata" is a solid record from a band that has been killing it for four decades. There are some parts where the fat could have been trimmed a little bit to make for a more concise piece of work, but other than that it is exactly what fans have been clamoring for, a pure display of classic thrash metal.
Tracklist:
1. Persona Non Grata
2. R.E.M.F.
3. Slipping into Madness
4. Elitist
5. Prescribing Horror
6. The Beatings Will Continue (Until Morale Improves)
7. The Years of Death and Dying
8. Clickbait
9. Cosa del Pantano
10. Lunatic-Liar-Lord
11. The Fires of Division
12. Antiseed
Total playing time 01:00:18