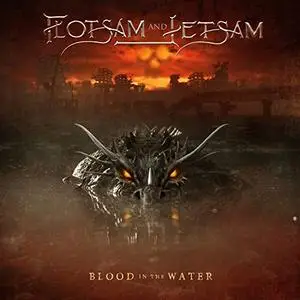 Flotsam And Jetsam - Blood in the Water (2021)
WEB FLAC (Tracks) 396 MB | Cover | 53:30 | MP3 CBR 320 kbps | 123 MB
Hardrock, Metal | Label: AFM Records
Few shadows cast as wide as that of a former member of the fold exiting and going on to what can only be described as a contender for the biggest phenomenon in metal. Apart from Exodus, who suffered this fate when their pentatonic scale shredder Kirk Hammett joined the Metallica clan, the only band who can claim to have been afflicted by this fate to a greater degree was the trailblazing power thrashing institution out of Phoenix, Arizona dubbed Flotsam And Jetsam. Despite a long and prolific career following his exodus, the specter of former bassist Jason Newsted has hung over this outfit, to the point where it is rare to have a conversation about the band named from the scattered booty of a seafaring vessel without his name being dropped in the first sentence. Nevertheless, recent years have seen these nautical scavengers overcoming this disposition with a streak of thrash-happy brilliance, of which 2021's "Blood In The Water" stands as their strongest outing since 1988's "No Place For Disgrace."
In similar fashion to fellow mid-80s wrecking crews Heathen, Death Angel and Overkill, this Southwestern-based quintet reminisces upon the past heyday of thrash metal without overtly dwelling upon it, employing all of the latest studio bells and whistles to attain a colossal sound. Relative to their near equally powerful 2019 last entry "The End Of Chaos", this entry follows a similar formula of compact, high octane bangers that cover about roughly the same amount of time in 12 songs that they did with 8 or 9 back in the 80s. Be this as it may, the modern incarnation of this band is no less elaborate than it was during the band's formative period, as longtime axe-man Michael Gilbert and his greener compatriot Steve Conley cut heads with an absolute fury, rivaling the recent output of Testament's famed 6-string duo of Skolnick and Petersen. Along with the wild drumming display of Ken Mary and the dark, pounding and occasionally flashy bass work of the newly recruited Bill Bodily of tech death extraordinaire outfit Contrarian, a massive juggernaut of sound is formed to accompany front man Eric A.K.'s gritty yet soaring vocals across the seven seas.
Pummeling the waves with the ferocity of an icebreaker ship cutting through the waters of Antarctica, this album kicks off by firing on all cylinders. With the aid of a massive orchestral patch at its inception, the opener and blistering title anthem "Blood On The Water" delivers the speed and bluster like its falling out of fashion, underscoring the unique ability possessed by engineer Jacob Hansen to turn ones speakers into weapons. This mode of impact-based, frenetic aggression with a side order of infectious hooks proves to be the modus operandi behind a plurality of this album's subsequent anthems, with the pummeling punch of "Burn The Sky" and the more power metalized fury of "Brace For Impact" chasing the aforementioned opening anthem with an equally potent one-two-punch. Not content to leave it as an opening trilogy of modern thrashing carnage, the nimble riff monster "A Place To Die" lays down the swift gallops with a vengeance and lands on a dense harmonic chorus hook that has a pretty strong Iron Maiden-like flavor to it, allowing A.K.'s smoother high range to make some occasional waves.
Nuance isn't really a part of Flotsam And Jetsam's stock and trade, but this isn't to say that they aren't beyond mixing things up a bit, and they hit some interesting territory when not going full speed ahead. The more mid-paced romp "Walls" has a bit more of a melodic, old school heavy metal vibe to it, and really lays on the Maiden-vibes wherein the harmonized lead guitar hooks are concerned. Likewise, the slower paced "Cry For The Dead" ventures into a brilliantly haunting fit of power balladry, shifting from a dreary, clean guitar driven dirge to a biting Middle Eastern crescendo in a somewhat jarring but highly effective fashion, and stands as one of Eric's standout vocal performances. The generally fast paced "Dragon" thrashes it up aplenty during an agitated verse segment, but cadences on a brilliantly tuneful chorus line that blurs the lines between Judas Priest and Helloween. But arguably the biggest surprise of the album is almost shred-infused display heard on "Undone", which is similarly fast to the thrashing material heard on here, but just goes over the top on the lead guitars and could almost be chalked up to this band's answer to what bands like Cacophony did back in the 80s.
There are no weak links, no slouches, nor anything that could be dubbed filler to be found on this album, it's just one continuous barrage of brilliance that only real varies in terms of absolute velocity. It's easily a worthy rival to what Testament, Overkill and Death Angel have been offering up of late, and it's definitely a cut above most of what the so-called Big 4 has been up to recently. Though this writer personally doesn't think that Flotsam And Jetsam will ever top the classic duo that were "Doomsday For The Deceiver" and "No Place For Disgrace," this is the closest that they've gotten to doing so thus far, and it should put to rest any notion that this band can't be talked about apart from being the springboard for Jason Newsted's career. This isn't an exercise in reinventing the sub-genre, but more a refined, higher octane version of the more melodic and old school metal-infused that they've been offering up since 2016's eponymous comeback. Far from collecting barnacles, this veteran thrash team have salvaged one of the more impressive hauls of 2021 so far.
TRACKLIST
1. Flotsam And Jetsam - Blood in the Water
2. Flotsam And Jetsam - Burn the Sky
3. Flotsam And Jetsam - Brace for Impact
4. Flotsam And Jetsam - A Place to Die
5. Flotsam And Jetsam - The Walls
6. Flotsam And Jetsam - Cry For the Dead
7. Flotsam And Jetsam - The Wicked Hour
8. Flotsam And Jetsam - Too Many Lives
9. Flotsam And Jetsam - Grey Dragon
10. Flotsam And Jetsam - Reaggression
11. Flotsam And Jetsam - Undone
12. Flotsam And Jetsam - Seven Seconds 'Til the End of the World
–––––––––––-
DON'T MODIFY THIS FILE
–––––––––––-
PERFORMER: auCDtect Task Manager, ver. 1.6.0 RC1 build 1.6.0.1
Copyright © 2008-2010 y-soft. All rights reserved
http://y-soft.org
ANALYZER: auCDtect: CD records authenticity detector, version 0.8.2
Copyright © 2004 Oleg Berngardt. All rights reserved.
Copyright © 2004 Alexander Djourik. All rights reserved.
FILE: 12 - Seven Seconds 'Til the End of the World.flac
Size: 36928998 Hash: 9FEB2A974B3D0E0077127AA7A1CFE941 Accuracy: -m0
Conclusion: CDDA 100%
Signature: D07FBF586C75C8A4EDC34ABA1F6E0A8F51AB8780
FILE: 11 - Undone.flac
Size: 26369011 Hash: 45A6537492F97206EE779B580165EB4B Accuracy: -m0
Conclusion: CDDA 100%
Signature: 6B86AEC9A991A14FF3C10777AC8B44CA64582F9D
FILE: 10 - Reaggression.flac
Size: 32926298 Hash: 25D537E58BE56C20A628D1BA384459FF Accuracy: -m0
Conclusion: CDDA 100%
Signature: D1836F6B8FB133F0DBF4FD03B73257BC6F2AC106
FILE: 09 - Grey Dragon.flac
Size: 33768423 Hash: 3355353E2F41D379C7E5DB3F061106AF Accuracy: -m0
Conclusion: CDDA 99%
Signature: C706991C07932A40373344AF63B9A21D7ADA1F08
FILE: 08 - Too Many Lives.flac
Size: 37019788 Hash: CCA02B7D7569527BA5B43DF8DCEBDDA6 Accuracy: -m0
Conclusion: CDDA 99%
Signature: DAC5CDE12AD2106478558D527BA5A5D4E53FAA5C
FILE: 07 - The Wicked Hour.flac
Size: 38522581 Hash: C01ABAA2E2F9A36EAC3484D73D9F85A1 Accuracy: -m0
Conclusion: CDDA 100%
Signature: D7583B1D0B5E601ED091BD07884AAEFE68A59FAA
FILE: 06 - Cry For the Dead.flac
Size: 34846525 Hash: 2136BD0300CC9ABB78DABFFE184853BA Accuracy: -m0
Conclusion: CDDA 100%
Signature: D19B18A24CE9EC1029C20573125BB813642AA0B6
FILE: 05 - The Walls.flac
Size: 36910204 Hash: F15CB57674AE67FC0D6DD00C95FDDB8B Accuracy: -m0
Conclusion: CDDA 100%
Signature: C453C64362991C186916735CBF81FF4717CA716E
FILE: 04 - A Place to Die.flac
Size: 34432904 Hash: 0E4B755B58376A839A9DD2CAC277A48A Accuracy: -m0
Conclusion: CDDA 99%
Signature: D89C8A3BEAE6870EAE05DA6B67872A069FA60109
FILE: 03 - Brace for Impact.flac
Size: 35479454 Hash: 901A1EFCF4F2F6CF38DAA71B092C1873 Accuracy: -m0
Conclusion: CDDA 100%
Signature: B8DC933D7C83273A9F106CA31FBA82769B77A1E3
FILE: 02 - Burn the Sky.flac
Size: 34600030 Hash: E077B56E74107F3AA6AEF98583061BB5 Accuracy: -m0
Conclusion: CDDA 99%
Signature: C6738DEB5474768D8BCE1361F11FB08E29E6EB75
FILE: 01 - Blood in the Water.flac
Size: 33785298 Hash: 545107F3B99449A6FA4DCB41F77B1C21 Accuracy: -m0
Conclusion: CDDA 100%
Signature: 3A17DD381356F5D27BA471F0F3F71D57EFC86AD4