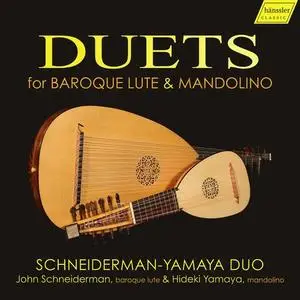 Hideki Yamaya, John Schneiderman - Duets for Baroque Lute & Mandolino (2021)
FLAC tracks / MP3 320 kbps | 1:16:08 | 174 / 296 Mb
Genre: Classical / Label: haenssler CLASSIC
Commanding a vast repertoire of more than 100 concertos for piano and orchestra by Spanish composers (Granados, Malats, Albeniz, Blancafort, Falla, Cassado, J. Gomez, E. Serrano, Molleda, etc), and others (including Astor Piazzolla, Xaver Scharwenka, Nikolai Medtner and Ignaz Paderewsky), Melani tenaciously champions the little known and often neglected hidden treasures of Spanish and International Classical Music repertoire, showcasing them in his performances as a solo pianist, in Chamber Music, and as an orchestral conductor. Now he releases unknown Spanish Piano Concertos. Recognized as "one of the world's elite virtuous musicians" by international critics ("The Daily Telegraph" – 1997, London), Melani Mestre studied music at the Superior Municipal Conservatory of Music of Barcelona.
Track List:
01. Duetto in G Major (Arr. for Lute & Mandolin): I. Allegro
02. Duetto in G Major (Arr. for Lute & Mandolin): II. Adagio
03. Duetto in G Major (Arr. for Lute & Mandolin): III. Presto
04. Duetto in G Minor (Arr. for Lute & Mandolin): I. Divertimento
05. Duetto in G Minor (Arr. for Lute & Mandolin): II. Allegro
06. Duetto in G Minor (Arr. for Lute & Mandolin): III. Menuet
07. Duetto in C Minor (Arr. for Lute & Mandolin): I. Allegro moderato
08. Duetto in C Minor (Arr. for Lute & Mandolin): II. Amoroso
09. Duetto in C Minor (Arr. for Lute & Mandolin): III. Presto
10. Concerto in C Major (Arr. for Lute & Mandolin): I. Allegro
11. Concerto in C Major (Arr. for Lute & Mandolin): II. Siciliano
12. Concerto in C Major (Arr. for Lute & Mandolin): III. Menuet
13. Concerto in D Minor (Arr. for Lute & Mandolin): I. Adagio
14. Concerto in D Minor (Arr. for Lute & Mandolin): II. Allegro
15. Concerto in D Minor (Arr. for Lute & Mandolin): III. Siciliano
16. Concerto in D Minor (Arr. for Lute & Mandolin): IV. Gigue
17. Sonata No. 14 in G Minor, WeissSW 14 (Arr. for Lute & Mandolin): VI. Chaconne
18. Sonata in G Major (Arr. for Lute & Mandolin): I. Allegro con spirito - Amoroso
19. Sonata in G Major (Arr. for Lute & Mandolin): II. Vivace
20. Concerto in D Minor (Arr. for Lute & Mandolin): I. Allegro
21. Concerto in D Minor (Arr. for Lute & Mandolin): II. Largo
22. Concerto in D Minor (Arr. for Lute & Mandolin): III. Vivace
ANALYZER: auCDtect: CD records authenticity detector, version 0.8.2
Copyright © 2004 Oleg Berngardt. All rights reserved.
Copyright © 2004 Alexander Djourik. All rights reserved.


FILE: 01 - Duetto in G Major (Arr. for Lute & Mandolin)_ I. Allegro.flac
Size: 21660894 Hash: FFE1228E3ABE130CF61143FCFCE58BF8 Accuracy: -m40
Conclusion: CDDA 42%
Signature: 00AE90C33F3BFA026CAF231DF24DCE03881CFE83
FILE: 02 - Duetto in G Major (Arr. for Lute & Mandolin)_ II. Adagio.flac
Size: 6427411 Hash: E8B3B472D40158C1CFE3D29C10BC6A50 Accuracy: -m40
Conclusion: MPEG 80%
Signature: 8336EB1058EE37AE56BDE2ABD460282798606B2A
FILE: 03 - Duetto in G Major (Arr. for Lute & Mandolin)_ III. Presto.flac
Size: 16752913 Hash: 976FF19DB776900F94FE05DF1802A280 Accuracy: -m40
Conclusion: CDDA 94%
Signature: 50E07E85BD9DB44835BE7E3252B1256365A5B581
FILE: 04 - Duetto in G Minor (Arr. for Lute & Mandolin)_ I. Divertimento.flac
Size: 12772437 Hash: 50443CD32565B29573F8C6ED4AAF045C Accuracy: -m40
Conclusion: MPEG 92%
Signature: 9B96B53833B424A5877C8DE3435C491FE3444F96
FILE: 05 - Duetto in G Minor (Arr. for Lute & Mandolin)_ II. Allegro.flac
Size: 16771030 Hash: 8F6C2B18BA25AF7B0E6E32D70C7C24E7 Accuracy: -m40
Conclusion: MPEG 100%
Signature: EA80688ACDBD1467AEFA325BD9DFEB22C1BFEE4D
FILE: 06 - Duetto in G Minor (Arr. for Lute & Mandolin)_ III. Menuet.flac
Size: 15616712 Hash: D1844220937D8DC884568E1E48BAD2A3 Accuracy: -m40
Conclusion: CDDA 92%
Signature: BDC93704D419ADF54FBD49A83C8CECFC636F22AB
FILE: 07 - Duetto in C Minor (Arr. for Lute & Mandolin)_ I. Allegro moderato.flac
Size: 16821203 Hash: C19326C64BAE9177C9DBBB5B6F44E296 Accuracy: -m40
Conclusion: CDDA 99%
Signature: D7218A574D26C75B8BC1A70435616B737EFDAABF
FILE: 08 - Duetto in C Minor (Arr. for Lute & Mandolin)_ II. Amoroso.flac
Size: 15013788 Hash: 0B6402B447468129B3A6A9604DC9ECAB Accuracy: -m40
Conclusion: MPEG 99%
Signature: F8020FFD74F390364BF8E9A593366050C51D4B89
FILE: 09 - Duetto in C Minor (Arr. for Lute & Mandolin)_ III. Presto.flac
Size: 8888119 Hash: C95EB27E1D622A4F88D47DD4D8AC5098 Accuracy: -m40
Conclusion: CDDA 43%
Signature: 71FD91770E0835D43796AE96392FB7AC7046827D
FILE: 10 - Concerto in C Major (Arr. for Lute & Mandolin)_ I. Allegro.flac
Size: 11631040 Hash: F8D91EA2708085F0539600BC9DCAAEF4 Accuracy: -m40
Conclusion: CDDA 43%
Signature: ED90A03E52A46F231887437C4DA5766F556E65F1
FILE: 11 - Concerto in C Major (Arr. for Lute & Mandolin)_ II. Siciliano.flac
Size: 8373735 Hash: 041A7628E3F4EE2B9C9BE708434849C3 Accuracy: -m40
Conclusion: CDDA 100%
Signature: 7D90CCFC06837A0545014314A62C072B15A74E6B
FILE: 12 - Concerto in C Major (Arr. for Lute & Mandolin)_ III. Menuet.flac
Size: 14865122 Hash: DF2A26C7947E5DF5E10D0BF01A41BFD4 Accuracy: -m40
Conclusion: CDDA 49%
Signature: C2B43555CDCAF9CBAF9AA5F432AB2078FE373F58
FILE: 13 - Concerto in D Minor (Arr. for Lute & Mandolin)_ I. Adagio.flac
Size: 6275744 Hash: 8E578A984C1EC69CF851807561C9B8A9 Accuracy: -m40
Conclusion: CDDA 100%
Signature: D74CDDA989504A76B3D01FD01A9DB78B63DFC353
FILE: 14 - Concerto in D Minor (Arr. for Lute & Mandolin)_ II. Allegro.flac
Size: 8087618 Hash: FFB368F23368B30F4D776BC73A35B755 Accuracy: -m40
Conclusion: CDDA 94%
Signature: DFC022B680E4E216A96F46EB9E33583920CEA9F6
FILE: 15 - Concerto in D Minor (Arr. for Lute & Mandolin)_ III. Siciliano.flac
Size: 11546017 Hash: 5A47F80CDABAB56333C925DE3EE08CA9 Accuracy: -m40
Conclusion: MPEG 97%
Signature: 0F14FB216C90B2F594E11560EA09CDEC86BEC8AD
FILE: 16 - Concerto in D Minor (Arr. for Lute & Mandolin)_ IV. Gigue.flac
Size: 9784881 Hash: 238F32BAC5271A82E43C0B1193E6F3EE Accuracy: -m40
Conclusion: CDDA 100%
Signature: 4D11A1F37717D40FAD5B789C1042BE54B37FF4CB
FILE: 17 - Sonata No. 14 in G Minor, WeissSW 14 (Arr. for Lute & Mandolin)_ VI. Chaconne.flac
Size: 19308715 Hash: C17EE019DE3A3E84BAF911F926968932 Accuracy: -m40
Conclusion: CDDA 43%
Signature: 9C203E0A2586BB50D49FFB8468BEBBEC4C8B835E
FILE: 18 - Sonata in G Major (Arr. for Lute & Mandolin)_ I. Allegro con spirito - Amoroso.flac
Size: 31858739 Hash: 2188CC6F3B38468F8B189BE9DF0049CA Accuracy: -m40
Conclusion: CDDA 92%
Signature: BA16B2ACC650681758A09732BA29B1A805308013
FILE: 19 - Sonata in G Major (Arr. for Lute & Mandolin)_ II. Vivace.flac
Size: 15473471 Hash: 77FE258458E64D3BF6CD5E6A10363654 Accuracy: -m40
Conclusion: CDDA 100%
Signature: 39650AFDE774D3CE222E7CE2E53E904A500054EA
FILE: 20 - Concerto in D Minor (Arr. for Lute & Mandolin)_ I. Allegro.flac
Size: 18807597 Hash: 6C64FD833BF1729C6970AE23B83FD6C3 Accuracy: -m40
Conclusion: CDDA 100%
Signature: 5E10545B42ED16906AEFF6B158A5A61F1043CBC5
FILE: 21 - Concerto in D Minor (Arr. for Lute & Mandolin)_ II. Largo.flac
Size: 11547633 Hash: ACC41D7034A7DB24F399353D6867AD2A Accuracy: -m40
Conclusion: MPEG 80%
Signature: 0EB98D2F1C8288A1F296AA5334A6CEB7073F8560
FILE: 22 - Concerto in D Minor (Arr. for Lute & Mandolin)_ III. Vivace.flac
Size: 13430661 Hash: 9A110A9498A17CDD3F6635845B0DAD9F Accuracy: -m40
Conclusion: CDDA 100%
Signature: 5A7DA4EF69DEEFC11E3D81C10C98DE568B3BDD22