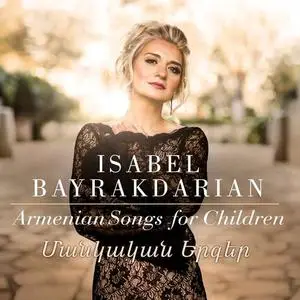 Isabel Bayrakdarian - Isabel Bayrakdarian – Armenian Songs for Children (2021)
FLAC tracks / MP3 320 kbps | 1:13:00 | 300 / 167 Mb
Genre: Classical / Label: Avie Records
Lebanese-born, Canadian-Armenian-American soprano Isabel Bayrakdarian is as celebrated for her beauty, dynamic presence, and style as for her strikingly multidimensional voice. With this deeply personal project, she gathers a selection of haunting and poignant lullabies that draw on the memories and experiences of the Armenian people. Twenty-nine tracks trace an arc from the Ottoman Empire through the Genocide and beyond, with songs and transcriptions by the country's beloved folk composer Gomidas Vartabed, Parsegh Ganatchian who joined the diaspora in Lebanon, and Ganatchian's contemporary Mihran Toumajan. For Isabel, these evocative songs span two centuries and five generations. Sung by her great-grandmother, grandmother and mother, and now to her own children, Isabel's "Armenian Songs" have an appeal to children of all ages.
Track List:
1. Six Children's Songs (4:56)
2. Five Lullaby Fragments (4:09)
3. Sleep My Child Lullaby (3:27)
4. Dream (3:37)
5. You Are Beautiful Lullaby from Agn (3:06)
6. Children's Prayer (1:19)
7. Song of the Partridge (1:08)
8. Little Wooden Horse (0:57)
9. The Swallow (3:00)
10. Bjingo (1:41)
11. The Swallow (2:19)
12. Serenade (2:28)
13. Nocturne (2:42)
14. Sleep My Child Lullaby (3:57)
15. Swinging Song Lullaby from Bithynia-Bardizag (3:04)
16. Cradle Song Lullaby from Bithynia-Bardizag (2:50)
17. Rocking Song Lullaby from Gesaria (1:59)
18. Bouncing Song from Gesaria (1:12)
19. The Scarecrow from Kharpert (0:38)
20. Two Playsongs from Agn (1:47)
21. Two Lullabies from Agn (2:39)
22. Rocking Song Lullaby from Khlat-Bitlis (2:47)
23. I Sing To You Lullaby from Dikranagerd (2:08)
24. Collection of Alphabet Songs from Medz Nor Kiugh-Bursa (2:33)
25. Four Children's Songs from Van (3:54)
26. Come, My Nightingale Popular Lullaby (3:20)
27. Bouncing Song from Ani (1:47)
28. Cradle Song Lullaby from Ani (1:26)
29. Rocking Song Lullaby from Ani (2:10)
ANALYZER: auCDtect: CD records authenticity detector, version 0.8.2
Copyright © 2004 Oleg Berngardt. All rights reserved.
Copyright © 2004 Alexander Djourik. All rights reserved.


FILE: 01 - Six Children's Songs.flac
Size: 24571851 Hash: A62D7493C68E145571F7F4E2E7551896 Accuracy: -m40
Conclusion: CDDA 100%
Signature: 5D5C8E3B69A13013CA023871C7D8F7AD7AE077D6
FILE: 02 - Five Lullaby Fragments.flac
Size: 15499981 Hash: EB97F98D3E51F93E604A8AF9980E6589 Accuracy: -m40
Conclusion: CDDA 100%
Signature: 4B02167C83E411269B7CD2982D2FE4F8CB26CD90
FILE: 03 - Sleep My Child Lullaby.flac
Size: 13734702 Hash: 8AE8430FBE7E20E3D0404E513D844FC3 Accuracy: -m40
Conclusion: CDDA 100%
Signature: A15F7C56CB86094987EDF353ABBB9C301D27B157
FILE: 04 - Dream.flac
Size: 15422283 Hash: C3CDD58A6E17027B25AE4934494924F3 Accuracy: -m40
Conclusion: CDDA 100%
Signature: D6A579F653CEBA9D363053A7931C4F051BD4E1BA
FILE: 05 - You Are Beautiful Lullaby from Agn.flac
Size: 13534263 Hash: D0C53A1E1ECB3A332D13107535F5761A Accuracy: -m40
Conclusion: CDDA 100%
Signature: DC512F792F5C0B731E82BAAB5CF39E2B6E0C1901
FILE: 06 - Children's Prayer.flac
Size: 5708050 Hash: A29619D7660C40815C6DF4ED55D7DCE7 Accuracy: -m40
Conclusion: CDDA 100%
Signature: AD01D45CD30569B28AE8D657EB3894E5B8865C13
FILE: 07 - Song of the Partridge.flac
Size: 5593780 Hash: CC782241C3041AB794B8A904C534366E Accuracy: -m40
Conclusion: CDDA 100%
Signature: 9409CE57E0274F2E221E683BD04378974152B7FA
FILE: 08 - Little Wooden Horse.flac
Size: 4218453 Hash: BC0B4674B70788D3D934A8686AC417D6 Accuracy: -m40
Conclusion: CDDA 100%
Signature: 8225D7927230E9AE2B2D5DD4D9668FDB81D1D119
FILE: 09 - The Swallow.flac
Size: 14823801 Hash: ACC9B29351F6D101E2448E0E97EFD963 Accuracy: -m40
Conclusion: CDDA 100%
Signature: 30008DCAB5444B51799A01998766D40573E43484
FILE: 10 - Bjingo.flac
Size: 7334700 Hash: FDDB6440B23DCD729C08B726DAEC9C3F Accuracy: -m40
Conclusion: CDDA 100%
Signature: 6550385E99CB5DF17B2DAFEE213EB763696193CE
FILE: 11 - The Swallow.flac
Size: 10423919 Hash: 4A13BBAEFE7C484A4A43038848FA58E5 Accuracy: -m40
Conclusion: CDDA 99%
Signature: F3D69EC78B8D19369F2FF6D0D9C57070276A1A5F
FILE: 12 - Serenade.flac
Size: 11024898 Hash: 706E072A094571F0C6340D89A9CC061A Accuracy: -m40
Conclusion: CDDA 100%
Signature: 68AC196FC7587751F5003553BBAA6B2E93B20B73
FILE: 13 - Nocturne.flac
Size: 9817214 Hash: 100DC65E8457926F6EA0BAA076C21AF2 Accuracy: -m40
Conclusion: CDDA 100%
Signature: 07B36AE9EDB05722F3AB46D7C8BFB4D1508B106D
FILE: 14 - Sleep My Child Lullaby.flac
Size: 15033452 Hash: 7B047FEFD438992EC6E040A723EBBA49 Accuracy: -m40
Conclusion: CDDA 100%
Signature: 54527F814A2ED5515DCC7D2873AEDFACFD9A35F2
FILE: 15 - Swinging Song Lullaby from Bithynia-Bardizag.flac
Size: 11830605 Hash: C6EF1F05D7B93F9C601A14233E6CE15F Accuracy: -m40
Conclusion: CDDA 100%
Signature: 5C9E503637D4EB0A4287CED020DFD68D3F83B46F
FILE: 16 - Cradle Song Lullaby from Bithynia-Bardizag.flac
Size: 11906033 Hash: 54DB351C24616A955FFBC9F012F0343C Accuracy: -m40
Conclusion: CDDA 100%
Signature: 3BAAFF2F92C1D94B324057EB06266E0FE83CD893
FILE: 17 - Rocking Song Lullaby from Gesaria.flac
Size: 7615881 Hash: DF9CC2F4682E69FFCBFF7B419DCC666A Accuracy: -m40
Conclusion: CDDA 100%
Signature: 0A4B14278AD2282E3D34FA7C71FF07C34A7B6791
FILE: 18 - Bouncing Song from Gesaria.flac
Size: 5688777 Hash: CF1C6AB8D0A0C254E729B4B839F2EDED Accuracy: -m40
Conclusion: CDDA 100%
Signature: 9A68197B1E444C53C98A2702B41C7142F742FF1C
FILE: 19 - The Scarecrow from Kharpert.flac
Size: 2857862 Hash: B5E270D08379CB8A812430EDBD1E480A Accuracy: -m40
Conclusion: CDDA 100%
Signature: 5BBBEFA972678CF6A7F2D9483A8A7834ACFD7987
FILE: 20 - Two Playsongs from Agn.flac
Size: 9094479 Hash: B21B6FCC6FDE8A95D36ABA6F547F3F8B Accuracy: -m40
Conclusion: CDDA 99%
Signature: C8240BC8871B9C63B0DA6E14CCEAF9805A353EFE
FILE: 21 - Two Lullabies from Agn.flac
Size: 11675482 Hash: 46BE2C6B51F12438AEF7F8F464D9A57C Accuracy: -m40
Conclusion: CDDA 100%
Signature: 62E7A3F0EF5B676D384DFA570E827FB31518E7B5
FILE: 22 - Rocking Song Lullaby from Khlat-Bitlis.flac
Size: 11663569 Hash: 059882E860A314C681EFA29880F52085 Accuracy: -m40
Conclusion: CDDA 100%
Signature: 1FC9797E5918A5DA4B52EAB2D434AC74168E52AF
FILE: 23 - I Sing To You Lullaby from Dikranagerd.flac
Size: 8793563 Hash: C081E2783B55242ECD7092BD05587F54 Accuracy: -m40
Conclusion: CDDA 100%
Signature: 66F3E91F0F8E098DFA4BA4A9F00A374D2987456C
FILE: 24 - Collection of Alphabet Songs from Medz Nor Kiugh-Bursa.flac
Size: 10517987 Hash: F0FB0A055F6A7030824F5612E2E6C905 Accuracy: -m40
Conclusion: CDDA 100%
Signature: EFFBE635F3D5B9E5AF27AA1E1BB26568CED7DBDC
FILE: 25 - Four Children's Songs from Van.flac
Size: 17188377 Hash: 22C2ABCEEA5ED496746DD33C5D2FBFC4 Accuracy: -m40
Conclusion: CDDA 100%
Signature: D6B86DB4D47ECE7069357C9359B0F7E0C6D2F3C0
FILE: 26 - Come, My Nightingale Popular Lullaby.flac
Size: 14842835 Hash: AFDB51777129F5C4742A7FF6E72A5881 Accuracy: -m40
Conclusion: CDDA 100%
Signature: C1D660A07203160C396A248975848E08E8E830A4
FILE: 27 - Bouncing Song from Ani.flac
Size: 7586402 Hash: CCD200C2E0B40F47AFEF8E4D3BD7C475 Accuracy: -m40
Conclusion: CDDA 100%
Signature: 3ED61D82E4CE132AE070B20E37D6A6BA05B816DB
FILE: 28 - Cradle Song Lullaby from Ani.flac
Size: 6460460 Hash: F47232D16A670C678A064C31960F309B Accuracy: -m40
Conclusion: CDDA 99%
Signature: EB2A19A0C4801B29E434D7E88DB76616C8AFF78A
FILE: 29 - Rocking Song Lullaby from Ani.flac
Size: 9083841 Hash: 6461FCFA19540A6A5E743677FE429FF4 Accuracy: -m40
Conclusion: CDDA 100%
Signature: 6412B12C38CE39E9E56F16441A883EE5F86C0852