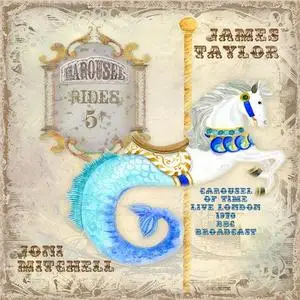 James Taylor - Carousel Of Time (Live 1970) (2021)
MP3 320 kbps | 50:54 | 117 Mb
Genre: Rock, Country, Folk / Label: Smokin' Badger
When people use the term " singer / songwriter "(adding the word "sensitive") as praise or criticism, they think of James Taylor. In the early ' 70s, when he appeared with his introspective songs, acoustic guitar and restrained singing style, he reflected the emotional exhaustion of a generation after tumultuous times. Just as Bing Crosby's reassuring voice lifted the country out of depression and accompanied it through World War 2, Taylor facilitated the transition from the activism of the '60s and its frustrations, to the' 70s, less political and more introspection. He has released a series of highly ranked albums and singles, and has gained lasting popularity.
Track List:
[05:23] 01. James Taylor; Joni Mitchell - That Song About The Midway (Live)
[04:55] 02. James Taylor; Joni Mitchell - The Gallery (Live)
[02:50] 03. James Taylor; Joni Mitchell - Rainy Day Man (Live)
[01:05] 04. James Taylor; Joni Mitchell - James Talks (Live)
[03:01] 05. James Taylor; Joni Mitchell - Steam Roller Blues (Live)
[03:56] 06. James Taylor; Joni Mitchell - The Priest (Live)
[01:50] 07. James Taylor; Joni Mitchell - Joni Talks (Live)
[02:50] 08. James Taylor; Joni Mitchell - Carey (Live)
[03:32] 09. James Taylor; Joni Mitchell - Carolina In My Mind (Live)
[04:34] 10. James Taylor; Joni Mitchell - California (Live)
[05:20] 11. James Taylor; Joni Mitchell - For Free (Live)
[01:36] 12. James Taylor; Joni Mitchell - Joni Talks, Pt.2 (Live)
[07:27] 13. James Taylor; Joni Mitchell - The Circle Game (Live)
[02:27] 14. James Taylor; Joni Mitchell - You Can Close Your Eyes (Live)