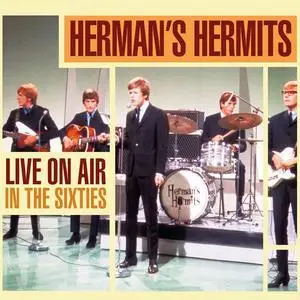 Herman's Hermits - Live On Air in the Sixties (2021)
FLAC tracks / MP3 320 kbps | 1:05:22 | 311 / 148 Mb
Genre: Rock Pop / Label: London Calling
Herman's Hermits were one of the most commercially successful artists of the beat era. In a recording career which began in 1964 and spanned seven hectic years, Herman's Hermits registered more than 30 worldwide chart entries and were undisputed hitmakers with a string of singles and albums in the top-10 and Grammy awards starting in 1965. They were also part of that hit-making machine cultivated by Mickie Most, who was one of the major forces in the flood of acts coming from the UK in the mid-1960s. They forged a successful career up until 1968 when rapidly changing pop trends dictated their demise which would finally happen in 1970. Their numerous visits to the Paris and Playhouse Theatres in London during their iconic heyday produced a vast number of sessions for radio broadcast and reveal a more authentic side to one of British pop music's most endearing acts. London Calling proudly presents, Herman's Hermits, live in session 1964 to 1968. Superb and professionally re-mastered original radio broadcasts with background liners, rare and original memorabilia and timeline photos.