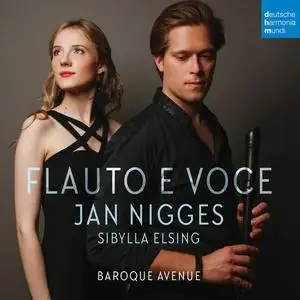 Jan Nigges & Baroque Avenue - Flauto e Voce (2021)
FLAC tracks | 67:01 | 345 Mb
Genre: Classical / Label: deutsche harmonia mundi
Jan Nigges is the flutist of the young ensemble "Four Times Baroque", which won an Opus-Klassik prize as newcomer of the year for its first album on the German harmonia mundi label. For this recording on dhm he has joined forces with an ensemble of musician friends and the soprano Sibylla Elsing to record works by Telemann, Handel, Fasch and Pez From Georg Friedrich Telemann (1681-1767) they chose the entertaining seven-part Overture (Suite) in A minor for recorder, strings and basso continuo, which is followed by the aria "Oh wer kann von Liebe sagen" for soprano and recorder from the cantata "Darin ist erschienen die Liebe Gottes" sung by Sibylla Elsing. The recorder concerto in F major by Johann Friedrich Fasch (1688-1758), discovered only a few years ago, and the Concerto Pastorale in F major for two recorders, strings and basso continuo by Johann Christoph Pez (1664-1716) are a discovery. The recorder played by Jan Nigges is also the partner of the soprano in two further arias: "Va godendo vezzoso e bello" from the opera "Xerxes" by Georg Friedrich Händel (1685-1759) as well as "Mich tröstt die Hoffnung" from Telemann's opera "Der geduldige Sokrates"
Track List:
1. Ouverture-Suite in A Minor, TWV 55:a2 : I. Ouverture (9:20)
2. Ouverture-Suite in A Minor, TWV 55:a2 : II. Les Plaisirs (3:17)
3. Ouverture-Suite in A Minor, TWV 55:a2 : III. Air à l'italien (6:30)
4. Ouverture-Suite in A Minor, TWV 55:a2 : IV. Menuet 1 & 2 (3:19)
5. Ouverture-Suite in A Minor, TWV 55:a2 : V. Réjouissance (2:25)
6. Ouverture-Suite in A Minor, TWV 55:a2 : VI. Passepied 1 & 2 (1:57)
7. Ouverture-Suite in A Minor, TWV 55:a2 : VII. Polonaise (3:32)
8. Daran ist erschienen die Liebe Gottes, TWV 1:165: Oh wer kann die Liebe sagen (Aria) (3:13)
9. Recorder Concerto in F Major : I. Allegro (3:03)
10. Recorder Concerto in F Major : II. Largo (2:01)
11. Recorder Concerto in F Major : III. Allegro assai (2:57)
12. Serse, HWV 40, Act I, No. 5: Va godendo vezzoso e bello (Aria) (2:42)
13. Der geduldiige Socrates, TWV 21:9: Mich tröstet die Hoffnung (Aria) (5:52)
14. Concerto Pastorale in F Major : I. Pastorale (2:31)
15. Concerto Pastorale in F Major : II. Aria Presto (1:24)
16. Concerto Pastorale in F Major : III. Aria Grave (2:01)
17. Concerto Pastorale in F Major : IV. Aria Pastorale (1:55)
18. Concerto Pastorale in F Major : V. Minuet (2:26)
19. Concerto Pastorale in F Major : VI. Chaconne (5:22)
20. Concerto Pastorale in F Major : VII. Aria Presto (1:26)
ANALYZER: auCDtect: CD records authenticity detector, version 0.8.2
Copyright © 2004 Oleg Berngardt. All rights reserved.
Copyright © 2004 Alexander Djourik. All rights reserved.


FILE: 01 - Ouverture-Suite in A Minor, TWV 55_a2 _ I. Ouverture.flac
Size: 51803965 Hash: 740FCE47E5396594468CBFD8B9BB4927 Accuracy: -m40
Conclusion: CDDA 100%
Signature: 519EB5C0B38F812184AEE66BF10803CF80237A4B
FILE: 02 - Ouverture-Suite in A Minor, TWV 55_a2 _ II. Les Plaisirs.flac
Size: 16202490 Hash: B2074D412D8EDBDC8BB3570EF15B54F8 Accuracy: -m40
Conclusion: CDDA 100%
Signature: 1CA805A87502E8662E2ACF65BCE9859D3ECE3504
FILE: 03 - Ouverture-Suite in A Minor, TWV 55_a2 _ III. Air à l'italien.flac
Size: 33118236 Hash: FA25075B3ACEC0757E4951B48EDDFB55 Accuracy: -m40
Conclusion: CDDA 99%
Signature: A4FAF49AEE051FA0AFAEB7B262AF75CC847793F1
FILE: 04 - Ouverture-Suite in A Minor, TWV 55_a2 _ IV. Menuet 1 & 2.flac
Size: 17845407 Hash: B3492010F665375951CA87C2F1F7D4FA Accuracy: -m40
Conclusion: CDDA 100%
Signature: A3F9766EB000D8AB263F88D134E427A4BF352EA2
FILE: 05 - Ouverture-Suite in A Minor, TWV 55_a2 _ V. Réjouissance.flac
Size: 12880405 Hash: F553EB3E57DB5091FDCEA38884EBE399 Accuracy: -m40
Conclusion: CDDA 100%
Signature: A1C6DB663BA3C2090193EF7E7736FA5663094983
FILE: 06 - Ouverture-Suite in A Minor, TWV 55_a2 _ VI. Passepied 1 & 2.flac
Size: 10239390 Hash: D91DF6B8D413152840C371CCE88EF984 Accuracy: -m40
Conclusion: CDDA 100%
Signature: 8741876DD282A04BDEFA85F525E479B07E576387
FILE: 07 - Ouverture-Suite in A Minor, TWV 55_a2 _ VII. Polonaise.flac
Size: 19268764 Hash: D57E88473CE3E6992573D32D5C5480CF Accuracy: -m40
Conclusion: CDDA 100%
Signature: 7D8A0704242F032E6D25D539B8C77DDF2A642C54
FILE: 08 - Daran ist erschienen die Liebe Gottes, TWV 1_165_ Oh wer kann die Liebe sagen (Aria).flac
Size: 15732399 Hash: 8228A6E8C70596755A72AAFE246F657A Accuracy: -m40
Conclusion: CDDA 100%
Signature: 76BFB9E2CD4B1C91B34DD0FB7BD71D9B46BA5CE7
FILE: 09 - Recorder Concerto in F Major _ I. Allegro.flac
Size: 16302706 Hash: AA97A32B4DC29216F0D6A94EDA7F7C5F Accuracy: -m40
Conclusion: CDDA 99%
Signature: B9DF779800547FCF9CF56CAF79ABAC90B3ABDC2B
FILE: 10 - Recorder Concerto in F Major _ II. Largo.flac
Size: 8915158 Hash: 70E58AEF1F3B00D35208E9ADF44E99D4 Accuracy: -m40
Conclusion: CDDA 100%
Signature: F609AF5264C94E4942B03FA353BCE3B1F333D8D6
FILE: 11 - Recorder Concerto in F Major _ III. Allegro assai.flac
Size: 15667034 Hash: 11CFB241E80CA180DBCB2FAF2E1C77C8 Accuracy: -m40
Conclusion: CDDA 100%
Signature: D5AFA1D30F40FC91F2A15AD708DE623A93E27091
FILE: 12 - Serse, HWV 40, Act I, No. 5_ Va godendo vezzoso e bello (Aria).flac
Size: 14028927 Hash: 17467B500B84059C921743B6F5E450B9 Accuracy: -m40
Conclusion: CDDA 85%
Signature: 7DE26933945052E282FDAD0C5DC4CD551D9901E2
FILE: 13 - Der geduldiige Socrates, TWV 21_9_ Mich tröstet die Hoffnung (Aria).flac
Size: 29837847 Hash: 6CA53566ADE010EDA39745ABB521C1DD Accuracy: -m40
Conclusion: CDDA 100%
Signature: 38C280E06796042B88C151A9EF49580CDB9F70F0
FILE: 14 - Concerto Pastorale in F Major _ I. Pastorale.flac
Size: 14808216 Hash: 352D1BC14440A8B7031F840B687ECB1D Accuracy: -m40
Conclusion: CDDA 100%
Signature: E9269FA149285F758F529F032F255A3D34FD9CAD
FILE: 15 - Concerto Pastorale in F Major _ II. Aria Presto.flac
Size: 8359416 Hash: EBC611D3A96AD3EBD7C238B39CE65945 Accuracy: -m40
Conclusion: CDDA 100%
Signature: 7E7D1E0B8C94762BB27331FC7759E4A93E93D5BB
FILE: 16 - Concerto Pastorale in F Major _ III. Aria Grave.flac
Size: 11451047 Hash: 71E37BBB8F0CEA54D78D6ECF4DE26FA0 Accuracy: -m40
Conclusion: CDDA 100%
Signature: 50170D04510A9A592C4A85C71379613C85B6A939
FILE: 17 - Concerto Pastorale in F Major _ IV. Aria Pastorale.flac
Size: 11372652 Hash: AC4F7CAC60B4844B22389F8402EE2F81 Accuracy: -m40
Conclusion: CDDA 100%
Signature: 6304FD583AD34AEFBBA170EDF8CA9FB6C4C05F7E
FILE: 18 - Concerto Pastorale in F Major _ V. Minuet.flac
Size: 14327848 Hash: EB47C55445717369352A2C3047F80645 Accuracy: -m40
Conclusion: CDDA 99%
Signature: 784980658C29312B7654DC70AF21820B6BDE4176
FILE: 19 - Concerto Pastorale in F Major _ VI. Chaconne.flac
Size: 32024273 Hash: 35FB4062B253038FD218284E6615883C Accuracy: -m40
Conclusion: CDDA 99%
Signature: DF7C73B634B990A030C0F3D26D47C2E14701A64A
FILE: 20 - Concerto Pastorale in F Major _ VII. Aria Presto.flac
Size: 8247164 Hash: 527088F3348B0F72DDC018319AEA1DB5 Accuracy: -m40
Conclusion: CDDA 100%
Signature: DB8161B9D4F91E6C1BAE83499DA7623DDB7DD03B