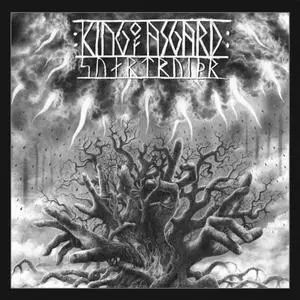 King Of Asgard - Svartrviðr (2021)
Sweden | MP3 CBR 320 Kbps | 133 MB
Melodic Death/Viking Metal | Label : Trollmusic
On their fifth sonic assault, "svartrviðr", KING OF ASGARD maintain the perfect balance between the grim and the epic, darkness and twilight while keeping their sound crushing and stripped down to essentials. The blackened death veterans deliver an example of Sweden's classic style at the border of harsh and evocative Nordic blackness and the captivating epic melodies of their homeland's death metal. Founded in 2008 in Mjölby, Östergötland, the band rose from the ashes of cult act MITHOTYN. With their first three albums "Fímbulvintr" (2010), "…to North" (2012), and "Karg" (2014), KING OF ASGARD firmly established themselves as a powerful presence in their scene. Due to their lyrical topics and visuals relating to local and Norse myths and sagas, runic writing and art styles as well as the occasional use of traditional melodies, the Swedes are sometimes categorised as Viking or pagan metal. Yet, KING OF ASGARD clearly went their own way and with a marked penchant for story-telling at epic length, they forcefully claimed a musical realm of their own. The release of "taudr" in 2017 put fresh wind into the sails of KING OF ASGARD with the arrival of new members, who were armed with invigorating enthusiasm and great talent, which some of them also prove in VANHELGD. This new line-up remains stable and has worked hard to explore their new creative and musical opportunities to the full. Teaming up with Magnus "Devo" Andersson, who could easily claim the title of MARDUK's house producer, the Swedes made sure to maintain a black twist to their individual sound. Now, KING OF ASGARD invite you to explore the dark secrets of the Viking world and those glimpses at ancient rituals that lurk deep within Old Norse writings.
Tracklist:
1. Frôðr
2. Rifna
3. Hæimr
4. Kvikr
5. Ammobiærg
6. Svartrviðr
7. Harmdauðr
8. FæigR
Total playing time 57:14