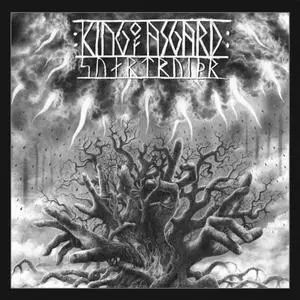 King Of Asgard - Svartrviðr (2021)
Sweden | MP3 CBR 320 Kbps | 133 MB
Melodic Death/Viking Metal | Label : Trollmusic
On their fifth sonic assault, "svartrviðr", KING OF ASGARD maintain the perfect balance between the grim and the epic, darkness and twilight while keeping their sound crushing and stripped down to essentials. The blackened death veterans deliver an example of Sweden's classic style at the border of harsh and evocative Nordic blackness and the captivating epic melodies of their homeland's death metal. Founded in 2008 in Mjölby, Östergötland, the band rose from the ashes of cult act MITHOTYN. Teaming up with Magnus "Devo" Andersson, who could easily claim the title of MARDUK's house producer, the Swedes made sure to maintain a black twist to their individual sound. Now, KING OF ASGARD invite you to explore the dark secrets of the Viking world and those glimpses at ancient rituals that lurk deep within Old Norse writings.