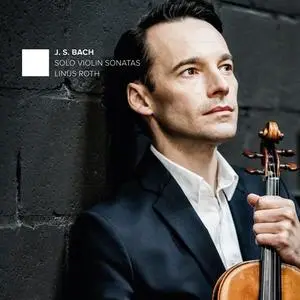 Linus Roth - Bach: Solo Violin Sonatas (2021)
FLAC tracks / MP3 320 kbps | 1:08:13 | 155 / 339 Mb
Genre: Classical / Label: Evil Penguin Classic
An historically informed performance by Linus Roth of JS Bach solo violin sonatas.The cycle of six solo Sonatas and Partitas by J.S. Bach is arguably one of the most powerful and most important compositions in musical history. These works have been with Linus Roth since he was nine years old, when he first learned the Gigue from the E major Partita, moving on by the age of twelve to the first Fugue in G minor to tackling at fifteen the Ciaconna, which represents a cosmos in its own right. By seventeen, Roth had finally learned the entire oeuvre for the first time and since then he is fortunate to have been able to grow as a musician through the constant and welcome challenge of interpreting these remarkable works.
Track List:
01. Violin Sonata No. 1 in G minor, BWV 1001: I. Adagio
02. Violin Sonata No. 1 in G minor, BWV 1001: II. Fuga
03. Violin Sonata No. 1 in G minor, BWV 1001: III. Siciliana
04. Violin Sonata No. 1 in G minor, BWV 1001: IV. Presto
05. Violin Sonata No. 2 in A minor, BWV 1003: I. Grave
06. Violin Sonata No. 2 in A minor, BWV 1003: II. Fuga
07. Violin Sonata No. 2 in A minor, BWV 1003: III. Andante
08. Violin Sonata No. 2 in A minor, BWV 1003: IV. Allegro
09. Violin Sonata No. 3 in C major, BWV 1005: I. Adagio
10. Violin Sonata No. 3 in C major, BWV 1005: II. Fuga
11. Violin Sonata No. 3 in C major, BWV 1005: III. Largo
12. Violin Sonata No. 3 in C major, BWV 1005: IV. Allegro assai
ANALYZER: auCDtect: CD records authenticity detector, version 0.8.2
Copyright © 2004 Oleg Berngardt. All rights reserved.
Copyright © 2004 Alexander Djourik. All rights reserved.


FILE: 01 - Violin Sonata No. 1 in G minor, BWV 1001_ I. Adagio.flac
Size: 22548383 Hash: 1257806610030F30DA3E511CD32410B9 Accuracy: -m40
Conclusion: CDDA 100%
Signature: 3709FA545C5F586A7A10BA4819B9A1604A11942B
FILE: 02 - Violin Sonata No. 1 in G minor, BWV 1001_ II. Fuga.flac
Size: 32883464 Hash: DAB16A81A69D0956235071C02A8CE72B Accuracy: -m40
Conclusion: CDDA 100%
Signature: D1CB8D35432C94CD52F9F08E8C16631E623BA63B
FILE: 03 - Violin Sonata No. 1 in G minor, BWV 1001 _ III. Siciliana.flac
Size: 16074795 Hash: 371C766E18AF8ED8B791D6B36176C0D7 Accuracy: -m40
Conclusion: CDDA 100%
Signature: BB014941610967A5FEEB4ABE7E9575033CE60311
FILE: 04 - Violin Sonata No. 1 in G minor, BWV 1001_ IV. Presto.flac
Size: 20110879 Hash: 5F198DECFEE84366ECC1BB6BD7B9E2FD Accuracy: -m40
Conclusion: CDDA 100%
Signature: 1BE369CE9519032544815438698DD5D87F5280AA
FILE: 05 - Violin Sonata No. 2 in A minor, BWV 1003_ I. Grave.flac
Size: 23207361 Hash: 2583A99BDB9BDF610729A1BDB13F7BDD Accuracy: -m40
Conclusion: CDDA 100%
Signature: 75898BDD917AEB037061E7B90868336CC2B1C398
FILE: 06 - Violin Sonata No. 2 in A minor, BWV 1003_ II. Fuga.flac
Size: 47256400 Hash: D4A9CCB969AE225A450B27F67B278096 Accuracy: -m40
Conclusion: CDDA 100%
Signature: 3B5DCED882460B1BAB363ED1A07F33BB08853C9D
FILE: 07 - Violin Sonata No. 2 in A minor, BWV 1003 _ III. Andante.flac
Size: 29371514 Hash: 6E000F0F038FE02341022FD4763D1514 Accuracy: -m40
Conclusion: CDDA 100%
Signature: DD34B64A160BD872B7EB070A46FCC57797ED54D6
FILE: 08 - Violin Sonata No. 2 in A minor, BWV 1003_ IV. Allegro.flac
Size: 35299897 Hash: 489F45F1EE579B6EA1F655171B82E50F Accuracy: -m40
Conclusion: CDDA 100%
Signature: CFC55F7535905937F873FD4F65F8716CCCC73D58
FILE: 09 - Violin Sonata No. 3 in C major, BWV 1005_ I. Adagio.flac
Size: 23632666 Hash: 1F2C4D4531E8A647EEDDC68D8D18E218 Accuracy: -m40
Conclusion: CDDA 100%
Signature: F6491FC71BC823C6CDB568E7EF33FE2E79800FEF
FILE: 10 - Violin Sonata No. 3 in C major, BWV 1005_ II. Fuga.flac
Size: 58834730 Hash: 59429890629BCB42D7C457B99A2C66E5 Accuracy: -m40
Conclusion: CDDA 100%
Signature: 1B9A776235ADEBE8C923302A0B6350EE2E6579CD
FILE: 11 - Violin Sonata No. 3 in C major, BWV 1005_ III. Largo.flac
Size: 16065256 Hash: 8D4877604E096D522628AD31CE13DB04 Accuracy: -m40
Conclusion: CDDA 100%
Signature: CCB3179FFBE2F95F3651D9B69B1F0C93A0F3DDE8
FILE: 12 - Violin Sonata No. 3 in C major, BWV 1005_ IV. Allegro assai.flac
Size: 31352354 Hash: B44490F8FBFEC6F1F0CBE323ECACEC48 Accuracy: -m40
Conclusion: CDDA 100%
Signature: 6FD6539422E02C4816A74643CE96006332376E6A