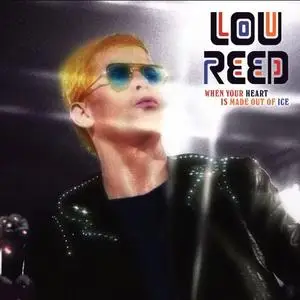 Lou Reed - When Your Heart is Made out of Ice (2020)
FLAC tracks / MP3 320 kbps | 1:23:50 | 183 / 371 Mb
Genre: Rock, Pop Rock, Art Rock, Alternative / Label: Easy Action
Like all major figures of a genre, Lou Reed was a genre of his own. A rather complex being. Has an oversized ego. But to the certain genius… There was first this Velvet Underground, more influential in the last twenty years than in its time at the end of the 60s. This first banana album produced by Andy Warhol, now considered one of the greatest records in history and which sold only a handful of copies on its release in 1967… Then this solo career which, although uneven, will leave among the most beautiful songs in the history of popular music of the twentieth century. Lou Reed was a voice. An almost spoken song.
Track List:
[01:24] 01. Lou Reed - Setting The Microphones (Live at Felt Forum, NY)
[07:53] 02. Lou Reed - Introduction and Sweet Jane (Live at Felt Forum, NY)
[06:25] 03. Lou Reed - Vicious (Live at Felt Forum, NY)
[04:20] 04. Lou Reed - Ride Sally Ride (Live at Felt Forum, NY)
[11:12] 05. Lou Reed - Heroin (Live in Dayton, Ohio)
[07:41] 06. Lou Reed - Kill Your Sons (Live in Dayton, Ohio)
[05:03] 07. Lou Reed - New York Stars (Live in Dayton, Ohio)
[03:35] 08. Lou Reed - Animal Language (Live in Dayton, Ohio)
[09:20] 09. Lou Reed - I'm Waiting For The Man / Sally Can't Dance (Live in Dayton, Ohio)
[06:48] 10. Lou Reed - Walk on the Wild Side (Live in Dayton, Ohio)
[05:34] 11. Lou Reed - White Light / White Heat (Live in Dayton, Ohio)
[01:45] 12. Lou Reed - New York Conversation / Goodnight (Live in Dayton, Ohio)
[12:44] 13. Lou Reed - Rock 'n Roll (Live in Dayton, Ohio)
ANALYZER: auCDtect: CD records authenticity detector, version 0.8.2
Copyright © 2004 Oleg Berngardt. All rights reserved.
Copyright © 2004 Alexander Djourik. All rights reserved.


FILE: 01 - Setting The Microphones (Live at Felt Forum, NY).flac
Size: 3117505 Hash: 556109263E9FD431DCB2C538CDDC146C Accuracy: -m40
Conclusion: CDDA 100%
Signature: ABDCA74A19DB808512FE80E1F06AADD04695CECA
FILE: 02 - Introduction and Sweet Jane (Live at Felt Forum, NY).flac
Size: 25811814 Hash: 33D5D559B539A3C55299BFD57864A45E Accuracy: -m40
Conclusion: CDDA 100%
Signature: 2F18096CCC6D5B996C4A96981C62733CCD49AE27
FILE: 03 - Vicious (Live at Felt Forum, NY).flac
Size: 21648482 Hash: 81D020B565E1F199ADFE83EF37A50E8B Accuracy: -m40
Conclusion: CDDA 100%
Signature: 7B9DE49741C3488715DC5121D97CC3D4C4E90A65
FILE: 04 - Ride Sally Ride (Live at Felt Forum, NY).flac
Size: 12136673 Hash: 0D87DB022143C473D4C2EC402BE3849A Accuracy: -m40
Conclusion: CDDA 100%
Signature: 75AAC9D811A472796FED021249228D2E3448FD2C
FILE: 05 - Heroin (Live in Dayton, Ohio).flac
Size: 31191705 Hash: 63F7254EB8F11230B9A8DB7A3BC0990F Accuracy: -m40
Conclusion: CDDA 99%
Signature: 6665E695EDB3802FDD2ADCF5463FB64F1B56ABDC
FILE: 06 - Kill Your Sons (Live in Dayton, Ohio).flac
Size: 22900796 Hash: 4B489C61B395BEE7886460BBA92D4C79 Accuracy: -m40
Conclusion: CDDA 100%
Signature: E924F74AD878497E64FB9D27159F181CA694CCE8
FILE: 07 - New York Stars (Live in Dayton, Ohio).flac
Size: 15571140 Hash: 21E7095F9777BB4F5DBEE253CFCCC214 Accuracy: -m40
Conclusion: CDDA 100%
Signature: C56B99A9AA0BEB7F830FC4A03673D9E09B8B3EC8
FILE: 08 - Animal Language (Live in Dayton, Ohio).flac
Size: 23582473 Hash: 4E70DF7FD932B3F63A61144BEAF9659D Accuracy: -m40
Conclusion: CDDA 100%
Signature: 4428783A8F90981C8AA3A3993F3ABF349EABAAFA
FILE: 09 - I'm Waiting For The Man _ Sally Can't Dance (Live in Dayton, Ohio).flac
Size: 59092855 Hash: 91C068A7F92FCC458ADEDFE07F8C116E Accuracy: -m40
Conclusion: CDDA 100%
Signature: 8D75280F4FD276E63C4DECF3FFAF15721D40FC85
FILE: 10 - Walk on the Wild Side (Live in Dayton, Ohio).flac
Size: 37295448 Hash: C3C821ADABD21CB987A0027D364F73FB Accuracy: -m40
Conclusion: CDDA 100%
Signature: 84020244EA269F634FF485420B8EAD8083903A94
FILE: 11 - White Light _ White Heat (Live in Dayton, Ohio).flac
Size: 38453885 Hash: 58E216E4E12FC5E3676184A62B62C904 Accuracy: -m40
Conclusion: CDDA 100%
Signature: AA9D4CBF4F30E932934893CD86AB343DF3AE48C0
FILE: 12 - New York Conversation _ Goodnight (Live in Dayton, Ohio).flac
Size: 9225092 Hash: 2672E2FAE9FB0C8D4FDE5D52A837467D Accuracy: -m40
Conclusion: CDDA 100%
Signature: 82DFF079117D3EF5AC4B3699270675D9DB64FA3B
FILE: 13 - Rock 'n Roll (Live in Dayton, Ohio).flac
Size: 89454442 Hash: 7CD271F74E7F18090DDC3452626352D5 Accuracy: -m40
Conclusion: CDDA 100%
Signature: AC3BBEB5188080A8923829E63478A75C75E142C3