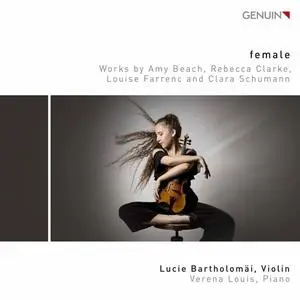 Lucie Bartholomäi & Verena Louis - Female (2021)
FLAC tracks +booklet | 59:08 | 242 Mb
Genre: Classical / Label: Genuin
The very young violinist Lucie Bartholomäi from the Ore Mountains presents an extraordinary debut recital. For her first production with Genuin, she plays works written exclusively by great female composers. In addition to the romantic music of Amy Beach, Louise Farrenc, and Clara Schumann, the program includes sparkling miniatures by Rebecca Clarke. Bartholomäi and her piano partner Verena Louis devote themselves to this too seldom performed repertoire with great attention to detail, chamber music intimacy, and richness of color. A real voyage of discovery!
Track List:
01. Clarke: Chinese Puzzle (Version for Violin & Piano) (1:18)
02. Farrenc: Violin Sonata No. 2 in A Major, Op. 39: I. Allegro grazioso (10:24)
03. Farrenc: Violin Sonata No. 2 in A Major, Op. 39: II. Scherzo. Allegro (5:47)
04. Farrenc: Violin Sonata No. 2 in A Major, Op. 39: III. Adagio (7:09)
05. Farrenc: Violin Sonata No. 2 in A Major, Op. 39: IV. Finale. Allegro (6:32)
06. Clarke: 2 Pieces for Violin & Piano: No. 1, Lullaby (3:49)
07. Schumann: 3 Romances for Violin & Piano, Op. 22: No. 1, Andante molto (3:24)
08. Schumann: 3 Romances for Violin & Piano, Op. 22: No. 2, Allegretto (3:09)
09. Schumann: 3 Romances for Violin & Piano, Op. 22: No. 3, Leidenschaftlich schnell (4:22)
10. Clarke: Midsummer Moon (6:12)
11. Beach: Romance for Violin & Piano, Op. 23 (7:07)
ANALYZER: auCDtect: CD records authenticity detector, version 0.8.2
Copyright © 2004 Oleg Berngardt. All rights reserved.
Copyright © 2004 Alexander Djourik. All rights reserved.


FILE: 01. Clarke Chinese Puzzle (Version for Violin & Piano).flac
Size: 4033728 Hash: 60995F60E8B2E1EAFB6BD14B7A2E646D Accuracy: -m40
Conclusion: MPEG 89%
Signature: 6F98DCD8484C597C586F67C82FCBB4038EC9B85C
FILE: 02. Farrenc Violin Sonata No. 2 in A Major, Op. 39 I. Allegro grazioso.flac
Size: 47057224 Hash: AD389B938AFF97FDB65819BB3CA5A36D Accuracy: -m40
Conclusion: CDDA 54%
Signature: D4B8FBA196FD5204FD84DDFD2187C5BADF94E3B9
FILE: 03. Farrenc Violin Sonata No. 2 in A Major, Op. 39 II. Scherzo. Allegro.flac
Size: 25856930 Hash: 501B8A30E04E29A00D72C2414ABF7CD4 Accuracy: -m40
Conclusion: CDDA 100%
Signature: 936517EF59C94BBFCB75739FB3BBA12C607F107C
FILE: 04. Farrenc Violin Sonata No. 2 in A Major, Op. 39 III. Adagio.flac
Size: 27198469 Hash: 2A3FE87D1DE53164A2ECFCD9B827E089 Accuracy: -m40
Conclusion: CDDA 100%
Signature: AE282026FCB4A2FFCC92FF4B3A2F5F26D6996303
FILE: 05. Farrenc Violin Sonata No. 2 in A Major, Op. 39 IV. Finale. Allegro.flac
Size: 29606477 Hash: 4620373C6A5592FD045034ADD3A4D459 Accuracy: -m40
Conclusion: CDDA 100%
Signature: 56C2DE9EF5EE50B4A43D7AB4F2A12C3F18BFBC1E
FILE: 06. Clarke 2 Pieces for Violin & Piano No. 1, Lullaby.flac
Size: 13325506 Hash: F14B5AB894E5080E12DC78337A08B609 Accuracy: -m40
Conclusion: CDDA 100%
Signature: 5DA5C2A7A73D5F382FD312679923FB6491DEAE23
FILE: 07. Schumann 3 Romances for Violin & Piano, Op. 22 No. 1, Andante molto.flac
Size: 13571829 Hash: 6253E8403C44342DF586B02D0B1A967C Accuracy: -m40
Conclusion: CDDA 100%
Signature: B12EEB34E95BCBB95AA4225083D8DEE1CE3F00C9
FILE: 08. Schumann 3 Romances for Violin & Piano, Op. 22 No. 2, Allegretto.flac
Size: 13436734 Hash: 922C49D6F321454288CC979948BEB36C Accuracy: -m40
Conclusion: CDDA 100%
Signature: 33126CC155409134308D1DA576147D1BC5759BE6
FILE: 09. Schumann 3 Romances for Violin & Piano, Op. 22 No. 3, Leidenschaftlich schnell.flac
Size: 19413151 Hash: 6CE3B8052F66A1746A74816A077C645D Accuracy: -m40
Conclusion: CDDA 100%
Signature: 3BAB88A4BA4E12D73393E828C4019703C137FCB1
FILE: 10. Clarke Midsummer Moon.flac
Size: 27346001 Hash: BFB8EAFCEF50D938CE5F1B96E1DDB841 Accuracy: -m40
Conclusion: CDDA 100%
Signature: 9957A2779895F046EB9413F9ACC58A72583D2D27
FILE: 11. Beach Romance for Violin & Piano, Op. 23.flac
Size: 32493810 Hash: 09C1437AB1813F90BFE9F0B4210CAC32 Accuracy: -m40
Conclusion: CDDA 94%
Signature: 65BB4E13A43CF694BCC9B578B6FCD2201FEE1CD6