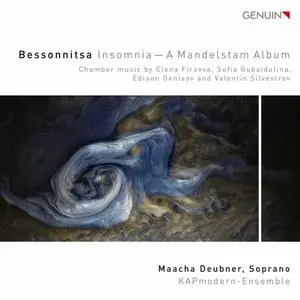 Maacha Deubner & KAPmodern-Ensemble - Biessonnitza Insomnia (2021)
FLAC tracks | 01:22:59 | 292 Mb
Genre: Classical / Label: Genuin
The musicians working with soprano Maacha Deubner take us to exotic worlds of sound on their new recording, which is exclusively comprised of world premiere recordings. These include works by the Russian composer Elena Firsova and fellow composers, set in dialogue with the oeuvre of the poet Ossip Mandelstam. In addition to Firsova's works, we make acquaintance with music by Sofia Gubaidulina, Edison Denisov, and Valentin Silvestrov. Maacha Deubner and her colleagues from the KAPmodern ensemble of the Kammerakademie Potsdam devote themselves to the invariably highly expressive music, performing it with great seriousness and mastery.
Track List:
01. Letter to the Poetess Rimma Dalo: No. 1, —
02. Letter to the Poetess Rimma Dalo: No. 2, —
03. Sorrows, Op. 145
04. Starry Flute, Op. 56
05. Towards the Starlight, Op. 173: No. 1, Hate the Starlight's
06. Towards the Starlight, Op. 173: No. 2, How Slow the Horses Go
07. Towards the Starlight, Op. 173: No. 3, To Read Only Children's Books
08. For Slava, Op. 120a
09. At the Turning Point: No. 1, Night
10. At the Turning Point: No. 2, The Name of God
11. At the Turning Point: No. 3, Winterly Journey
12. At the Turning Point: No. 4, Silence
13. Bessonnitsa
14. On the Path to Winter, Op. 180
15. From Voronezh Notebooks, Op. 121: No. 1, Prelude
16. From Voronezh Notebooks, Op. 121: No. 2, Greens
17. From Voronezh Notebooks, Op. 121: No. 3, A Cat
18. From Voronezh Notebooks, Op. 121: No. 4, The Sky
19. From Voronezh Notebooks, Op. 121: No. 5, Into the Sky
20. From Voronezh Notebooks, Op. 121: No. 6, Madness
ANALYZER: auCDtect: CD records authenticity detector, version 0.8.2
Copyright © 2004 Oleg Berngardt. All rights reserved.
Copyright © 2004 Alexander Djourik. All rights reserved.


FILE: 1. No. 1, —.flac
Size: 6248128 Hash: 85D04F6DC377D47D5DC461FBDEB5192A Accuracy: -m40
Conclusion: CDDA 100%
Signature: 2BBF918C253C27657EFD29D088C5A37E08EFA852
FILE: 10. No. 2, The Name of God.flac
Size: 4784143 Hash: 575662CDB28E2AD733AF3F38E138236A Accuracy: -m40
Conclusion: CDDA 99%
Signature: 09FDF5B60EF4D5C4C81FBA1A90B41A973C274245
FILE: 11. No. 3, Winterly Journey.flac
Size: 9298787 Hash: 2B21CE99C27A3EE846220243FE116108 Accuracy: -m40
Conclusion: CDDA 99%
Signature: A3B682991BBCC33559AD1FD250AB770E7F0B01AE
FILE: 12. No. 4, Silence.flac
Size: 10219535 Hash: F59ADAFDC423E023ABC25C7A4D60A392 Accuracy: -m40
Conclusion: CDDA 100%
Signature: BBA48DCF08C0038D3A315F8F677D6D43A2DFA2C7
FILE: 13. Bessonnitsa.flac
Size: 15670660 Hash: 5818958B5C6954127360BBD69B892227 Accuracy: -m40
Conclusion: CDDA 100%
Signature: 1F75FDFB1E396953CFD735E88A13118B58B72A04
FILE: 14. On the Path to Winter, Op. 180.flac
Size: 14633189 Hash: 29A3F6A595793DF2D9DFC24407FA9C59 Accuracy: -m40
Conclusion: CDDA 99%
Signature: 82A7E9F3E5F0DBA202076FBFDE88CA08D036EC62
FILE: 15. No. 1, Prelude.flac
Size: 11443311 Hash: 1B4825F8A2613515A57177442098F844 Accuracy: -m40
Conclusion: CDDA 100%
Signature: 66537E6CFCC4C0658C784C8A5E7147D2F709632B
FILE: 16. No. 2, Greens.flac
Size: 17024658 Hash: CA0241A14A75396553486C24A8E8ACE2 Accuracy: -m40
Conclusion: CDDA 100%
Signature: EFB254C2FC0929A08DA2E6BB180C9ADCC79DDF39
FILE: 17. No. 3, A Cat.flac
Size: 11827693 Hash: DE961C1BB33E001B5C28A30CA53B48F9 Accuracy: -m40
Conclusion: CDDA 100%
Signature: 7DE6FA28D234EB69F2FB06F6DB787B46DD9BF11F
FILE: 18. No. 4, The Sky.flac
Size: 18651208 Hash: 35D29C1825A6269237D6F98818FD6D43 Accuracy: -m40
Conclusion: CDDA 100%
Signature: 1FFE087400FCF32785D8B728AB3BB2F83874801B
FILE: 19. No. 5, Into the Sky.flac
Size: 14059939 Hash: B1783626A3AB0EFFC5F2029C5F513FA7 Accuracy: -m40
Conclusion: CDDA 100%
Signature: F7A50F43D0D9CAED7F50F5955C3185AA5798DD4C
FILE: 2. No. 2, —.flac
Size: 8732257 Hash: 6A6B956DCD89175ACC6D731295E2BD77 Accuracy: -m40
Conclusion: CDDA 100%
Signature: E382F9A07F9C39C1264C2405CF41B536D22FCE55
FILE: 20. No. 6, Madness.flac
Size: 36202744 Hash: BD84FB2A1482387AA06769D5F85FB079 Accuracy: -m40
Conclusion: CDDA 100%
Signature: 901F08616825EE127AC69E535CAC2D969A1D9E54
FILE: 3. Sorrows, Op. 145.flac
Size: 33150415 Hash: 983878B37ACF6FF56373BBC55690229C Accuracy: -m40
Conclusion: CDDA 100%
Signature: 51F545F77276829DE2E2682216C2083AB05F66FD
FILE: 4. Starry Flute, Op. 56.flac
Size: 19565202 Hash: 049091A0738AADB9CBC02678A5DE7DE4 Accuracy: -m40
Conclusion: MPEG 80%
Signature: FA44DD3D6511F2A66BF882278A17D32A73A29993
FILE: 5. No 1, Hate the Starlight's.flac
Size: 14886281 Hash: 59DD6C21393B182318594648BE0758CA Accuracy: -m40
Conclusion: CDDA 100%
Signature: CCFB9370467D13A001AFD8A861BAA8918DD81B1A
FILE: 6. No. 2, How Slow the Horses Go.flac
Size: 11951900 Hash: 7A5067C0B2CEAE61DA181BAB214A2F0D Accuracy: -m40
Conclusion: CDDA 100%
Signature: 1701AE1111D1D8CEDD904D6F8A46D38F557EBAAB
FILE: 7. No. 3, To Read Only Children's Books.flac
Size: 32367865 Hash: 7CBE8976A77CC26702804813C2CDA2F2 Accuracy: -m40
Conclusion: CDDA 100%
Signature: 12074CA2CB56CA76360B3CA8AECA0AF9CAFCB566
FILE: 8. For Slava, Op. 120a.flac
Size: 14628845 Hash: 7A68A2417FB5EC4080B4712C77BC1FF3 Accuracy: -m40
Conclusion: CDDA 99%
Signature: 4EEF02E3D7048353A75859618C5076D9BA7E75FA
FILE: 9. No. 1, Night.flac
Size: 2600195 Hash: EBE2BFF71ED06EB43919EED613C1F808 Accuracy: -m40
Conclusion: CDDA 100%
Signature: 973822F8DD4A43CEF1104E46FC2CAC9998EF1D47