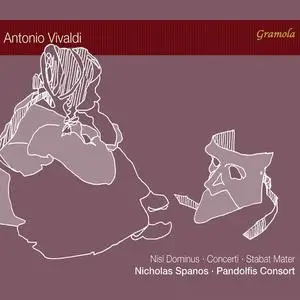 Nicholas Spanos, Pandolfis Consort - Vivaldi: Works (2021)
FLAC tracks / MP3 320 kbps | 58:45 | 272 / 135 Mb
Genre: Classical / Label: Gramola Records
Vivaldi, one of the most-performed composers these days, had lain dormant for nearly two centuries; his works were considered lost. All that changed when a stash of manuscripts was found in the library of a monastery in Piedmont in Italy. Vivaldi's style is so unmistakable, that we can tell his authorship after just a few bars of music. We're more likely to mix up phrases from differing works of his than we are to mistake any of his music for that of a contemporary composer. Vivaldi took the text from Psalm 126, which belongs to the Pilgrim Songs in the Book of Psalms and are meant to prepare believers for their meeting with God. The text which is ascribed to King Solomon speaks of the greatness of God without which all human toil remains fruitless.
With its contemplative, touching, even glum sound Stabat Mater, RV 621 is one of the most popular works by Vivaldi. The first four tercets portray the Sorrowful Mother. The next four contemplate suffering as such. With the ninth tercet we arrive at the apex, the music thus calls to mind the image of Christ suffering from the lashes. Only the last stanza, set in a pastoral 12/8 rhythm, and a long Amen brings us any consolation.
Track List:
1. Nisi Dominus, RV 608: I. Nisi dominus aedificaverit domum (2:44)
2. Nisi Dominus, RV 608: II. Vanum est nobis (1:40)
3. Nisi Dominus, RV 608: III. Surgite postquam sederitis (1:49)
4. Nisi Dominus, RV 608: IV. Cum dederit dilectis suis (4:39)
5. Nisi Dominus, RV 608: V. Sicut sagittae (1:32)
6. Nisi Dominus, RV 608: VI. Beatus vir (1:07)
7. Nisi Dominus, RV 608: VII. Gloria Patri (4:27)
8. Nisi Dominus, RV 608: ViIII. Sicut erat in principio (1:04)
9. Nisi Dominus, RV 608: IX. Amen (2:00)
10. Concerto for Violin, Organ, Strings & Basso continuo in D Minor, RV 541: I. Allegro (3:31)
11. Concerto for Violin, Organ, Strings & Basso continuo in D Minor, RV 541: II. Grave (2:52)
12. Concerto for Violin, Organ, Strings & Basso continuo in D Minor, RV 541: III. Allegro (2:13)
13. Concerto for 2 Violins, Cello, Strings & Basso continuo in G Minor, Op. 3 No. 2, RV 578: I. Adagio e spiccato (1:36)
14. Concerto for 2 Violins, Cello, Strings & Basso continuo in G Minor, Op. 3 No. 2, RV 578: II. Allegro (2:27)
15. Concerto for 2 Violins, Cello, Strings & Basso continuo in G Minor, Op. 3 No. 2, RV 578: III. Larghetto (2:51)
16. Concerto for 2 Violins, Cello, Strings & Basso continuo in G Minor, Op. 3 No. 2, RV 578: IV. Allegro (2:34)
17. Stabat Mater, RV 621: I. Stabat Mater dolorosa (3:23)
18. Stabat Mater, RV 621: II. Cuius animam gementem (1:56)
19. Stabat Mater, RV 621: III. O quam tristis (1:52)
20. Stabat Mater, RV 621: IV. Quis est homo (3:12)
21. Stabat Mater, RV 621: V. Quis non posset (2:07)
22. Stabat Mater, RV 621: VI. Pro peccatis suae gentis (1:49)
23. Stabat Mater, RV 621: VII. Eia, Mater, fons amoris (3:05)
24. Stabat Mater, RV 621: VIII. Fac, ut ardeat (1:25)
25. Stabat Mater, RV 621: IX. Amen (1:06)
ANALYZER: auCDtect: CD records authenticity detector, version 0.8.2
Copyright © 2004 Oleg Berngardt. All rights reserved.
Copyright © 2004 Alexander Djourik. All rights reserved.


FILE: 01 - Nisi Dominus, RV 608_ I. Nisi dominus aedificaverit domum.flac
Size: 14153086 Hash: A85DA9F4842531E133F3AB83BC643869 Accuracy: -m40
Conclusion: CDDA 100%
Signature: AC0AD1967BACFF07F82A7FF6C5D85704CF075F0D
FILE: 02 - Nisi Dominus, RV 608_ II. Vanum est nobis.flac
Size: 7348810 Hash: E0EF56AE531985D6C1D4EB6E49FD5121 Accuracy: -m40
Conclusion: CDDA 100%
Signature: 800D084D9E56A7D464E0C69AB9D97CCEA597EFFE
FILE: 03 - Nisi Dominus, RV 608_ III. Surgite postquam sederitis.flac
Size: 7861635 Hash: 41D3B0BC5B8C35CADF28A6094CF0BAF7 Accuracy: -m40
Conclusion: CDDA 100%
Signature: 6353FCB1E5403782AA49DFCD908D24254E5B2C70
FILE: 04 - Nisi Dominus, RV 608_ IV. Cum dederit dilectis suis.flac
Size: 18702012 Hash: F99F338E264A1069FFCD6B997439DFAD Accuracy: -m40
Conclusion: CDDA 100%
Signature: C4C5F4AD605E23198CB79FC85BBC0E47FE34EF9A
FILE: 05 - Nisi Dominus, RV 608_ V. Sicut sagittae.flac
Size: 7991273 Hash: 7AE27322B20018B7D8A12143C57CBEF7 Accuracy: -m40
Conclusion: CDDA 100%
Signature: 31D04EB6FF5C566D623B6DC15DEB340341E2E916
FILE: 06 - Nisi Dominus, RV 608_ VI. Beatus vir.flac
Size: 5027388 Hash: B1E426A34362D98567EAF1750F0E29AF Accuracy: -m40
Conclusion: CDDA 100%
Signature: E002B34AA7EB5CDCF4A1AEB59F1124C2E8A7880D
FILE: 07 - Nisi Dominus, RV 608_ VII. Gloria Patri.flac
Size: 22398745 Hash: 7DB7EBBAD11002B312F2ABD3621E13C1 Accuracy: -m40
Conclusion: CDDA 100%
Signature: 56FD5C2DF7010748D792CE3A68E483F3B2B49E53
FILE: 08 - Nisi Dominus, RV 608_ ViIII. Sicut erat in principio.flac
Size: 5797567 Hash: DE620ECB4F644000134F6526CA87B804 Accuracy: -m40
Conclusion: CDDA 100%
Signature: FFAA1CE1AD74C7CA26E022F914D49FE29A07FE7B
FILE: 09 - Nisi Dominus, RV 608_ IX. Amen.flac
Size: 10065561 Hash: 55DF8F963E83403D182C05C39CECE620 Accuracy: -m40
Conclusion: CDDA 100%
Signature: 2AE247930E03268CDAB7D42130EA29A9E7460CF6
FILE: 10 - Concerto for Violin, Organ, Strings & Basso continuo in D Minor, RV 541_ I. Allegro.flac
Size: 18582697 Hash: 93AD14725866154F76423C3AACFEDEBD Accuracy: -m40
Conclusion: CDDA 100%
Signature: F78CAA016DBFA7EBD62853569CA27F3E03CA4FAD
FILE: 11 - Concerto for Violin, Organ, Strings & Basso continuo in D Minor, RV 541_ II. Grave.flac
Size: 13666930 Hash: 0309618B255EA1AE1DD85E71B97EDC50 Accuracy: -m40
Conclusion: CDDA 86%
Signature: C1FCF4AE76C4F358D9CFCBD1072B3F2709E0F917
FILE: 12 - Concerto for Violin, Organ, Strings & Basso continuo in D Minor, RV 541_ III. Allegro.flac
Size: 11685110 Hash: EC387889AC7FF664C2A40B094C1C7F45 Accuracy: -m40
Conclusion: CDDA 100%
Signature: E08767E738B79017FD8512012408301A7B4AC275
FILE: 13 - Concerto for 2 Violins, Cello, Strings & Basso continuo in G Minor, Op. 3 No. 2, RV 578_ I. Adagio e spiccato.flac
Size: 6950999 Hash: A1F6C996E4B6565B0AC1F416CF78D08C Accuracy: -m40
Conclusion: CDDA 100%
Signature: 49EAA4AF41845A64808F38E82D4114A5289CB695
FILE: 14 - Concerto for 2 Violins, Cello, Strings & Basso continuo in G Minor, Op. 3 No. 2, RV 578_ II. Allegro.flac
Size: 13337859 Hash: 2C91651E45852502426B80E9518753DE Accuracy: -m40
Conclusion: CDDA 100%
Signature: 3C490BECAD789AC02C0EBD572CEAD54C36B729D7
FILE: 15 - Concerto for 2 Violins, Cello, Strings & Basso continuo in G Minor, Op. 3 No. 2, RV 578_ III. Larghetto.flac
Size: 13809112 Hash: E23804BCE6B7C3D95B989A61E784367C Accuracy: -m40
Conclusion: CDDA 100%
Signature: 84FF346EEBDE32D91E21A1B0F55FAC9CDD1C5793
FILE: 16 - Concerto for 2 Violins, Cello, Strings & Basso continuo in G Minor, Op. 3 No. 2, RV 578_ IV. Allegro.flac
Size: 14191904 Hash: 2BF9560E77651E6BA9BBF5047CB3290F Accuracy: -m40
Conclusion: CDDA 100%
Signature: 5A61680C0885B102B2ED7E29DCE2AE0A182F5592
FILE: 17 - Stabat Mater, RV 621_ I. Stabat Mater dolorosa.flac
Size: 15552646 Hash: 1E07F8CFD1FF380D083B63F9034AC5D0 Accuracy: -m40
Conclusion: CDDA 100%
Signature: 2E7D418006128EB5283722BAD7F5A0E0E2E85A14
FILE: 18 - Stabat Mater, RV 621_ II. Cuius animam gementem.flac
Size: 8448791 Hash: F6D9657716E8CE98AA9E70E13AFD4F33 Accuracy: -m40
Conclusion: CDDA 100%
Signature: 5CF8C80934F8811A24BFA2ACA75706AC2A4E5019
FILE: 19 - Stabat Mater, RV 621_ III. O quam tristis.flac
Size: 9551423 Hash: 852262F80139C410AC9CAED3DF31578B Accuracy: -m40
Conclusion: CDDA 99%
Signature: B69AFA20A04CD2456C157A92353983897CF9297B
FILE: 20 - Stabat Mater, RV 621_ IV. Quis est homo.flac
Size: 16362596 Hash: 91DE8A70FAD31B7C357B934A5587EDE5 Accuracy: -m40
Conclusion: CDDA 100%
Signature: 33D1D89CF0A7E359BBF9C1E0730DA17E831C140E
FILE: 21 - Stabat Mater, RV 621_ V. Quis non posset.flac
Size: 9207068 Hash: 34D206EBE0CD00CEF2C9944491B62CB0 Accuracy: -m40
Conclusion: CDDA 100%
Signature: CD8E6BBA17E1DBC8EC3CCB9515C42D9055706330
FILE: 22 - Stabat Mater, RV 621_ VI. Pro peccatis suae gentis.flac
Size: 9269906 Hash: 9B224AF045811A3C1885B6760EFB64E9 Accuracy: -m40
Conclusion: CDDA 100%
Signature: DF99A191035ED942DF0E3F3F128117ABD14A1ED3
FILE: 23 - Stabat Mater, RV 621_ VII. Eia, Mater, fons amoris.flac
Size: 13273749 Hash: 7EC4ACD0F520ED1D8187F82E41866F26 Accuracy: -m40
Conclusion: CDDA 100%
Signature: 9FC450081AE71DD8F7B1CF8EF796E4F9D79A2873
FILE: 24 - Stabat Mater, RV 621_ VIII. Fac, ut ardeat.flac
Size: 7203698 Hash: FAF9A464B842DF230DBE55E2BA92DCC3 Accuracy: -m40
Conclusion: CDDA 100%
Signature: B82BCBF4266555FC808CAC05CD8DB222D8609E5D
FILE: 25 - Stabat Mater, RV 621_ IX. Amen.flac
Size: 6018750 Hash: 8064E38E0CE91D0C29DDCF257E7D185C Accuracy: -m40
Conclusion: CDDA 100%
Signature: 5E6BC8BB8D4786FF020D6D55AC94A629CF80D7E7